Your affair with the cloud has gone the way of many relationships. The initial infatuation has faded as you've gotten to know each other and, though the love is still there, you can't ignore the flaws. Most troubling, you've developed trust issues, what with recent revelations about widespread spying by the U.S. National Security Agency and the fact that the majority of cloud services don't even support two-factor authentication for security.
Whether you just want to spend less time with the cloud or break up altogether, you can still keep your business data in sync across your PCs and mobile devices. By deploying off-the-shelf software, you can regularly synchronize your files to a local storage device that is located safely "off the grid." Here's how to get started.
Decide on a storage destination
To set up intranet synchronization, you first need to decide on the end point of the synchronized data. We recommend using a NAS appliance, which can be shared by other users in your organization. While it's an upfront hardware cost, the premium is small one to pay for the ability to centralize your data in a storage device designed for business continuity.
Alternatively, you can synchronize your data directly with another desktop or laptop over your network. This is similar to working with a NAS, though you always need to ensure that the target PC is switched on. For home office users who only wish to keep their desktop and laptop in sync, this method is arguably faster than using a cloud service.
Another option is to make use of a direct-attached storage (DAS) device connected to your laptop through either a USB, eSATA, or Thunderbolt port. USB is by far the most common and least expensive option here. For best speeds, go for a USB 3.0 drive. Some even come with built-in RAID for additional protection and continuity. The downside of going the DAS route is that you may forget to plug it in, resulting in files not being synchronized.
Finally, it's also possible to perform regular file synchronizations with an SD memory card or micro-sized USB flash drive that is left plugged in. For obvious reasons, this medium is good as a safeguard against corrupted files, but not a stolen laptop.
Set up your sync frequency
How often you want your data to sync is the next important decision to make. While some tools offer the ability to initiate syncing as soon as changes in a file are detected, this option doesn't leave room to recover from mistakes made to documents. A better alternative is to specify a fixed schedule of two or three syncs a day, though the number of files and their sizes may limit how aggressively you can schedule.
Choose a synchronization app
The next step is to choose a synchronization app. Since the objective is to circumvent the cloud, be sure your shortlisted options can function without an online connection. A trio of popular choices in that regard would be Allway Sync, FreeFileSync and GoodSync.
Ideally, you'll be syncing over a wired local area network for speedy file transfers, but if that's not possible, some advanced apps offer block-level synchronization that works well over slower connections. This technology identifies only modified portions for transferring over the network, resulting in in faster synchronization, as well as a reduction in the overall network bandwidth used.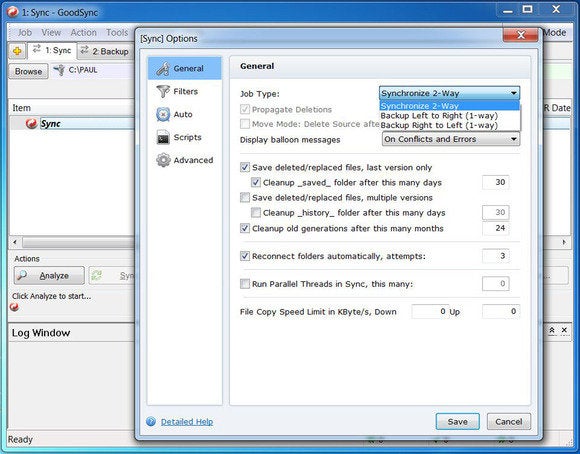 A good synchronization app may offer additional features, such as the ability to perform data backups, support for batch jobs, the synchronization of files between multiple devices, the ability to keep more than one version of a file, and even limited support for online support.
The downside is that some of the options may not be intuitive to non-technical users, who may misconfigure it as a result. It's advisable to spend some time understanding and confirming the operation of a sync app before putting it into production use.
Synchronization is not back up
It's worth highlighting that data synchronization is not the same as performing a data backup. Specifically, mistakes that wind up in a document, as well as corrupted files, would be synchronized with your secondary device, potentially overwriting the good copy.
While setting your synchronization software to keep the last few versions of a file can help alleviate matters, it does nothing towards obtaining a point-in-time snapshot of your files. Remember that a disaster such as a fire could destroy both your laptop and NAS – so make sure you have a proper backup process in place.