I've had it with interminable game downloads—and you can keep your fancy new Xbox, PlayStation, and Wii consoles. The future of PC gaming is in the browser, and it'll be here sooner than you expect.
I'm not talking about silly Flash games or Facebook time-wasters. We'll soon be playing AAA games that don't require pricey investments in new hardware. Even better, most of them will be absolutely free to play.
Challenging the status quo
I recently sat down with Artillery Games' CEO and cofounder Ankur Pansari and Starcraft II community superstar Sean "Day[9]" Plott, who recently joined the company as head of games. Pansari and his team are developing a real-time strategy game, code-named Project Atlas, that they promise will rival Starcraft in depth and quality. The game will run entirely in a modern browser using HTML5 and JavaScript, and it won't require any plug-ins or downloads.
The demo I played loaded fast on a freshly booted, uncached Macbook Pro, and all I had to do was provide a link. The Chrome browser fired up, and within 30 seconds I was matched with another player dialed in from the company's headquarters.
The game is still in a very early stage of development. I saw little more than a group of units running around on an impressive-looking 3D battlefield, beating each other up until they were all dead. But if I hadn't known, I would never have guessed that all the action was unfolding inside a Web browser. The game launched in high resolution, all the hotkeys worked, moving the mouse to the edges scrolled the map, and everything was responsive.
Unlike conventional games, which can gestate for years, Artillery started work on Project Atlas in September, and the company hopes to start small, closed beta testing by the end of the year. Plott told me he learned the new development platform in a matter of weeks and can already produce new content in a fraction of the time it would take using traditional development tools.
"Our browser-based platform will be transformative for the industry by not only making core games easier to develop, play and enjoy, but by providing everyone with browser access to AAA-quality games typically only playable using a console or PC download," said Pansari.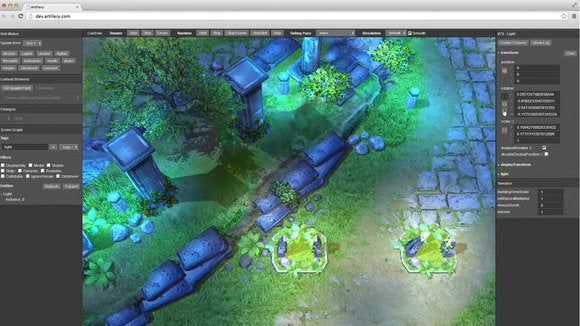 "The most important core principle we built all this around was rapid iteration," Pansari continued. "We're making sure we can iterate on a game design quicker than any other company on Earth." Developers can change any of the game's properties or visuals on the fly, and receive instant feedback simply by refreshing the page. Compiling code becomes a thing of the past. Developers no longer need to buy expensive software tools or license pricey middleware, either—which means that browser-based game development significantly lowers the financial barrier to entry. Building a great game, of course, still requires plenty of good ideas, know-how, and time. But none of those things require lots of capital.
Browser games are here today
Playing games in a browser isn't an entirely new concept. Simple Flash games have been around since the early days of Web surfing. You've probably already played recreations of such arcade classics as Pong, Pac-Man, and Tron. Facebook soon entered the time-waster fray, hosting highly addictive games like Farmville and Words With Friends.
If raising crops and leveraging your vocabulary don't float your boat, you'll find many more-ambitious games online, including Card Hunter, Battlestar Galactica Online, and RuneScape. Each of these titles has made waves with quality gameplay and stunning graphics. And all of them are completely free to play. Fire up Google's Chrome browser, open a free Google Play app store account, and you'll find a huge library of free and paid games that run in the browser. Google's new App Launcher lets you start games from the desktop: You might think of it as a lightweight, browser-based Steam.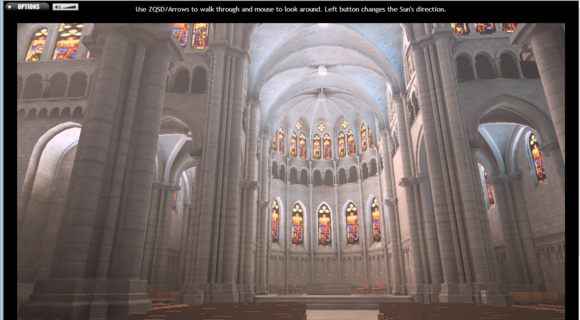 Google encourages pushing new technological boundaries through its Chrome Experiments initiative. Independent developers have produced a number of impressive projects using WebGL (an acronym for Web Graphics Library), a JavaScript API (application programming interface) that can generate 2D and 3D renderings in any modern browser without any downloads or plugins.
Beyond the PC
Browser gaming isn't limited to PCs. Each new generation of smartphones, tablets, and even smart TVs gains computational power. Many of them can already play console-quality games, and the industry is only just getting started.
Circling back to my conversation with the developers at Artillery: "Imagine a world, I think even in five years, "said Pansari, "when all of these televisions you buy have really fast browsers built into them. I think that world is coming pretty quickly. In that sort of world we ask ourselves 'Why would you buy a gaming console when you can just load up a URL and pair your Xbox controller with your television?' That's what we're really excited about."
I love my PC as much as the next geek, but I'm looking forward to the day when I won't have to buy a new video card and chain myself to my desk just to play an exciting new game. And I can't wait to have everything I need to play games from my couch built right into my Internet-connected TV. Fortunately, from what I've seen, I won't have long to wait.