At a Glance
Expert's Rating
Pros
Thin for an Ultrabook with a 15.6-inch display
Great battery life of 7-plus hours
Decent benchmark performance
Cons
Low-res display for its size
Keyboard design isn't great
No optical drive
Our Verdict
Fans of large laptop touchscreens will appreciate the Aspire M's roomy display, slim profile, and excellent battery life. The price-to-performance isn't bad either.
Despite being just 0.7 inch thick, Acer's Aspire M5 (model M5-583P-6428) weighs a hefty 4.9 pounds. So it's fortunate for Acer that Intel's Ultrabook definition includes only a height limit: 0.9 inch. More important, the Aspire M delivers a big display, great battery life, and good performance for a moderate $700.
Outfitted with an Intel Core i5-4200U (one of the lower-end entries in Intel's current Haswell lineup of mobile CPUs), a generous 8GB of DDR3/1600 RAM, Intel's integrated HD4400 graphics, and a 500GB hard disk that spins its platters at 5400 rpm, the Aspire M scored a respectable Notebook WorldBench 8.1 score of 143. That's almost 50 percent better than our reference unit, the Asus VivoBook S550CA, but we've seen a few laptops in this price range perform even higher.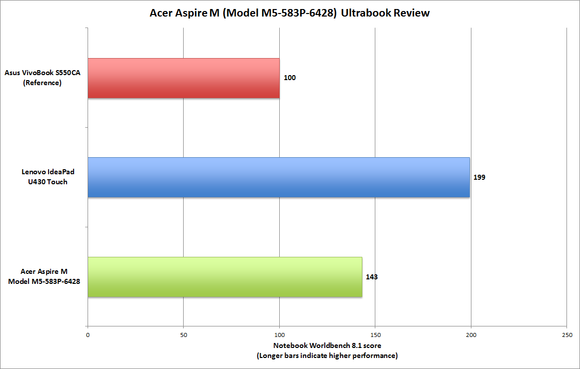 It's easy to see where the Aspire M falls behind in performance: With any tasks involving storage retrieval, its slow hard drive can't compete against solid-state drives (or SSD caches), which are becoming increasingly common. But its Haswell architecture clearly helped Acer's machine hold its own in tasks involving number crunching (image editing, for example), and contributed to its impressive battery life of more than 7 hours. That's one of the best running times we've seen from any laptop this year.
The Aspire M's design makes a good first impression, with its pewter-colored brushed metal lid and black soft-touch underbelly. The plastic interior matches the color of the lid, contrasting nicely with the black island-style keyboard—a standard-size backlit model that includes a numeric keypad. But good luck landing on the correct key if you're a touch typist: They're flat and slippery, and it can be difficult to find keys that are normally on or near the right edge (backspace and delete, for example). A little sculpting on the keys and perhaps some extra spacing between the standard keyboard and the keypad would have helped.
The touch controls—a multitouch touchpad (with mechanical corners for right and left mouse clicks) and the Aspire M's 10-point touchscreen display are responsive and fun to use. The display itself is bright and pleasing; still, I was a bit surprised by Acer's decision to go with a resolution of only 1366 by 768 pixels on its 15.6-inch screen. Acer didn't include an optical drive, but when you're streaming video, 1080p resolution looks so much better—especially when you're up close to the screen. The Aspire M's audio subsystem, on the other hand, is very good, thanks to a strong amplifier, four bottom-mounted speakers, and Dolby Home Theater.
Connectivity and port options are basic: Two USB 2.0 ports (but just one USB 3.0 port), an SD card slot, headset jack, gigabit ethernet, HDMI, and an Acer Converter Port (for dongles, such as VGA). The Aspire M also supports dual-band 802.11n Wi-Fi. The built-in high-def webcam was fairly typical, producing decent if not great video in Skype calls.
If you're looking for a notebook with a large touchscreen and respectable performance, Acer's Aspire M is a good choice at a price that won't instill sticker shock. It's not that easy to find all these attributes in a single product. And Acer has done a good job of balancing price and performance.