Microsoft chief executive Steve Ballmer may have several months before he actually steps down, but his candid assessment of the future of the PC and of Microsoft felt like the first words of a long goodbye.
Ballmer concluded Microsoft's 2013 analyst meeting as a shareholder, not as a chief executive, promising to root for the company in the years ahead. Ballmer owns about 4 percent of Microsoft, by his own admission.
"I am very long in Microsoft," Ballmer said. "I believe in the company as an investment. I believe in what the company can do. I believe in the people and talent that are here and at least this one shareholder will absolutely be cheering every day from the day I'm not working here on, I'm 'MSFT,' if you will, all over. It's in my blood, in my heart and I'll have been glad to have served."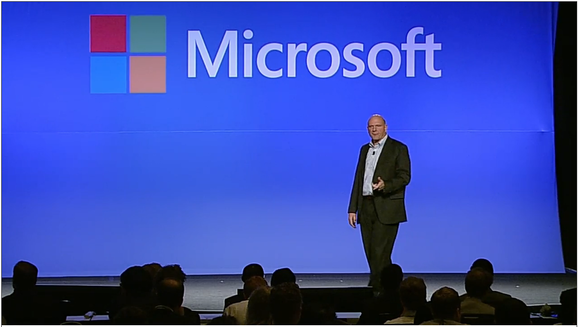 At one point, he urged all of the Wall Street investors in the audience to stand up and cheer for Microsoft's stock. "You all own Microsoft stock. Cheer for it. We all want it to go the same direction, up." None of the analysts appeared to take Ballmer up on his offer, however.
If the PC is dying, what then?
The problem that Microsoft faces, Ballmer acknowledged, is that one of the fundamental pillars of the company—the PC—is slowly weakening. Microsoft hopes to replace it by moving Windows to a new generation of tablets, while making the "traditional" PC a vehicle for productivity. How Microsoft will weather those changes was the focus of Ballmer's presentation Thursday.
"Windows has some challenges," Ballmer said. "For the first time over the last couple of years, Windows has done something other than just grow," specifically, as PCs have dipped over the past couple of quarters, and Microsoft's Windows 8.1 won't be able to reverse the trend, analysts say.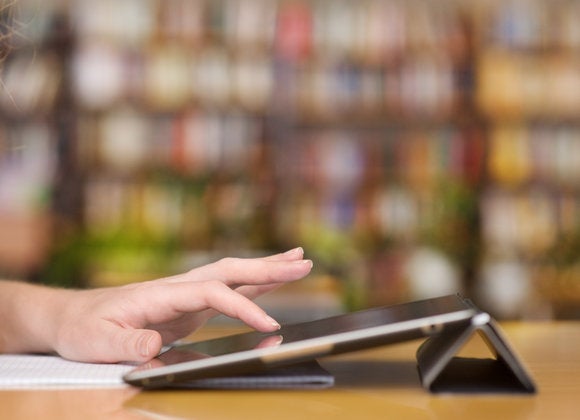 "We must do the job to ensure that the PC stays the device of choice for people when they're trying to be productive in life," Ballmer said—a shift most noticeable in the change of tone in the company's advertising for its Surface tablet. Although instruments of productivity, those tablets will fragment into smaller, entertainment-focused devices, Ballmer said.
"[W]e're going to have to put time and energy not only into Windows PC but into 'brand Windows' overall," Ballmer added. "Our device brand more than anything is 'brand Windows': Windows phones, Windows PCs, Windows tablets."
Four things that Microsoft must do right
Microsoft executives previously outlined four core principles upon which Microsoft can build its business: the cloud, social, mobility, and Big Data. Ballmer went a step farther, describing four things Microsoft must do right if it wants to remain in business:
1.) Office 365 and Azure must succeed: Specifically, they need to be a "touchdown," Ballmer said. Microsoft chief financial officer Amy Hood spent almost the bulk of her presentation, talking about how the new subscription services built into Office 365 compelled consumers and businesses to pay an annual fee, rather than buying Office products every five to seven years.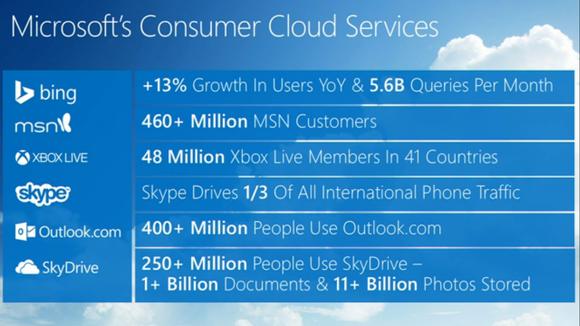 "It's quite clear to me by this time next year, we will overwhelmingly have the most popular paid service in the enterprise, bar none," Ballmer said.
2.) Windows PCs need to remain viable: Ballmer's "productivity PC" mantra must be heard loud and clear. "We have to make absolutely clear to people what the value proposition is and, by the way, how they can get some of those same high-value services on non-Windows devices, iPads, iPhones, Android devices, et cetera," Ballmer said.
The underlying message is that Microsoft hopes to bundle its services with its own devices, as well as push those services onto as many platforms as possible.
3.) Windows Phone must climb out of the cellar: "We have almost no share," Ballmer said. "I don't know whether to say that with enthusiasm or a kind of uncomfortable tension. But I'm an optimistic guy. Anything we have low market share sounds like upside opportunity to me."
The key here is Microsoft's acquisition of Nokia, and its focus on devices and services in general. Knowing how consumers use devices and the services within them helps Microsoft at all stages of the game.
4.) Selling cloud and hybrid services: Consumers likely shouldn't care about whether or not Microsoft's sales staff rings up a sale at Ford or Unilever. But managing a company's data is like you turning over your data to SkyDrive or Office 365: after a while, you just budget in the expense of Microsoft managing your data for you.
The next big thing: bringing it all together
Ballmer said that Microsoft is putting all the pieces together in preparation for the next big thing—which, he said, he doesn't quite know.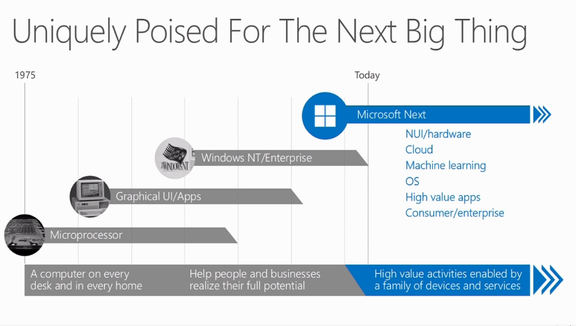 "But I think that the next big thing that will create value in this industry will probably require companies that have certain capabilities," Ballmer said. "They'll have to understand natural user interface and hardware. Hardware and software will need to kind of evolve together," meshing together machine learning, cloud infrastructure, plus a consumer and enterprise focus, he said.
And after Microsoft? Google, maybe. Or Apple, Ballmer said. After that, it drops off fast.
Ballmer's speech was at times nostalgic, pugnacious, contemplative, and eventually gave way to a small panel where he, Hood, and chief operating officer Kevin Turner all answered questions from analysts, mostly going over ground that they had covered previously.
Still, one couldn't help think that the baton was being passed. But to who exactly? And what will that mean for the future? As of now, those were questions that Microsoft executives couldn't—or wouldn't—answer.