At a Glance
Expert's Rating
Pros
Intel Core i7 mobile processor
Discrete Nvidia graphics processor
15.6-inch, 1920-by-1080-pixel display
Cons
Lousy battery life
Heavy
Single-band Wi-Fi adapter
Our Verdict
This notebook boasts a Core i7 processor, a discrete Nvidia GPU, and a 1920-by-1080 display. It's a very good value.
HP's Envy TouchSmart 15t would be a much better computer if it were equipped with a solid-state drive. With a price tag of $950, however, it delivers so much bang for the buck that I'm willing to cut it some slack. It's equipped with a quad-core Intel Core i7-4700MQ CPU and 8GB of DDR3/1600 memory, plus a discrete Nvidia GeForce GT 740M graphics processor with a dedicated 2GB frame buffer.
The Envy TouchSmart features a 15.6-inch touchscreen with a resolution of 1920 by 1080 pixels (HP also sells a slightly less-expensive configuration with a resolution of 1366 by 768 pixels). I've seen better displays, but not at that resolution, on a display this size and at a price this low. HP saved a few pennies by installing a 5400-rpm mechanical hard drive in this laptop, but the drive does boast a full terabyte of storage.
The laptop has no optical drive, and I'm okay with that. You can stream movies, and most software installs via the Internet anyway. HP's choice of an Intel Centrino Wireless-N 2230 adapter is a letdown, though, as that Wi-Fi adapter supports only 802.11n networks operating on the crowded 2.4GHz frequency band.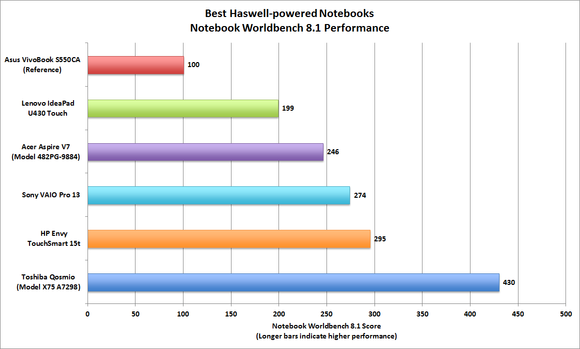 You'll find four USB 3.0 ports (two on the left and two on the right), a multiformat media-card reader, HDMI, and a gigabit LAN port. I would have liked to feel a little more travel in the keyboard, and I was disappointed to discover that a backlit keyboard is an added-cost ($30!) option. Fortunately, the Envy's four speakers sound very good with movies, music, and games. The webcam, on the other hand, produces mediocre pictures.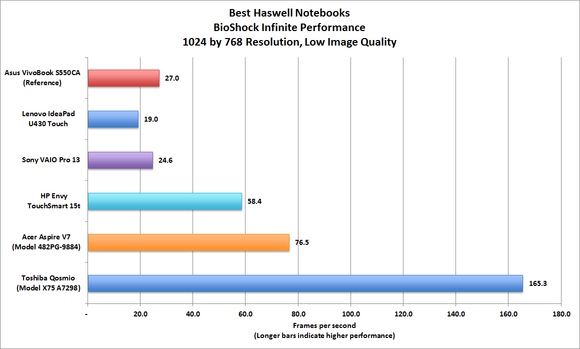 The Envy TouchSmart 15t earned a Notebook WorldBench 8.1 score of 295, which means that it's nearly three times faster than our reference platform, an Asus VivoBook S550CA powered by a dual-core Intel Core i5-3317u processor. If you're looking for a laptop that can play games, note that this model's discrete GPU helped it deliver excellent benchmark scores of 58.4 frames per second with BioShock Infinite (at a resolution of 1024 by 768 pixels, with visual quality set to low) and 67.1 fps with Dirt Showdown (at the same settings).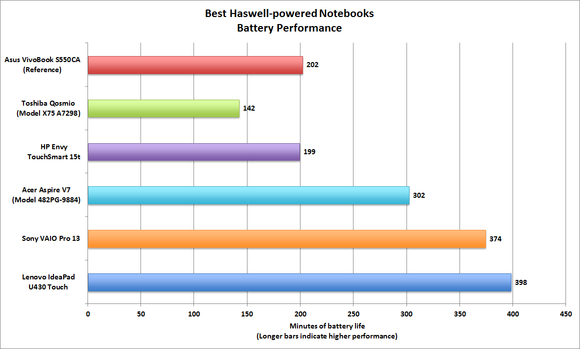 HP doesn't market the Envy TouchSmart 15t as an Ultrabook, because Intel won't allow a manufacturer to label a laptop as such if it measures more than 0.9 inch thick. This machine is quite stout at 1.18 inches. It's also very heavy, tipping the scales at 5.6 pounds. Battery life is the final, less-than-impressive metric: In our tests it petered out in just 3 hours, 19 minutes.
Despite those drawbacks, the HP Envy TouchSmart 15t remains an attractive notebook for anyone looking to play real games. It's a solid value at $1059.
Note: This review is part of a roundup of the 5 best Haswell notebooks as of September 2013.
Correction: This story was updated to report the correct price.