It's been two months since Steve Ballmer unfurled his plan to restructure Microsoft's operations, and inquiring minds would like to know what stage the process is at.
In fact, he was asked just that on Thursday during the company's meeting with Wall Street analysts, but Ballmer's answer wasn't entirely clear or specific.
The analyst who brought up the subject asked whether the process was completed and, if it's not, whether it would take several more quarters for all the pieces of the different teams to be in place and for everyone to know whom they report to.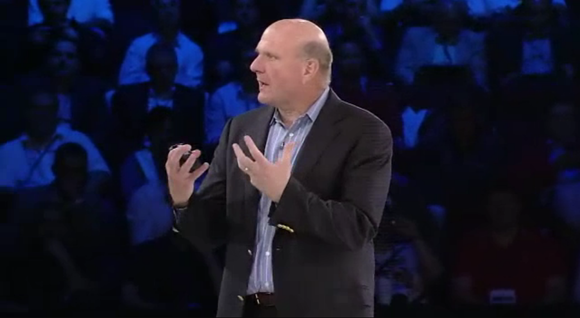 Ballmer answered that there are three layers to the implementation of the plan, although he didn't explain what each layer involves.
"The first layer is obviously done," he said.
In that case, the first layer may have involved the drafting and announcing of the plan, completed in July.
At that time, Ballmer explained the realignment is designed to make Microsoft function in a more unified, cohesive manner so that it can be more agile responding to market opportunities and innovating.
What's happening
As part of the restructuring, Microsoft dissolved its five business units—the Business Division, which housed Office; Server & Tools, which included SQL Server and System Center; the Windows Division; Online Services, which included Bing; and Entertainment and Devices, whose main product was the Xbox console.
It replaced them with four engineering groups organized by function, around operating systems, applications, cloud computing and devices, and by centralized groups for marketing, business development, strategy and research, finance, human resources, legal and operations.
Terry Myerson was appointed to lead the new Operating Systems Engineering Group, while Julie Larson-Green was picked to helm the Devices and Studios Engineering Group. Qi Lu became chief of the Applications and Services Engineering Group, while Satya Nadella was chosen as head of the Cloud and Enterprise Engineering Group.
The Dynamics enterprise software apps team was left as it was and Kirill Tatarinov remained at the helm. Kevin Turner stayed in his chief operating officer role, as did CFO Amy Hood, General Counsel Brad Smith and HR head Lisa Brummel.
Tami Reller, who had led the Windows team with Larson-Green, was appointed marketing chief for the company. Eric Rudder was chosen to lead the Advanced Strategy and Research Group, while Tony Bates, former Skype president, was put in charge of the Business Development and Evangelism Group.
After declaring the first layer completed, Ballmer on Thursday went on to say that "there's not a lot of change in Kevin's world at the next layer," referring to COO Turner.
Reller, the marketing chief, is "mostly done" and Bates, the business development and evangelism head, is "mostly done I would say, on the business side."
It's not clear from Ballmer's comments if they're done with the entire realignment process in their respective units or just with the second layer.
Meanwhile, Myerson, the OS team chief, has made "some moves" and "probably has a few more over time as his guys figure it out," Ballmer said, adding that at least he has put in "the structure below him."
"Satya has perhaps fewer changes that he will make. Obviously, with the acquisition of Nokia, there will be a set of work that needs to go on that Julie will work on with Stephen Elop, who will run that area," Ballmer said, referring to cloud chief Nadella, device and studio head Larson-Green and Elop, Nokia's CEO, who will rejoin Microsoft when that acquisition is completed.
When Elop left for the Nokia job in September 2010, he had been president of what then was the Business Division at Microsoft, where he oversaw products like Office, and he was also a member of the senior membership team of Microsoft Corporation from 2008 until his departure.
There isn't much to change in the Dynamics team other than "matrixing in the marketing and some of the other functions," Ballmer said.
Meanwhile, Qi Lu, chief of the Applications and Services Engineering Group, is further behind, according to Ballmer, because he's still deciding what will be the best structure for his team.
"So when there's news, there will be news, but he has not done anything at the layer underneath him. His structure looks exactly like it looked before the reorg, and it could stay that way or he could choose to change it," he said.
No specifics
Microsoft didn't immediately respond to a request for clarification on the timetable and progress of the reorganization.
The reorganization is of great importance to employees, customers, partners and investors, because, as Ballmer himself said on Thursday, the restructuring isn't simply about moving people around the company.
Rather, the plan grew out of months of deep discussions among the senior executives on how to make the company more agile, more innovative and more competitive as it transforms itself from a provider of packaged software for PCs and servers and into a provider of hardware devices and cloud services.
"Going forward, our strategy will focus on creating a family of devices and services for individuals and businesses that empower people around the globe at home, at work and on the go, for the activities they value most," Ballmer wrote in a memo sent to all Microsoft employees when he announced the reorganization.
The plan seeks to focus the whole company on a single strategy, improving its capacity in all its business and technology areas and collaborating better around a common set of goals.
"This is a big undertaking. It touches nearly every piece of what we do and how we work. It changes our org structure, the way we collaborate, how we allocate resources, how we best empower our engineers and how we market," Ballmer wrote.
'One Microsoft'
The overall goal is to have "One Microsoft," according to Ballmer.
"We are rallying behind a single strategy as one company—not a collection of divisional strategies. Although we will deliver multiple devices and services to execute and monetize the strategy, the single-core strategy will drive us to set shared goals for everything we do," Ballmer wrote. "We will see our product line holistically, not as a set of islands."
Consequently, a lot is riding on how successfully this reorganization is implemented. It's never a given that corporate realignment plans yield their stated benefits. In fact, they often end up backfiring if not properly carried out and hurt companies by creating confusion and infighting among the staff and doubts among partners and customers.