At a Glance
Expert's Rating
Pros
Bright, vibrant display
12GB of DDR3/1600 memory
24GB SSD cache
Discrete Nvidia graphics processor
Cons
Poorly located power button
Only one USB 3.0 port
Single-band Wi-Fi adapter (2.4GHz only)
Our Verdict
The Acer Aspire V7 has a few idiosyncrasies—primarily its poorly located ports and power button—but it delivers credible gaming performance in a superslim package.
Acer's Aspire V7 (model 482PG-9884) remedies many of the shortcomings I mention in my review of HP's Envy TouchSmart 15t. In addition, it has faster components, more memory, and better battery life. On the other hand, the Aspire V7 costs $350 more than the Envy—but there are a number of good reasons for that.
Acer selected Intel's Core i7-4500U CPU, a lower-voltage chip than the one HP chose; it has a maximum thermal design power of 15 watts, in contrast to the 47-watt TDP of the Core i7-4700MQ in the Envy. That CPU contributes greatly to the Aspire V7's superior battery life (5 hours, 2 minutes in our tests, versus the HP's 3 hours, 19 minutes).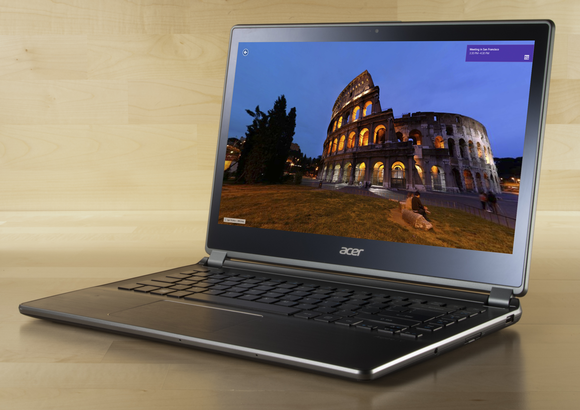 And whereas HP cut a few corners to squeeze both a Core i7 processor and a discrete GPU into the Envy's $950 price tag, Acer managed to toss in a 24GB solid-state drive and 12GB of DDR3/1600 memory alongside a faster discrete GPU, Nvidia's GeForce GT 750M. The SSD acts as a cache for a 1TB, 5400-rpm mechanical hard drive, and it makes Windows and applications load lickety-split. The SSD and the graphics card boosted the Aspire V7's benchmark scores by a considerable margin.
Acer's machine delivered an impressive Notebook WorldBench 8.1 score of 246, marking it as nearly 2.5 times faster than our reference notebook, an Asus VivoBook S550CA powered by a third-generation Core i5 CPU. The Aspire V7 is a capable gaming notebook, too, as it ran our BioShock Infinite test at a very playable 76.5 frames per second (with the resolution set to 1024 by 768 pixels and the visual quality set to low).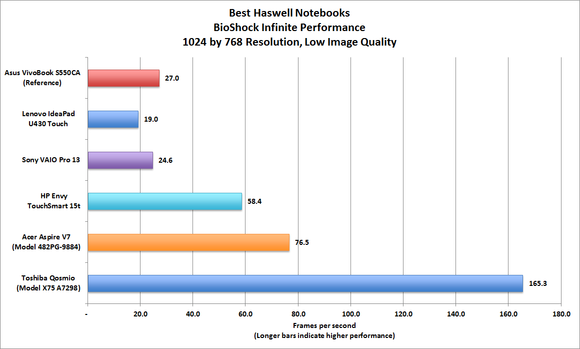 The Aspire V7's 15-inch touchscreen display, which provides a resolution of 1920 by 1080 pixels, is vibrant and responsive. The smaller screen means that the system lacks enough room to include an embedded numeric keypad, but the keys that are present are backlit and nicely spaced. Although they'd benefit from a bit of sculpting to provide better tactile feedback, the keys travel just the right distance for comfort and accuracy. While this machine measures just 0.83 inch thick, it's twice as heavy—4.7 pounds—as the Sony VAIO Pro 13 (which is a wafer-thin 0.68 inch thick and weighs just 2.3 pounds).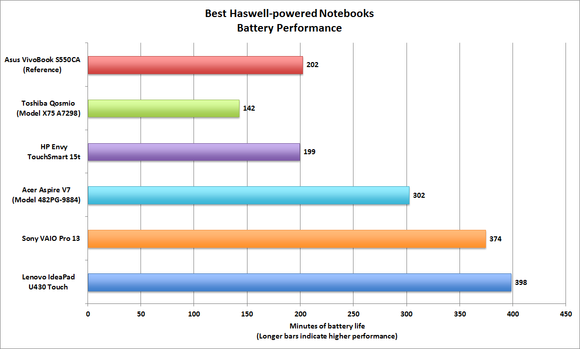 Acer outfitted the Aspire V7 with three USB ports, but only one is USB 3.0 (and it's oddly placed on the rear of the computer alongside a gigabit ethernet port, HDMI-out, and a VGA-out that relies on a dongle). The two USB 2.0 ports are located on the left and right sides, and an SD Card reader sits on the right. The power button, however, is oddly positioned on the left side (where you'll inevitably press it accidentally and power down your computer when all you intended to do was to pick it up).
The Acer Aspire V7 isn't the ultimate Ultrabook, but it's thin, it's fast enough for all but the most demanding content-creation tasks, and it'll play hard-core games (albeit at slightly lower resolution than full HD). I like it a lot.
Note: This review is part of a roundup of the 5 best Haswell notebooks as of September 2013.