At a Glance
Expert's Rating
Pros
High-end components deliver impressive performance
Surprisingly light for its size
4K video via HDMI
Cons
Single-band (2.4GHz) 802.11n Wi-Fi adapter
Half-size arrow and function keys
No touchscreen
Our Verdict
Toshiba's Qosmio X75 is loaded with high-end components and delivers impeccable performance. If you need a desktop-replacement laptop, this is definitely one to consider.
Most manufacturers throw weight considerations out the window when they set about designing a desktop-replacement notebook. Not Toshiba's engineers. Despite packing a 256GB solid-state drive plus a 1TB hybrid hard drive, a Blu-ray burner (not just a player), Nvidia's second-fastest mobile GPU, and a 17.3-inch high-res display, the Qosmio X75 A7298 weighs a modest 7.3 pounds.
It might sound odd to classify 7.3 pounds as modest. After all, the Qosmio X75 won't even fit in some laptop bags. But considering that this laptop can play games, create and edit digital media, and handle pretty much any other task you'd normally rely on a desktop computer to perform, a 7.3-pound weight is pretty remarkable. After all, how easy would it be to lug a desktop PC, a 17-inch monitor, and an uninterruptible power supply from location to location?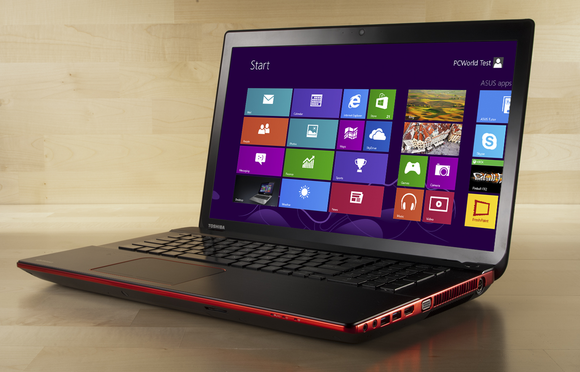 Intel's Core i7-4700MQ, a quad-core mobile CPU, forms the Qosmio X75's heart. It's paired with 16GB of DDR3/1600 memory and Nvidia's GeForce GTX 770M mobile graphics processor (which has 3GB of GDDR5 memory all its own). A dedicated GPU is great for playing hard-core games, but it will speed other tasks too.
Demanding applications such as Photoshop, for instance, will tap the hundreds of microprocessor cores inside the GTX 770M chip to accelerate image processing. In the GPU-accelerated image-processing segment of our Notebook WorldBench 8.1 suite, the Qosmio X75 required just over 60 seconds to complete a task that Lenovo's IdeaPad U430 Touch—which relies on integrated graphics—took more than 5 minutes to finish.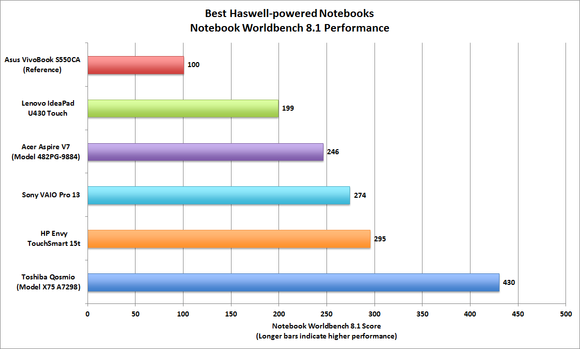 The display is bright and beautiful, but it isn't a touchscreen (as is common with gaming laptops). Since I've grown accustomed to using touchscreens with Windows 8, I couldn't stop myself from swiping my finger across the panel, which has a native resolution of 1920 by 1080 pixels, to bring up the charm bar. I'm sure I would eventually adapt to using the large touchpad for that. Lucky owners of a 4K television can output 4K video from this computer's HDMI port. The HDMI 1.4 port is limited to a refresh rate of 24Hz, but that's fine for movies—no one in their right mind would try gaming at 4K.
The chassis is wrapped in textured aluminum, painted flat black to give it the look of carbon fiber. An attractive (or garish—you be the judge) accent stripe, bright red and highly reflective, runs around the laptop's edge.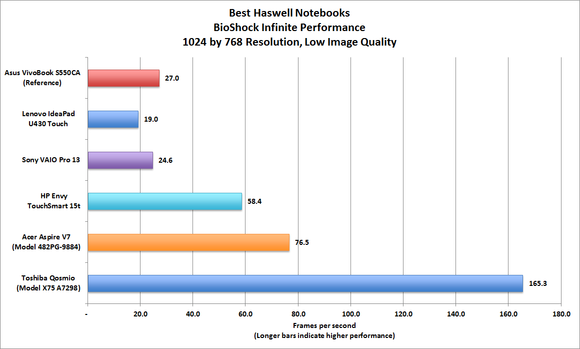 The island-style keyboard is backlit with red LEDs to match the machine's color scheme. The keys aren't sculpted, but they offer long travel, so you don't need to worry about unintentionally depressing them while your fingers are resting on the keyboard. When you're playing a stealth game such as a Splinter Cell title, there's nothing more frustrating than accidentally giving away your position because your hand grew heavy over the WASD keys (which Toshiba has helpfully labeled with arrow symbols).
The size of the display allows Toshiba to provide adequate space between the keys and to include an embedded numeric keypad, but it's unfortunate that the arrow keys beneath the Enter key (and the function keys at the very top) are half-size.
Because the wrist rest sitting beneath the keyboard is especially wide at 4.5 inches, Toshiba was able to place a large (4.5 inches wide by 3.1 inches tall) and very responsive multitouch touchpad in this area. A large speaker grille resides above the keyboard, directly under the display. The Qosmio X75's audio system, designed with the assistance of DTS and Harman/Kardon, is excellent: The speakers deliver crisp highs and deep, well-defined bass response.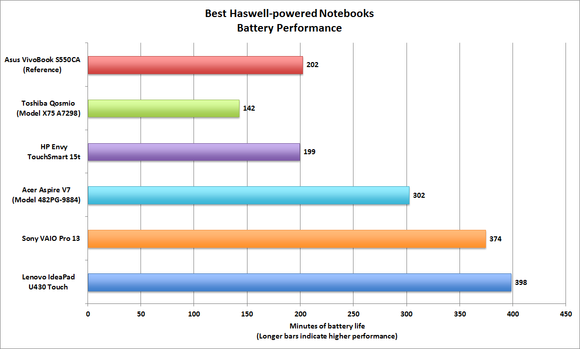 The Qosmio X75 has plenty of real estate to hold ports, and Toshiba took full advantage, placing two USB 3.0 ports and a gigabit ethernet port next to the Blu-ray burner on the left side. Two more USB 3.0 ports, separate mic and headphone jacks, VGA, and HDMI-out occupy the right side, and a multiformat media-card reader sits in front. I was disappointed, however, to see Toshiba give short shrift to wireless networking: A $1900 laptop deserves better than a single-band (2.4GHz) 802.11n Wi-Fi adapter.
I was surprised at how quietly the Qosmio X75 ran, considering all the high-performance hardware stuffed inside it. Less surprising is the brief battery life, though 2 hours, 22 minutes is still more than enough time to watch a full-length movie (not that this behemoth would fit on an airline tray table). This computer can do it all and anywhere, so it's a great choice for a desktop replacement.
Note: This review is part of a roundup of the 5 best Haswell notebooks as of September 2013.