AMD announced the Radeon R7 and R9 series of "Hawaii" graphics cards and cores on Wednesday, an attempt to storm the pinnacle of performance PC graphics.
AMD broadcast what it called its "GPU 14 Tech Day Event" from Hawaii, where the company had offered to host reporters at its expense. PCWorld covered the event via webcast.
AMD's Hawaii chips are based on what the company calls its Graphics Core Next architecture, the second generation of which is contained within the Hawaii cores. AMD launched the R9 and R7 series as a top-to-bottom approach: the R9 is for performance gamers, and the R7 series is aimed at the lower-budget customer.
Matt Skynner, general manager for the graphics business unit, told the audience that AMD's plan was "to create unified Radeon gaming experience across all platforms," from mobile to to the cloud with the Radeon Sky gaming strategy. Skynner highlighted the developers behind the Crysis and Tomb Raider series, and noted that AMD powers all three major game consoles. The PC graphics hardware market is growing to $21 billion in 2017, according to Jon Peddie Research—proof that gamers have the budget for high-end cards.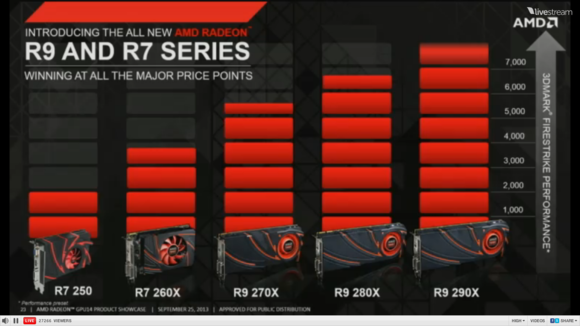 AMD is able to let developers port games from one platform to another, with tools as well as an architecture that makes it easy to do so, Skynner said. "And what's important is not that we're trying to drive the industry from a performance view, we're trying to put reality on the screen" with innovations like TressFx, AMD's hair-modeling system, and depth of field and shadowing, plus its EyeFinity multi-monitor technology.
"How can you draw the user in more?" Skynner said. "As these great games come out, they want more graphics cards. And we've got to be ready for them."
AMD's archrival is Nvidia, which launched the current god of the gaming world, the GTX Titan, in February for a whopping $999. That card, which contains 2,688 graphics cores, was followed by the slightly more affordable GTX 780, with 2,304 cores for $649.
AMD will launch five chips: the $89 R7 250 (1GB of DRAM / 2,000+ scores in the 3DMark FireStrike benchmark), the $199 R7 260X (2GB / 3700+), the $199 R9 270X (2GB / 5500+), the $380 R9 280X (3GB / 6800+), and the R9 290X (4GB), which wasn't priced. (The R9 290X reportedly contains four independent tessellation units, close to 3,000 stream processors, and a 512-bit wide GDDR5 memory interface.) An R9 290X bundle with the hit game Battlefield 4 will also be released for an undisclosed price.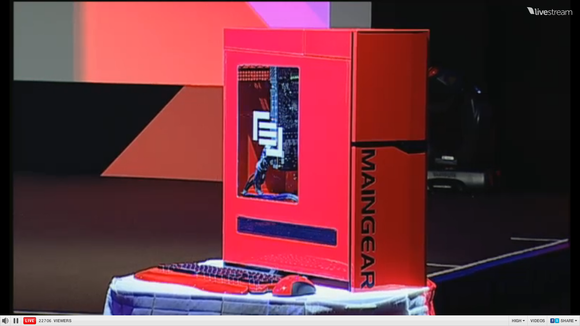 Maingear appeared on stage to announce the Maingear Shift, with cooling for up to three Radeon GPUs. It will be available in the coming weeks, executives said.
The three pillars of "Hawaii"
Raja Koduri, AMD's corporate vice president of visual computing, said that there are three technology pillars for the R9 290 series; the GCN (Graphics Core Next) series, UltraHD (4K resolutions), and audio. The R9 290 series is the first to power DirectX 11.2 games, and offers a whopping 5 GFLOPS of compute power, Koduri said. AMD also designed for lower-power efficiency: this architecture is capable of scaling from 1-watt devices to 1-kilowatt workstations, he said.
The compute capabilities is complemented by over 300Gbytes/s of memory bandwidth, about 20 percent more than 2002's Radeon 9700. The memory is necessary to render high-resolution content: 100 layers of complex rendering at 4K resolutions, he said. The chip renders over 4 billion triangles per second. "We have done this because we see the trend of incredibly high-resolution games coming our way this holiday season and next year."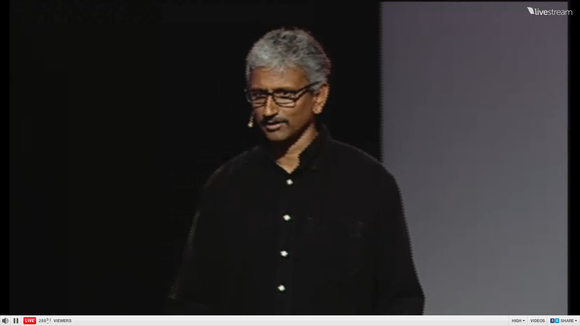 AMD began putting in manual configuration options for its Eyefinity multi-monitor approach when it first introduced the technology. Now, AMD's technology will automatically configure 4K displays, and the company proposed a new standard to the VESA standards body to auto-configure them, which were accepted, Koduri said.
And with the R9 series, AMD launched TrueAudio, which Koduri said is to audio what programmable shading technology did for graphics—a differentiating feature that gave games like Crysis 3 a distinctive look and feel. "I believe that True Audio technology will provide the same artistic freedom to audio artists at these gaming companies," he said.
TrueAudio will enable gamers to hear hundreds of audio channels in the game, as well as immersive, directional audio that pull directional data directly from the game, from multi-speaker configurations down to two-speaker headphone setups. TrueAudio will be supported on the R9 290 and 290x and one of the R7 chips, Koduri said.
"To bring professional-grade audio to the industry requires processor horsepower," GenAudio CEO Jerry Mahabub said—not the CPU, but offloading it to the GPU. GenAudio focuses on 3D audio, but other developers are working on reverberation and spatial modeling, both keys to helping create a "true audio" experience. (Aureal Semiconductor pioneered HRTF positional sound several years ago, using dummy heads; Mahabub said GenAudio's model is based on how the brain perceives sound, based on data collected from MRI scans.)
Reverberations will be the next generation of audio in games like Thief, a developer from Eidos Montreal said.