He may have angered his customers in the process, but Larry Ellison's Oracle Team USA completed a stunning comeback on Wednesday to snatch the America's Cup sailing trophy from New Zealand in the last race of the competition.
The U.S. team had been seven races behind at one point last week in a contest that is decided by the first to win nine races. It clawed its way back with eight consecutive wins on the choppy waters of San Francisco Bay. Oracle Team USA actually won 11 races but began with a two-race deficit because it was caught cheating in a preliminary round.
The victory coincided with Oracle's OpenWorld conference in San Francisco, which might have pleased Ellison had the penultimate race not fallen at the same hour as his closing keynote speech on Tuesday. Ellison gave his spot to a deputy and stayed on the water, irritating customers who had lined up to hear him speak.
He's probably not worrying about that today, having pulled off perhaps the biggest comeback in America's Cup history. Emirates Team New Zealand, whose fans were already celebrating their expected win last week, will be devastated by its loss.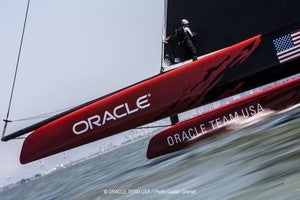 Ellison is a keen sailor, and this is the second time in a row he has helped to fund and support a winning America's Cup team. He fought hard for the competition to be brought to San Francisco and selected a new class of sophisticated, high-speed catamaran to be used for the race. A wealth of technologygoes into their design and operation.
The cost of designing and maintaining those boats, however, meant only four teams ended up taking part, which reportedly angered sponsors and city officials. The race was also marred by the death of British Olympian Andrew Simpson, who was killed when his team's boat capsized in training.
The Kiwis will be lamenting at least two possible missed chances for victory. Last Wednesday, when they needed one race to win and still had momentum behind them, the last race of the day was cancelled due to high winds. Oracle began its comeback the next day.
Then on Friday, the Emirates team crossed the finish line well ahead of Oracle, but too little wind meant it couldn't complete the course within the 40-minute time limit. Oracle regrouped again and the New Zealand team never won another race.
Oracle won the final race by 45 seconds, completing the roughly 12-mile course in 23:24. Its top speed was 51 mph, to the Kiwis' 53 mph.