PayPal is getting into the increasingly crowded small-business loan market. The eBay-owned online and mobile payment service this week announced PayPal Working Capital, a loan program that will initially serve qualified existing PayPal merchant customers.
PayPal won't actually lend the money—its initial banking partner is WebBank. But borrowers aren't saddled with fixed monthly payments or late fees: Rather, they repay the loan and a pre-set loan fee out of sales revenues processed by PayPal.
The cost of the loan depends on the amount borrowed (generally, up to 8 percent of total annual sales processed by PayPal in the last year), the percentage of sales receipts dedicated to paying the loan (between 10 percent and 30 percent), and the merchant's PayPal track record.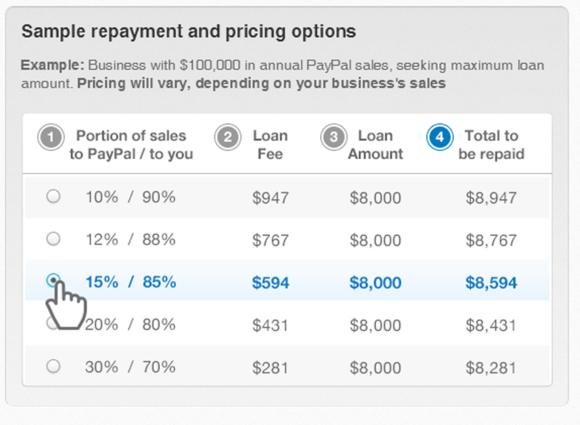 The higher the percentage of sales the merchant is willing to allocate to paying back the loan, the lower the overall fee. In PayPal's published example, for a business with $100,000 in annual sales that borrows the maximum, $8,000, the loan fee varies from $947 if the business opts to dedicate 10 percent of sales receipts to paying down the loan, to $281 for a business that dedicates 30 percent of its sales receipts to paying back the loan.
No credit check is involved, so the merchant's credit rating isn't adversely affected by the loan. PayPal says loan application approval can take as little as five minutes. PayPal wouldn't say how many merchants are actually eligible for the initial program, which runs through the end of the year.
PayPal will continue to collect its usual transaction fees from participating merchants, who must continue to use the service to process payments until the loan is paid off. PayPal will calculate the loan payment at the end of each business day, and withdraw the funds the following day.
There is some fine print. Merchants cannot activate PayPal's Autosweep feature (which transfers receipts electronically to a bank account every day) while they are paying back a loan. While they can still manually transfer funds, if the account balance falls below the amount a merchant has committed to repay the loan, PayPal will simply withdraw any new receipts as so-called catch-up payments.
For more information, visit the PayPal Working Capital website.