Microsoft has added the ability to automatically scan uploaded photos to SkyDrive via optical character recognition, in an attempt to catch up to Google.
Microsoft also touted the success it has had with "smart files," a technology that only syncs a small percentage of SkyDrive's files and folders on a local machine, allowing users to minimize the number of files stored locally.
While it's unclear how many users actually take advantage of the OCR capabilities of both Google and now SkyDrive, it's a nice feature to have around if needed. Microsoft, however, is either five months behind Google—which added the ability to scan uploaded files via its Google Drive app in May—or more than three years, depending on your perspective. In 2010, Google Docs added the ability to extract text from either uploaded PDF files or images.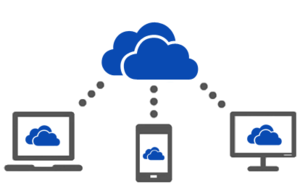 Nevertheless, Angus Logan, head of product management and product marketing at SkyDrive, characterized Bing's ability to search both your local files and the Internet—a capability arriving with Windows 8.1—as a competitive advantage over its rivals.
Logan was especially proud of smart files, however, a capability that Microsoft first disclosed at its Build conference this summer. A user who uploads files to the cloud can do so as he or she wishes, but syncing files can create a problem; the ability to sync files automatically typically requires the user to maintain a local copy on his or her machine. Not so with SkyDrive. The "smart files" technology only requires the user to dedicate about 20 percent of the disk space that he or she normally would, Logan said.
The technology works by caching frequently-used files locally. All the files that a user has are shown, and a user can move, delete, copy, and rename them. Actually accessing the least-used files, however, requires them to be downloaded. Users can configure how much of that cloud storage is saved locally by device, so that desktops with terabytes of available storage can store all of it, while users will small, portable tablets can cache just a fraction.
"What we saw from people using the [Windows 8.1] preview people was that using smart files people saved 80 percent of disk space," Logan said in an interview.
Microsoft recently added 200 GB of SkyDrive storage for $100 per year; users who also buy a new Surface 2 tablet will also receive 200 GB of SkyDrive storage for two years. According to Logan, those files will still be accessible after the two year subscription expires. However, the user will not be able to upload new files to it. (Read PCWorld's article on what happens when your free cloud storage dissipates.)