The anniversary of Hurricane Sandy reminds us that businesses can fall victim to the forces of nature. Whether it's a blaze that burns through your office, or a flash flood that sends water coursing through your server room, disasters can hit at any time, and the most likely casualty is your data.
According the U.S. Small Business Administration, 25 percent of businesses never reopen after being hit by a disaster. But you can beat the odds by designing a backup plan that protects against worst-case scenarios. On the data storage front, having a single backup is not sufficient when the survival of your business hangs in the balance, so consider implementing at least two backup strategies.
Cloud services
Storing your data backups at an off-site location is the best way to ensure that a copy of your most critical data will remain sheltered from any cataclysmic event that may befall your business. And what better way to achieve geographical separation than by storing your data at various centers located across the globe?
Choosing a mature cloud storage provider that has a good track record for reliability will help ensure that your data is available when you need it. Some cloud services use innovative storage techniques to yield lower storage and operational costs. While there's nothing inherently wrong with such efforts, it makes more business sense to go with tried-and-tested methods of data backup. In addition you should always scramble data with robust encryption prior to entrusting it to an external organization for safekeeping.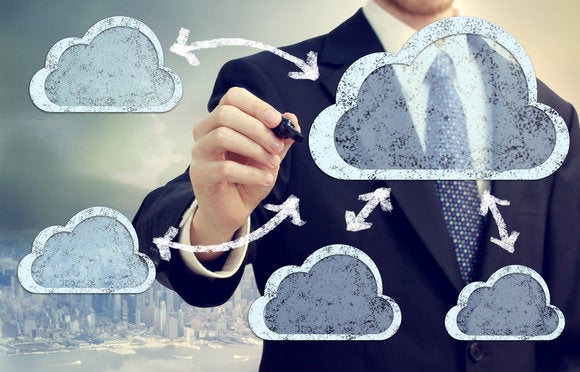 In some situations, cloud storage may be impractical. If you regularly deal with large files, confirm that you have sufficient Internet bandwidth to back up your data online. And make sure that your cloud-storage provider is willing to ship your data backups via physical media, if a complete download takes too long.
Sneakernet
Users who have trouble trusting the cloud should consider using storage tape or external hard disk drives (HDDs). Their portability means that they are easy to move to an off-site location where you don't need to be concerned about prying eyes. A sneakernet system can be ad hoc (such as bringing a tape cartridge home every evening) or more formal (such as arranging to have the backup media couriered to a safe-deposit box every few days).
The sneakernet strategy also works with traditional data backup software. Tape drives tend to be direct-attached storage (DAS) devices, so businesses that operate more than one server may need to install additional software and configure their network correctly to back up data from multiple machines.
If your storage needs are modest, using recordable optical disc media such as DVD or Blu-ray discs may make sense. They're significantly less expensive than tape drives, especially when purchased in quantity. To hedge against "bit rot"—the unexpected death of data archived on optical media—store the backup discs in a cool, dark place, away from direct sunlight, and use them only for short-term backups.
Synchronizing your NAS
Bringing data backups home with you every day may work well if you're a sole proprietor or a very small business. But that arrangement can't last forever as your organization grows and as the demands of running the business increase.
If your business has multiple office locations, you can deploy two compatible network-attached storage (NAS) devices at each location, and set them to synchronize or back up to each other over the network. In the past, only expensive SAN (Storage Area Networks) offered this capability, but today practically every new NAS model does. Look for NAS devices that support block-level sync, which conserves bandwidth by transmitting only the changed portions of a file.
You can send the data over an Internet connection, or over a leased line, if offered in your area. Regardless of your choice, never transmit unencrypted data. You'll need to do additional research to find a suitable NAS appliance—Buffalo, Synology, and QNAP are among the brands that include appropriate NAS models.
Disaster-hardened storage devices
Disaster-proof enclosures provide the ultimate in local backup protection. This approach used to entail chucking tape cartridges into a fireproof safe, but now at least one company offers disaster-hardened data storage devices.
The ioSafe 214 is a disaster-resistant NAS appliance that relies on data mirroring (RAID-1) with two hard drives of up to 4TB capacity. It's both fireproof at external temperatures of up to 1550°F for 30 minutes and waterproof even when fully submerged at a depth of 10 feet for 72 hours. The ioSafe 214 runs Synology's well-regarded DiskStation Manager (DSM) operating system, which supports syncing with a second Synology NAS or with the cloud.
Disaster-proofing the lifeblood of your business can take a little time and cost a little money, but it's not nearly as expensive as rebuilding from scratch after a catastrophe. Take steps now to survive Mother Nature's worst, and you'll rest easier no matter what the future brings.