Norman Barrett's PC is "stuck in a boot loop." When he tries to start it, it continually reboots and starts over.
Something in the boot process is crashing the PC. Then Windows reacts to the crash by rebooting.
You need to do three things: stop the rebooting, figure out what's causing the crash, and fix it.
[Email your tech questions to answer@pcworld.com.]
First, stop the reboots:
Boot your PC, and before the Windows logo comes on, repeatedly press and release F8 until the boot menu appears. Select Safe Mode.
Once Windows is running in Safe Mode, click Start (In XP, click Start>Run; in Windows 8, use the Search charm), type sysdm.cpl and select sysdm.cpl.
Click the Advanced tab, and then click the Settings button under 'Startup and Recovery' (as opposed to the dialog box's other two "Settings" buttons). Uncheck Automatically restart.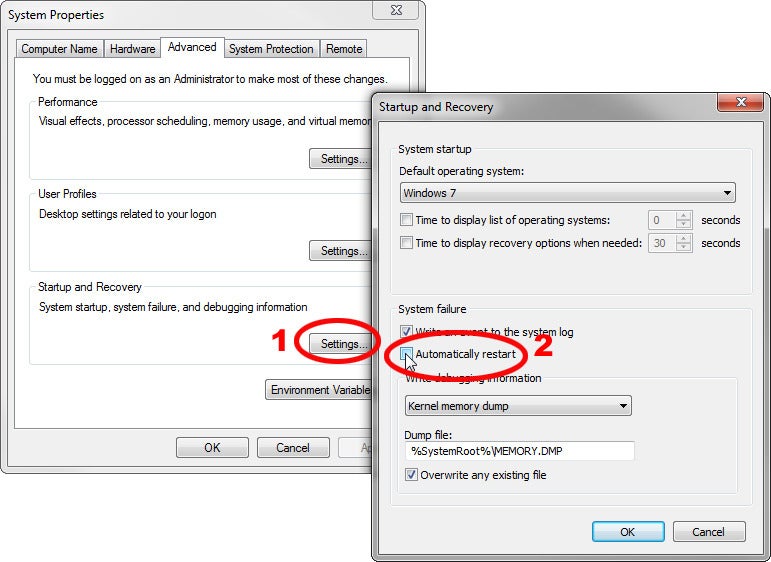 Then click OK and reboot.
Your computer will almost certainly crash, but in doing so, it will probably offer a clue or two about what's wrong.
There's a good chance you'll get a blue screen covered with white text–the dreaded Blue Screen of Death (BSoD). For details with this problem, see Attack of the Blue Screen of Death.
If you're not getting a BSoD, perhaps another type of error message appears. On another Internet-capable device, search for the words in that error message and see if you can find a solution.
Another suggestion: Since the crashes happen at boot time, they could be caused by a bad autoloader. Boot into Safe Mode as described above, launch Windows' MSConfig program, click the Startup tab, and uncheck all programs that load automatically when you boot. If you can successfully boot after that, try experimenting with rechecking some autoloaders but not others until you have found the culprit.
If you need detailed instructions on MSConfig and autoloaders, see Windows Takes Too Long to Boot.