Free doesn't have to mean cheesy, especially when it comes to freeware. A developer's passion project can become something you can't imagine being without, and the fact that you don't have to lay out any cash to acquire it is a major bonus. Some developers accept donations to further development, so consider giving what you can if you find value in their efforts.
Here are some of our favorite freebies. Please tell us about yours in the comments section.
Security
It's imperative to secure your PC against the nasty stuff it will encounter on the open seas of the Web. Fortunately, it's easy to assemble a bullet-proof security suite for nothing.
The free version of Malwarebytes is excellent. Upgrading to the pay-for edition delivers additional features, including protection from zero-day malware (which is new enough to confound traditional AV programs).
Microsoft Security Essentials or AVG AntiVirus Free Edition are other good, no-cost options. Choose only one, though, because it's usually not a good idea to install two AV programs on the same PC (they'll suck up system resources and might conflict with each other).
Passwords are a hassle to remember, so many people memorize just one and use it for everything. That's a huge security risk! LastPass will log you in to all your password-walled sites with a single click, and it will store your information locally to keep it out of the hands of anyone but you. You can use LastPass on your smartphone or tablet, too (Android, BlackBerry, iOS, and other mobile operating systems), but you'll need to purchase the retail version to get that feature.
Utilities
File-archiving utilities make big files smaller and easier to manage, and there's code for creating those archives—and opening existing ones—right inside Windows. But third-party alternatives are faster and more efficient (meaning they create smaller archives). WinZip and WinRAR are two popular examples, but they're trialware (meaning you can use them for free for a limited time, but you'll eventually need to purchase a license). 7-Zip is just as good, if not better, and it's absolutely free (although the developer does accept donations). It can even secure the contents of a zip file using 256-bit AES encryption.
USB thumb drives are handy for carrying documents and other files with you, but storing files in the cloud saves you some schlepping—as well as the risk of loss or failure. Dropbox is one such service, but we found SugarSync to be even better when we compared cloud-storage services last year.
CCleaner is the Murphy's Oil Soap of disk-cleanup tools. Instead of just dusting out old log files and junk you threw in the Recycling Bin, CCleaner digs deep into your PC's cracks and crevices to give everything from your browsers to your Windows Registry a good scrubbing.
The folks at CPUID make great hardware-monitoring tools. Two of the company's utilities, CPU-Z and PC Wizard, deserve a permanent place on your desktop. CPU-Z presents detailed information on your system's central processor: Its make and model, manufacturing process, clock rate, cache size, and more. It can also tell you which company manufactured the motherboard, its model and revision numbers, which core-logic chipset it uses, and the date of its BIOS. Finally, it will specify the type of memory inside your system and its clockspeed. It's a great way to make sure you got exactly what you paid for. PC Wizard does all that, plus it benchmarks your system as well as audit its components.
Your Ultrabook might not have an optical drive, but your desktop machine almost certainly does—and with good reason. CDs and DVDs are the best way to share hundreds of megabytes of data with friends and family: A disc is a much cheaper alternative to a high-capacity USB thumb or hard drive that you might not get back. Burning a disc—be it music on a CD, a movie on a DVD, an image file, or what have you—might be an activity you perform rarely, but you will need to do it at some point. Install ImgBurn on your PC now, and you won't have to scramble to do it later.
Life on the Web
If Microsoft's clever ads haven't convinced you to stick with Internet Explorer, snag Mozilla's Firefox or Google's Chrome as your passport to the Web. Load them up with useful add-ons and extensions to get the most fun, security, and productivity.
For those of us with family members—and/or business associates—spread across the globe, staying in touch via landline or mobile phone can be prohibitively expensive. VoIP (Voice over Internet Protocol) is a much better, considerably cheaper alternative. Microsoft's Skype adds video (you provide the webcam) and instant messaging to the mix for free, but the person at the other end of the call must also be using Skype. For a small fee (subscriptions are also available), you can call landline and mobile numbers in the United States and in other countries (see the Skype site for details).
Online instant messaging is another great way to stay in touch, but not everyone likes to use the same IM service. Trillian consolidates them all: AIM, Skype, and even Facebook. And since there are versions of the utility for just about any device you might be using, you can start a conversation on your smartphone and finish it on your desktop—or vice versa!
If you enjoy playing online games with your friends, utilities such as Ventrilo, Mumble, and Teamspeak let you stay in contact with each without tying up your hands to furiously tap out messages. You can simply speak to each other over the Internet using these push-to-talk VoIP services. They're light on bandwidth and easy to set up and use.
Gaming
Speaking of games, Valve's Steam is the 800-pound-gorilla of games distribution and is the close-to-ultimate service for acquiring and playing games on the PC, Mac, and Linux platforms. Steam is also available in mobile versions so you can stay in touch with your game-playing friends using Android and iOS smartphones and tablets. If you play EA games, such as SimCity, or anything in the Battlefield series, you'll also want to download and install EA's Origin. Both Origin and Steam are free to use, and both have free as well as pay-for games in their libraries.
You can't buy games using Raptr, but this social-networking tool will let you launch all your games from one place, allow you to grab screenshots that you can stream via Twitch.tv, track how much time you spend playing games, and more.
Other digital entertainment
Spotify is a must-have service for music lovers on tight budgets. We can't always afford to buy the latest albums, but Spotify lets us listen to unlimited music from countless artists. It's also a great tool for music discovery. Rate tracks and artists, follow what your friends are listening to, and Spotify will lead you to new music you might like.
When it comes to managing media libraries, iTunes is hard to beat—it's essential if you own an iOS device. It will organize all your music, movies, TV episodes, and podcasts, automatically download new content, and then sync that content across your PC or Mac/iOS device.
For a simple media player, the open-source VLC Media Player is the best free program available—especially now that Microsoft has detached Windows Media Center and made it a separate purchase. Why bother with that? VLC Media Player will play virtually any media file, and there's a version for most every popular operating system.
Creative pursuits
Audacity is a deceptively simply audio-recording and editing tool that's just the ticket for anyone from podcasters to musicians to audiophiles. This tool is easy enough for novices, but sophisticated enough for engineers.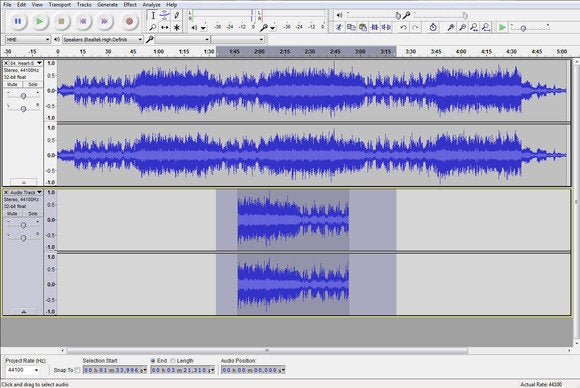 You don't need to line Adobe's pockets to gain access to powerful online photo-editing software. Paint.NET delivers a similar degree of power and sophistication (including blending, layers, transparency, and even a host of plugins) as Photoshop at the price of, well, nothing (the developer does accept donations).