At a Glance
Expert's Rating
Pros
Excellent range
Extremely fast file transfers from USB 3.0 storage devices
Compelling feature set, including downstream QoS
Cons
Requires second Nighthawk configured as 802.11ac bridge for top performance
Exceedingly large wall wart
Our Verdict
Netgear's Nighthawk 802.11ac router boasts a strong feature set, delivers exceptional range, and is reasonably priced. It's the best Wi-Fi router on the market, at least for now.
Best Prices Today: Nighthawk R7000 AC1900 WiFi Router
Note: This review was updated in its entirety on 12/27/2013 after it was compared to five other new 802.11ac routers. The star rating did not change.
Netgear was first to market with a new 802.11ac router powered by Broadcom's BCM4709 SoC (system on chip), which is based on a 1GHz, dual-core ARM Cortex-A9 processor. The Netgear R7000 is packed with tasty features, and it delivers exceptionally good performance. But the Asus RT-AC68U, which arrived on the scene a little later in the year, is equally good if not better.
Historically, Netgear's consumer wireless routers have used fixed internal antennas, while Asus's Wi-Fi routers have been equipped with external, removable antennas. When I compared Netgear's first 802.11ac router (the R6300) to Asus's (the RT-AC66U) last year, I credited the Asus router's superior performance to its external antennas. The Asus RT-AC68U also has external antennas.
So I chuckled when I saw humongous external, removable antennas on the R7000, which—like the Asus RT-AC66U—has a rather slablike enclosure that you can lay flat or hang on a wall. I think it's even more amusing that Netgear is marketing its new router with the nickname "the Nighthawk." Asus markets its router as "the Dark Knight." Is this a case of imitation being the sincerest form of flattery, or has Netgear realized that people buying high-end routers care more about a router's performance than about its ability to blend into a home's decor? I hope it's the latter.
In any event, the Nighthawk's sharply angular industrial design and huge antennas make it look very much like its namesake, the F117 Nighthawk stealth jet fighter. A dozen LEDs on top of the router inform you of the status of its wireless radios, USB ports, Internet connection, ethernet and USB ports, and other features. Each LED is labeled, but the tiny gray symbols on the gray enclosure are nearly impossible to read. The last two LEDs on the right side are also buttons: One turns the router's wireless capability on and off, and the other enables WPS (Wi-Fi Protected Setup) for connecting a client.
Netgear describes the Nighthawk as an AC1900 Wi-Fi router. That number stems from its ability to support physical link rates of 1300 mbps on its 5GHz radio (using the 802.1ac networking standard) and of 600 mbps on its 2.4GHz radio (using the 802.11n networking standard). The higher-than-usual 2.4GHz link rate is made possible by the device's use of 256-QAM (quadrature amplitude modulation). Most routers rely on 64-QAM, which provides a maximum link rate of 450 mbps with 2.4GHz 802.11n networks. Broadcom markets this capability as TurboQAM.
Unfortunately, not all old 2.4GHz, 802.11n devices will suddenly become faster. To enjoy the higher link rate, the client must also support 256-QAM. In some cases, this can be accomplished via a firmware update, if the manufacturer offers one.
The Nighthawk matches the Asus RT-AC68U almost feature for feature, and it's superior in two respects: First, Netgear's router offers downstream Quality of Service( QoS) , where most routers—including the Asus—support only upstream QoS. This means the Nighthawk can recognize network traffic such as a Netflix stream and assign it higher priority than other traffic, such as a BitTorrent upload. The Nighthawk also has better parental control features. In addition to supporting OpenDNS, you can block websites based on keywords, you can operate parental controls according to a schedule, you can exempt specific PCs from the parental controls, and it can send you email alerts when someone attempts to connect to blocked sites and services.
The Nighthawk also supports OpenVPN, which gives you secure access to your home network—and all of the client PCs running on it—from anywhere that provides Internet access. The router has two USB ports and can support both a USB printer (you'll need to install Netgear's USB Control Center utility on each client) and a USB storage device. The Nighthawk provides a personal ftp server, with dynamic DNS support to make it easy to access a USB storage device connected to the router from the Internet. Using Netgear's free service, you can set up an easy-to-remember ftp address (such as ftp://yourname.mynetgear.com) and use it with any Web browser to access the contents of the drive.
The Nighthawk comes with both DLNA media and iTunes music servers, so any DLNA-compatible device or Apple AirPlay device on your network—an AV receiver, Roku box, Apple TV, or the like—can stream media from a hard drive attached to it (though the iTunes server supports only music). Netgear also provides free ReadyShare Vault backup software that you can install on as many client PCs as you want to back up its hard drives. The Nighthawk supports Apple's Time Machine backup technology for Macs on the network. But Netgear has no answer for Asus's dual-WAN support or the RT-AC68U's ability to support a 3G/4G dongle for broadband backup.
Networking performance
It's pretty much a tie between the Netgear Nighthawk and the Asus RT-AC68U in terms of which router has the best feature set. The Asus is a little better from a business perspective, and the Netgear is a little better from a consumer perspective. So the next question is, which router performs better?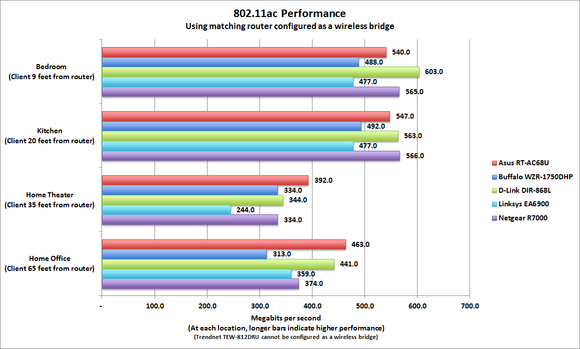 When I tested the routers paired with an identical router configured as an 802.11ac Wi-Fi bridge, I was surprised to see the Nighthawk finish in third place overall. But when you see throughput of nearly 374 mbps at a distance of 65 feet with the signal passing through three insulated interior walls, you probably won't care.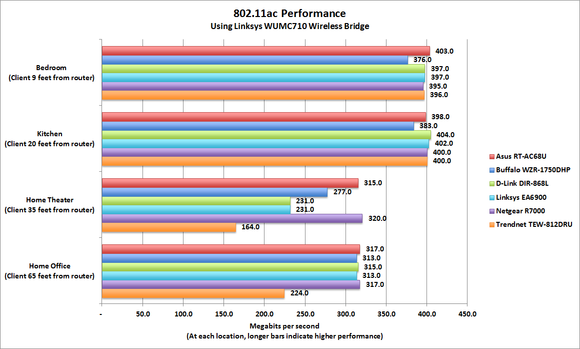 The contest between the Netgear and Asus products was even tighter when each router was paired with a client connected to a Linksys WUSB710 802.11ac bridge. The two finished second and first, respectively, but the overall difference was a razor-thin 0.3 mbps this time.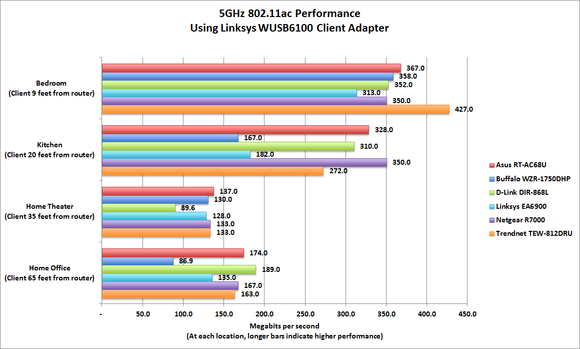 The Asus RT-AC68U beat out the Nighthawk when tested with a client equipped with a Linksys WUSB6300 802.11ac Wi-Fi adapter, but the Nighthawk was just 1.5 mbps slower. In fact, all the routers performed very well on this test, but the Netgear and Asus products have far superior feature sets.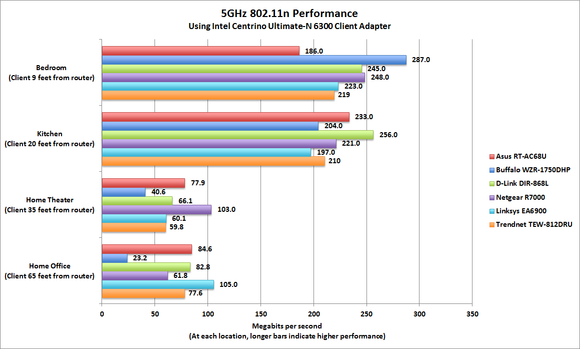 Each router's 5GHz 802.11n network performed well, but the Nighthawk's overall performance was the second highest, compared to the RT-AC68U's fourth-place finish. If you have legacy clients, this router should serve them well.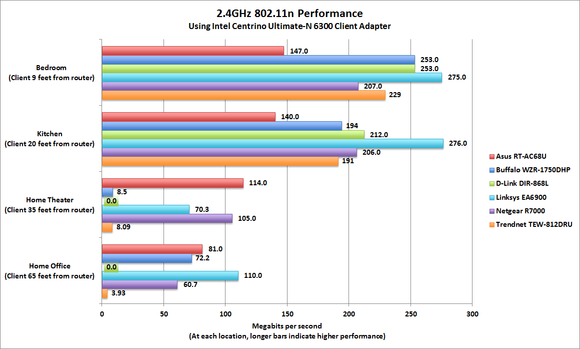 The Nighthawk's 2.4GHz 802.11n network performed much better than the Asus's router on this test, but it certainly wasn't the fastest in this category. I didn't have a client that supported TurboQAM, but I plan to review some Wi-Fi adapters that do in the near future.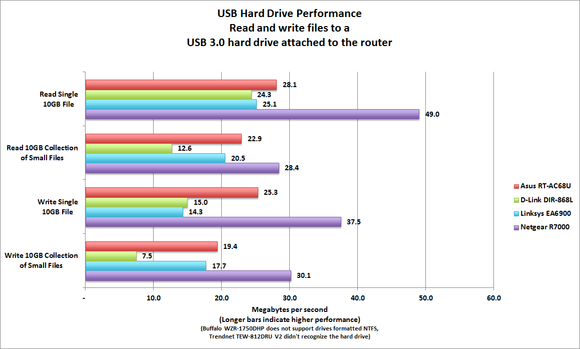 If you don't want to invest in a stand-alone NAS (network-attached storage) device, connecting a USB hard drive to the Netgear's Nighthawk USB 3.0 port is a viable alternative. The dual-core CPU running at 1GHz inside the Nighthawk positive crushed the rest of the field, especially when it came to writing files to the hard drive.
The bottom line
The Netgear Nighthawk is very fast, and it's stuffed with compelling features for a very reasonable $200. Upgrading to this from any 802.11n router (or anything older) is an absolute no-brainer. If you live in a household in which other users compete for bandwidth, the Nighthawk's downstream QoS feature might solve any video-streaming problems you encounter. If you don't already have a NAS, this unit's USB 3.0 port will be attractive. And if you have a 2.4GHz client that you don't want to discard, Netgear's 2.4GHz beam-forming technology could make for faster connections. If you're more interested in business-related features, the Asus RT-AC68U will better serve your needs.
After you've finished reading the rest of these reviews, check out 12 of the new routers announced at CES 2014.
Best Prices Today: Nighthawk R7000 AC1900 WiFi Router