Let's be honest: Security isn't sexy. iPhone and iPad users are understandably enamored with iOS 7's photography features and Siri's new voice and likely haven't given a thought to the host of security additions under the hood. But iPhone theft is on the rise everywhere, and your device could be next.
Fortunately, the latest version of Apple's mobile operating system is so secure, it's even converted our nation's law enforcement brass into iOS 7 fans. And while protecting your device may not be as fun as personalizing your iTunes Radio station, we urge you to implement these seven security features.
Find My iPhone authentication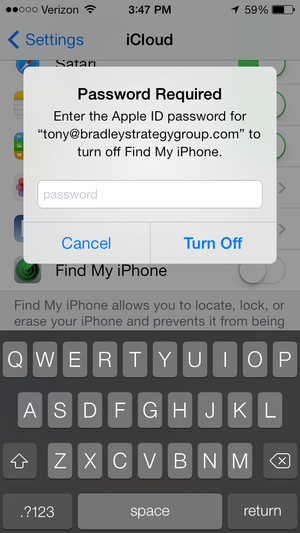 Find My iPhone helps you locate your missing device, remotely lock it, send a contact message to it, and, if necessary, erase its data. The feature has been part of Apple's mobile operating system since iOS 5, but the first thing an iPhone thief typically does is turn it off. To thwart that tactic, iOS 7 requires the user to enter the password for the associated Apple ID account to disable the feature.
Activation Lock
Smartphones and tablets have sparked a criminal cottage industry of reselling stolen devices—just restore the device to factory defaults, and let the new owner set it up as their own. Well, that trick won't work any more, thanks to Activation Lock.
Activation Lock is a function of Find My iPhone. The feature ties the device to your Apple ID and requires your Apple ID password before anyone can restore or reactivate the device. As long as you have the Find My iPhone feature turned on in the iCloud settings, Activation Lock is enabled as well.
Erase authentication
Erasing a stolen iPhone to get rid of any tracking or monitoring apps is also a common tactic of criminals. iOS prevents this by requiring authentication to wipe or erase the device. Instead of using the Apple ID password, though, this authentication process uses the device passcode, so make sure you have one enabled.
Added Privacy settings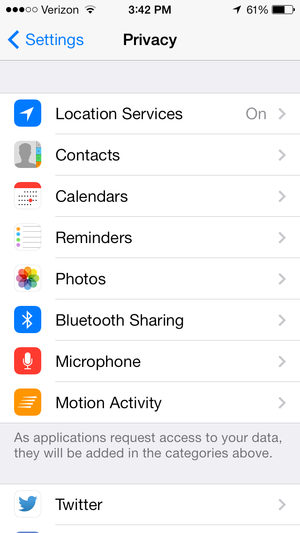 Privacy is on everyone's mind these days, but it can be especially tricky to manage on a mobile device with various apps accessing and interacting with everything from your GPS to your contacts and photos. iOS simplifies privacy controls by letting you manage permissions for each app on your device with a simple on/off switch. iOS 7 extends this capability, allowing you to designate which apps can access your microphone, camera, and cellular data.
Expanded data encryption
Apple has included impressive data encryption capabilities in past versions of iOS, but the benefits have been restricted to core iOS data. Third-party apps were able to leverage the encryption only if the app developer included the protection.
With iOS 7, data in both iOS itself and the third-party apps you've installed are encrypted by default. The only caveat is that data encryption is tied to the device passcode—no passcode, no protection.
Per-app VPN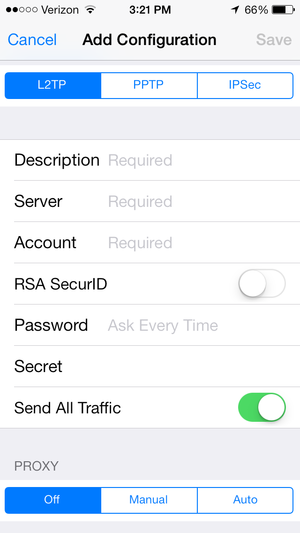 A VPN (virtual private network) allows your iPhone to create a secure connection with remote resources such as a corporate network, encrypting the traffic to prevent it from being intercepted or compromised. VPN support itself is not new to iOS 7, but per-app VPN offers two additional benefits. First, you can configure apps so that they connect over VPN only when they are launched. Second, the VPN tunnel is specific to the app in question, so personal information and Web browsing activity are not combined with the app data. One caveat: The app developer must implement per-app VPN within the app.
iCloud Keychain
Remembering passwords, credit card numbers, and other sensitive data is a pain. iCloud Keychain stores your contact information, usernames and passwords, and credit card information securely, and it can sync the information across all of your iOS 7 devices and Mac OS X systems. Apple protects the iCloud Keychain information with 256-bit AES encryption.
This feature was part of the various developer beta builds of iOS 7, but was mysteriously yanked from the official release of iOS 7. It is currently listed on the Apple site as "coming soon." Rumor has it that Apple will update iOS 7 and replace the feature once OS X Mavericks—the upcoming version of Mac OS X, which will also include the iCloud Keychain feature—is released later this fall.