At a Glance
Expert's Rating
Pros
Excellent performance
2TB, 3TB, or 4TB of storage accessible via the cloud
Expandable via USB 3.0 port
DLNA and iTunes media server support
Gigabit Ethernet
Cons
Limited data redundancy (because there's only one drive)
Can't stream media via the cloud
No BitTorrent support
I love the cloud. I depend on it. The cloud allows me to access my data from any device at any time; from anywhere I have broadband access. And I can share some or all of that information with other people: A boon to productivity when I'm collaborating with someone.
I've become so addicted to that flexibility that I'm willing to pay a subscription fee, even though I don't trust the service provider to keep my information entirely secure. I never put anything sensitive in the cloud, such as my tax returns or other financial data. And I never rely solely on the cloud. I always keep backup copies on storage devices that I have complete control over.
WD's My Cloud delivers the best of both worlds. It's a hard drive that connects to my home network, so it's as secure as I can make it. But I can access it from the Internet—from a PC, smartphone, or tablet—just like a cloud service. And I can create user accounts with passwords to allow family, friends, and colleagues to access specific folders, so we can share information (or media) and collaborate. I can also transfer files between the My Cloud and cloud-storage services, such as Dropbox.
Hmm. My Cloud sounds a lot like WD's My Book Live product line, doesn't it? As it turns out, the My Cloud series is replacing the My Book line, and the new desktop and mobile apps WD is launching alongside My Cloud will also work with the older drives. But there's one My Cloud feature you won't find on any My Book Live: a USB 3.0 port that can host a digital camera for direct file transfers. Alternatively, you can connect a stand-alone USB hard drive into this port and expand the My Cloud's storage capacity.
As with the My Book Live, you can also back up your PC to the My Cloud over your network. And the drive supports Apple's Time Machine technology, so you can back up Mac clients, too. And unlike some NAS manufacturers that limit the number of free client licenses you get, Western Digital will back up as many computers as you'd care to connect to it (there are practical limitations, of course, based on the amount of available storage). If you'd like, you can mirror these backups on a public cloud service.
WD offers mobile apps for the Android and iOS operating systems, which helps solve another problem many of us face: data fragmentation caused by having stored files on multiple devices. Install the apps onto your smartphones and tablets, and you can send all your media files over the Internet to your My Cloud. I just wish my digital camera was smart enough to support an app that could do that (yes, I should buy a Wi-Fi-enabled storage card).
Installing the My Cloud is pretty much a plug-and-play affair: It even detected my double-NAT'd router and configured itself to work under those circumstances without any intervention on my part. (I'm in a double NAT situation because there's no retail alternative to AT&T's U-verse gateway/router combo). When the Lab benchmarked the My Cloud, it delivered very fast file-transfer performance, reading a 10GB collection of files at 29.9 MBps and writing it at 21.4MBps. It performed equally well with a single 10GB file, reading it at an impressive 79.4 MBps and writing back to the drive at 62.1MBps.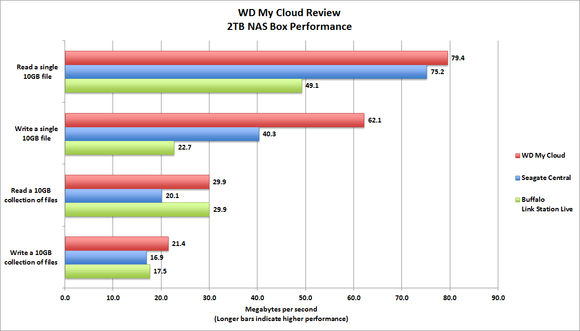 Moving beyond backup services, the My Cloud has an onboard DLNA server and iTunes support, so it can stream media to various entertainment systems in your home that also support DLNA or iTunes (I'm talking about smart TVs, network-capable AV receivers, and media-streaming boxes such as the Roku or WD's own WD TV Live). Unlike Microsoft's discontinued Windows Home Server 2011, the My Cloud cannot stream media to a client over the Internet. WD doesn't provide BitTorrent support, either.
The My Cloud is very reasonably priced: The 2TB model reviewed here goes for $150, and WD offers a 3TB model for $180 and a 4TB model for $250. Relying on a single-drive NAS for backup or storing critical data is a little risky, however, since you stand to lose everything if the device fails.
WD mostly solves this problem with a feature it calls "safepoints." A safepoint is a snapshot of the drive that can be stored on another storage device on your network or on a drive attached to the My Cloud's USB port. Should the drive fail, you can recover all your data—including all your backups of your client PCs and Macs—from the safepoint on a healthy drive. And once you've created a safepoint, the My Cloud can be set up to automatically create new ones at specified intervals.
WD plans to offer two- and four-drive units down the road. If the drives in these models can be configured as RAID 1 (where data is automatically mirrored), it will add another layer of data security. There is, however, one shortcoming to both of these solutions: No amount of redundancy will preserve your data if both your original and your backup(s) are in the same physical location that location is devastated by fire, flood, earthquake, or some other disaster.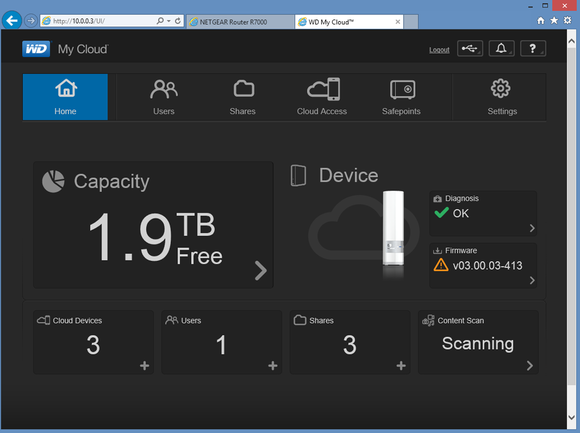 The thing is, very few other NAS manufacturers offer a solution for this problem, either (the new Drobo Transporter 2.0 is supposed to be capable of backing up to another Transporter 2.0 via the cloud, but the company has yet to send one for review).
And considering everything that the My Cloud does do, that criticism becomes a small detail. If you need storage that's available from just about everywhere, and you don't want to rely on a third-party cloud service to provide it, WD's My Cloud is a brilliant solution.