Dell teased its Intel Bay Trail-powered 8-inch Venue Pro tablet at the Intel Developer Forum last month. On Wednesday, the company introduced several 11-inch versions of the Venue Pro. But don't think Dell is buying into the notion of a post-PC marketplace: It also introduced three new Ultrabooks bearing its XPS brand, including an 11.6-inch, 2-in-1 convertible, and a 15.6-inch model tricked out with discrete graphics and an eye-popping display with a resolution of 3200 by 1800 pixels.
Dell vice president Neil Hand showed me those products at a briefing during IDF last month, along with several other Venue (minus the "Pro") tablets that will run the Android operating system (TechHive editor Armando Rodriguez has the scoop on those devices).
One operating system Dell has lost all interest in is Windows RT, and Hand is apparently unconcerned that consumers will associate the Venue and Venue Pro brands with Dell's unsuccessful smartphone effort (Dell exited the U.S. smartphone market in early 2013). Hey, why waste a perfectly good brand name?
Venue 8 Pro
Hand briefly showed the Venue 8 Pro during one of the IDF keynotes, but he revealed few details about the tablet at that time. Today, the company announced that the Venue 8 Pro will feature an 8-inch IPS display with ten touch points and a resolution of 1280 by 800 pixels. It's powered by Intel's quad-core Atom Z3740D processor (Bay Trail family) and 2GB of single-channel DDR3/1600 memory. It has 32GB of flash storage, which can be expanded up to 96GB via a MicroSD card reader (a model with 64GB of storage that can be expanded to 128GB will also be available).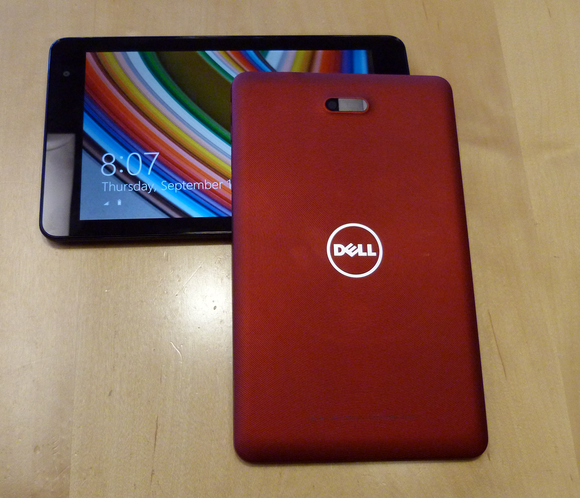 The Venue 8 Pro has a 5-megapixel camera in the back, and a 1.2-megapixel camera in front. The 0.35-inch-thick, 0.87-pound tablet is powered by an 18Whr (4830mAh), 2-cell battery. Battery charging and wired data transfers are accomplished via a Micro-USB 2.0 port. A dual-band (2.4GHz/5GHz) Qualcomm Wi-Fi adapter delivers two-stream 802.11n wireless networking. Bluetooth 4.0. mobile broadband support, in the form of either HSPA+ or LTE, will be offered as options. Dell expects the Venue 8 Pro to be available on October 18 and has priced the base model at $300.
Venue 11 Pro
The larger Venue 11 Pro must have an 11-inch touchscreen, right? Wrong! It's only 10.8 inches, but it delivers a resolution of 1920 by 1080 pixels, provides ten touch points, and can drive an external monitor via a mini-HDMI port or with Intel's wireless display technology.
Dell will offer an optional docking station that can drive an external DisplayPort 1.2 monitor at resolutions up to 2560 by 1600 pixels (or an outboard HDMI 1.4 display at resolutions up to 1920 by 1080 pixels). Hand also showed me an optional docking keyboard/case accessory that effectively transforms the tablet into an Ultrabook. The keyboard felt great under my fingertips, and it houses a second battery for the tablet.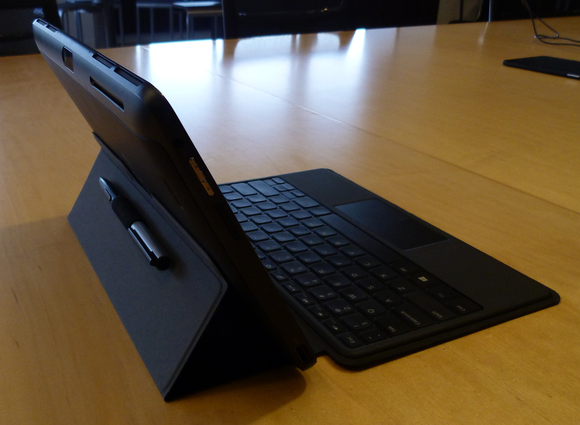 Speaking of batteries, the Venue 11 Pro's is removable. Unfortunately, Dell doesn't provide any means of charging a spare battery outside the tablet. Hand said the intent was more to provide the enterprise with flexibility than to extend the tablet's runtime. Maybe he'll change his mind if there's enough demand for a battery-charging dock.
The Venue 11 Pro will be available in several configurations when it ships in November, with the base model powered by a quad-core Intel Atom Z3770 (Bay Trail family), 2GB of DDR3/1333 memory, and 32GB of solid-state storage. Dell will also offer models with Intel's dual-core Pentium 3560Y processor (Bay Trail again) and several dual-core Haswell-class CPUs (the Core i3 4020Y, Core i5-4210Y, and Core i5-4300Y). The higher-end models will be equipped with either 4GB or 8GB of DDR3/1600 memory, and 64GB, 128GB, or 256GB SSDs.
An 8-megapixel camera is mounted on the back, and there's a 2-megapixel camera in the front. You can plug in a headset for video conferencing or media playback, and a full-size USB 3.0 port supports devices such as external hard drives. A MicroSD card reader can add an additional 64GB of on-the-go storage.
Most Venue 11 Pro models will ship with a Dell Wireless 1537 dual-band 802.11n Wi-Fi adapter, but models configured with Intel's Core i5 with vPro CPU will have an Intel Dual Band Wireless-AC 7260 adapter on-board. Bluetooth 4.0 and Near Field Communication (NFC) will be supported. As with the Venue 8 Pro, mobile broadband options—HSPA+ or LTE—will also be available.
Depending on the configuration, the Venue 11 Pro will weigh either 1.57 or 1.76 pounds and will range in thickness from 0.4 to 0.6 inches. Dell expects the base model to be available in November and has priced it at $500. The company didn't announce pricing for the higher-end SKUs or for the accessories.
XPS Ultrabooks
Dell reserves its XPS brand for products aimed at PC enthusiasts, and the three Ultrabooks that Dell announced today should appeal to that crowd. All three machines are built from a mixture of carbon fiber, machined aluminum, and Gorilla Glass. And each model is outfitted with a fourth-generation Intel Core processor, SSD storage, and an 802.11ac Wi-Fi adapter.
The XPS 11 is a 2-in-1 convertible similar to the Lenovo Yoga 11S: Position the 11.6-inch screen at an angle to the keyboard, and you have a thin-and-light laptop. Fold the screen flat against, but facing out from, the keyboard, and you have a slightly thick tablet.
Dell will offer the machine with fourth-generation Intel Core i3 or Core i5 processors and integrated graphics that will provide a display resolution of 2560 by 1440 pixels. The machines will have 4GB of DDR3/1600 memory and 80GB, 120GB, or 256GB of SSD storage. Dell expects the XPS 11 to fetch $1000 when it ships in November.
Dell is updating its existing XPS 13 with fourth-generation Intel Core processors (Core i3, Core i5, and Core i7 SKUs will be available) and is adding a 13.3-inch touchscreen option. Both touch and nontouch models will deliver a screen resolution of 1920 by 1080 pixels, 4GB to 8GB of DDR3/1600 memory, 128GB or 256GB SSDs, two USB 3.0 ports, and a mini DisplayPort. The updated XPS 13 will be available in November, with prices starting at $1000.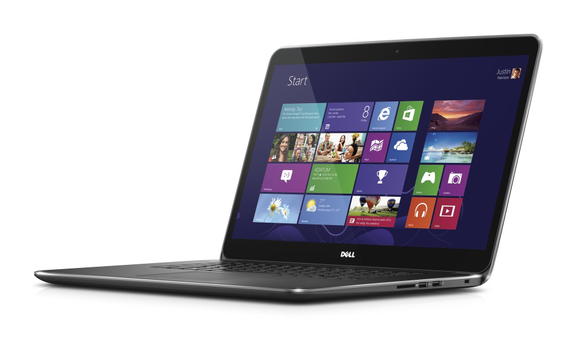 An updated Dell XPS 15 will go on sale October 18, featuring fourth-generation Intel Core i5 or Core i7 processors, 8GB to 16GB of DDR3/1600 memory, and a discrete GPU option (Nvidia's GeForce GT 750M with a 2GB frame buffer). It will be available with 15.6-inch displays with either a 1920-by-1080-pixel or 3200-by-1800-pixel resolution (with the latter delivering a pixel density 235 ppi—slightly higher than that of Apple's 15-inch MacBook Pro). The XPS 15 will be available with either a mechanical hard drive backed by an SSD cache or a 512GB SSD. Prices will start at $1500.