At a Glance
Expert's Rating
Pros
Good file format support
Inexpensive
Supports conversions via both drag-and-drop and printer driver
Cons
PDF conversions only, no editing or creating
May have to disable antivirus software during installation
Some conversions already exist in Office
Our Verdict
GDoc Creator is an inexpensive and capable PDF conversion utility for people who need to produce PDFs from a wide variety of document sources.
PDF creation from existing document and image files doesn't get much easier than the two ways you can do it with Global Graphics' GDoc Creator. You can drag-and-drop the file (or files) you wish to convert onto the tiny orange application window, or right-click the file, choose Print, and then select the GDoc Creator PDF printer driver that appears during installation. Either way, you'll have a PDF in a matter of moments.
GDoc Creator can also generate Word documents from PDFs. But it's important to understand what this $10 application doesn't do. In fact, the name GDoc Creator is a bit of a misnomer, since you can neither create PDFs from scratch nor edit them. It's a conversion utility, pure and simple.
Installation of the app was initially problematic on my Windows 7 notebook: It turns out my Trend Micro antivirus software shut it down when it attempted to contact GDoc Creator's online activation site (a problem related to third-party certificates). I briefly disabled Trend Micro, quickly completed the installation, and then reactivated the antivirus software. Judging from how quickly Global Graphics came back with this solution, I suspect the problem may not be uncommon, so you might want to disable any AV software during installation.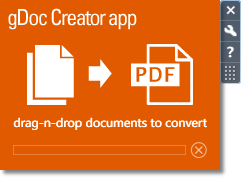 The GDoc Creator application window is so small that I initially thought it wasn't running: It's an orange rectangle measuring a bit less than two by two-and-a-half inches, taken up largely with an image of blank pages followed by an arrow pointing to a page labeled PDF. The small conversion progress bar is barely visible until you actually use the app.
Hovering the cursor over the app summons a tiny grey toolbar that flies out on the top half of the right edge. It has only four icons: An X to shut down the app, a wrench to bring up the settings window, a question mark to get the help file, and a small grid of dots as a handle to move the app window.
The settings window lets you specify which flavor of PDF you want (more about that below); where to save the new document (either the source file location or a location that you type in), whether to open the new document when the conversion is done, and whether to alert you with a sound when a conversion is done (which might be a few minutes if you're performing a batch conversion).
Of course, current Microsoft Office apps already allow you to save their documents in PDF format. But the desktop version of GDoc Creator can create PDFs from all the Microsoft document formats (whether or not you have Office installed) as well as formats Office doesn't support. These include popular image formats (.bmp, .gif, .jpeg, .jpg, .png, .tiff., .tif), diagramming files, and even e-mail message formats. And the GDoc Creator printer driver can generate a PDF from any document that Windows can print.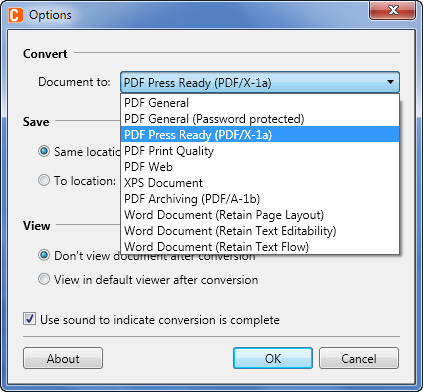 Output options are more plentiful as well. With Word, for example, Microsoft's save as PDF options let you specify ISO 19005-1 compliance (PDF/A, the version best suited for electronic consumption), or password protection—but not both. GDoc Creator's output options include half a dozen PDF variants, including ones optimized for commercial printing, archiving, and the web—not to mention password protection support.
If you use GDoc Creator to convert PDF to Word files—again by drag-and-drop onto the application window—what you actually wind up with is a PDF file that Word can open, not a .doc or .docs file. For these conversions, the options menu include optimizing for preserving layout, for the ability to edit text, or for text flow. I was not, however, very impressed with the results of my PDF to Word conversions. Layout was completely destroyed and fonts looked odd.
However, the PDF conversions looked fine. For $10, GDoc Creator might be a useful utility for people who need to generate PDFs from a wide variety of documents.
Note: The Download button takes you to the vendor's site, where you can download the latest version of the software.