Toyota added a new concept electric vehicle to its Hamo car sharing project, which lets users rent electric cars by the minute.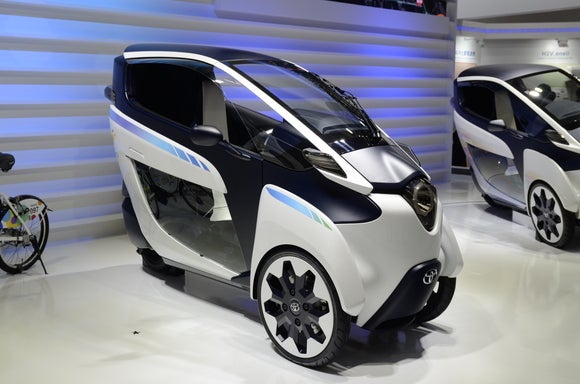 The company's Harmonious Mobility Network or Hamo has been underway in Toyota city since October 2012. The new concept vehicle called the i-Road weighs 300 kilograms and can fit two passengers. It has dual two-kilowatt motors that can propel the car at speeds up to 45 kilometers per hour for up to 50 kilometers on a single charge of its lithium-ion battery.
Toyota plans to expand Hamo later this month with 45 additional electric vehicles added to the current fleet of 10. It will add 13 new vehicle stations where users can rent, return and charge vehicles. Toyota also hopes to increase membership from 100 to about 1,000.
"When someone wants to use this car they first have to reserve it and they can do that through a smartphone," said Chikara Abiko assistant manager of Smart Community Planning at Toyota. "They can check the availability of cars in real time."
Renting the cars starts at 200 Yen for the first 10 minutes then 20 Yen for every minute after that. Renting the car for an hour would cost 1,200 Yen or about $12. That's similar to car sharing services in the U.S. like Zipcar, which charge about the same rates, but for full size, gas-powered and hybrid cars.
Toyota is trying to sell the cars and the system to other cities, but wouldn't say which ones.
Updated at 9:38 a.m. PT with a video report from IDG News Service.