Does the world really need to know that every email you write was "Sent from my HTC One™ X, an AT&T 4G LTE smartphone"? Probably not. Aside from turning you into a free marketing tool, it will give your friends fodder to tease you over your your choice of handset or carrier. Plus, it makes you look like a noob that doesn't have control over their email. These annoying signatures are easy to change, though, if you know where to look.
Changing the signature in iOS's Mail app
On iOS, go to the Settings app, tap Mail, Contacts Calendars, scroll down, then tap Signature. Once there, you can change your email signature, and choose whether you want a different signature for every email account you have (tap Per Account) or One Signature to Rule Them All (All Accounts). In my case, I modified the stock iPhone email signature to serve as a warning about the inevitable typos.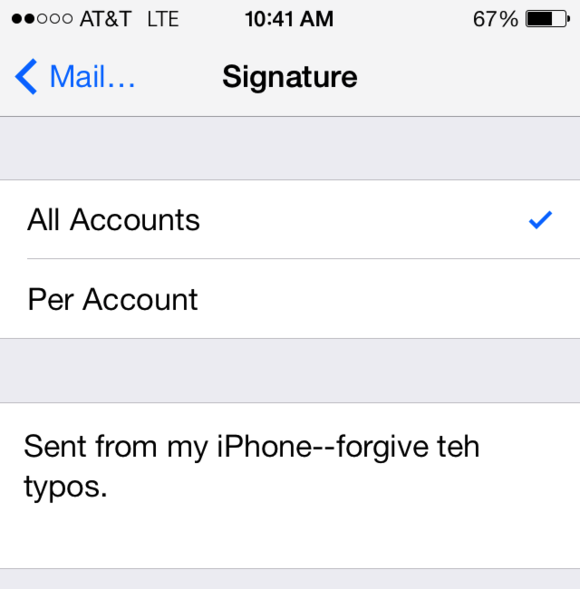 Once you're done, tap the back button or close out of the Settings app.
On Android
Android typically comes with two mail apps: a general email app that will work with lots of different mail services (aptly named "Email") and one for Google's own Gmail service. The two apps are very similar to one another, and the process of changing your email signature is the same for both apps.
To start, open either the Email app or Gmail app, depending on which one you want to change. Next, tap the More button in the toolbar. It's represented by three dots: in Gmail, it's in the upper right; in Email, it's in the lower right. Next, select Settings from the menu that appears.
On the Settings screen, tap the email address whose signature you want to change, and on the following screen, scroll down and tap Signature. Enter the signature you want to use with that account, then tap OK.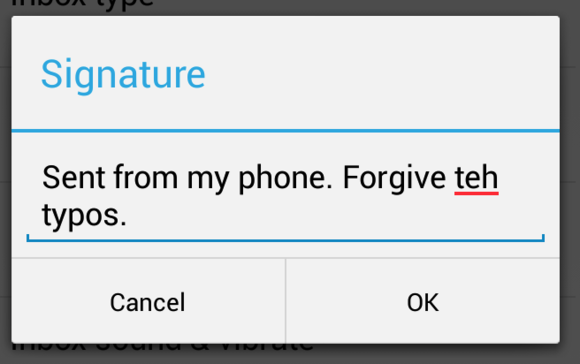 If you have multple email accounts you want to append signatures to, go back to the main Settings screen by tapping the Back button in the upper left corner of the screen. Select another email address from the list, and repeat the process.