Update note: This article was originally posted 10-4-13 but was updated on 10-7-13 with additional comments from Origin PC co-founder Richard Cary.
One week after AMD took the wraps off its next-gen R7- and R9-series Radeon GPUs, and one day after the first wave of Radeon R9 290X graphics cards hit online retailer Newegg, Kevin Wasielewski, CEO of the boutique PC builder Origin PC, informed some in the media (including PCWorld) that his company will no longer sell machines with AMD graphics cards inside.
Given the timing, you have to wonder about Origin's motivations. Indeed, it's especially odd that a PC manufacturer would go out of its way to tell the press that it's dropping support for a specific component manufacturer. This is not the kind of move that usually warrants a communication to journalists.
Here's an excerpt from Wasielewski's statement, which bore the subject line of "Origin PC is going green!"
"This decision was based on a combination of many factors including customer experiences, GPU performance/drivers/stability, and requests from our support staff. Based on our 15+ years of experience building and selling award winning high-performance PCs, we strongly feel the best PC gaming experience is on Nvidia GPUs."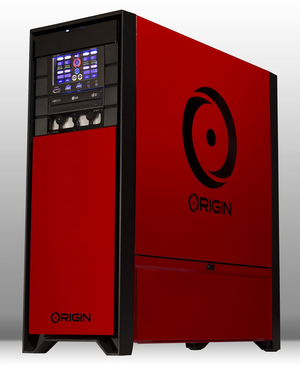 Wasielewski's efforts to publicize the company's decision, coupled with the fact that Origin continues to sell AMD's CPUs as alternatives to Intel's parts (which have pretty much crushed AMD's in performance tests), only adds to the intrigue. Recent AMD graphics cards have been very competitive with Nvidia GPUs.
Could Nvidia have purchased Origin's fealty with marketing dollars?
"It certainly sounds feasible," says Jon Peddie, founder and analyst at Jon Peddie research. Peddie said he had no direct knowledge that this was the case, but "Nvidia, AMD, Intel, VIA Technologies—back when they were in the game—they've all done things like that from time to time."
We received a two-word denial when we asked Nvidia for comment: "Absolutely not," wrote NVidia PR manager Brian Burke.
Wasielewski provided us with a more detailed email response when we raised the payola question with him:
"Not sure who told you that, but I would definitely like to comment on that because we absolutely do not want anyone to get that impression. Our decision is based on the overall experience we provide to our customers. We work with many manufactures and they all provide us with support for technical support, marketing, qualifying products, etc. We are aware that Nvidia works with other system builders along with ORIGIN PC and Nvidia is not providing anything exclusively to ORIGIN PC."
Wasielewski also provided a quote from one of Origin's technical support managers, Alvaro Masis: "Primarily the overall issues have been stability of the [AMD] cards, overheating, performance, scaling, and the amount of time to receive new drivers on both desktop and mobile GPUs."
Update 10-7-13: Origin PC co-founder Richard Cary took to the Origin PC forums with a more detailed claim as to why the company decided to dump AMD graphics cards.
"The decision to take AMD GPU's off the web was made based on support. More Specifically, support from AMD to Origin, and Origin to our customers.

Take their last chipset announcement for example. It was another hardware representative that informed us of the new Hawaii chipset. AMD never told us anything about it, nor shared a road map outlining its future integration. When we did get with our AMD representative, we were told that there was a new chipset launching, and we could watch the event live and get answers to our questions.

We also asked for samples to start our research and development process, something that is standard in the industry for bleeding edge integrators, and we were met with resistance there… When they did agree to send samples it was for [two] R9 270's, rather than the R9 280's or 290's that we would be more likely to offer…

Moreover, this wasn't the first time AMD had done something like this to us. Support from AMD to Origin hasn't been where it should be or up to par like we get from other vendors. In my opinion it's due to our size. We don't move enough AMD product for them to worry about us. You would think they would work with us to help grow the Origin-AMD business relationship."
Head over to the Origin PC forum post for more details, and a response to the possible Nvidia payola concerns.
Do AMD graphics cards really suck?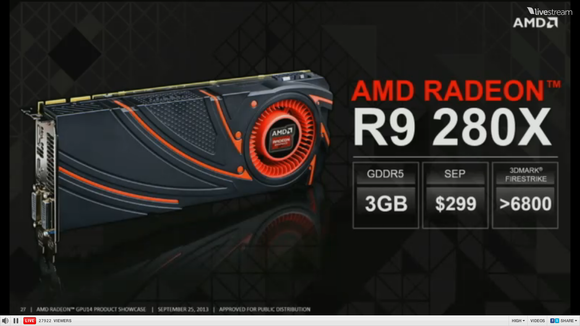 It's worth noting that nearly all the high-end gaming rigs that have arrived in the PCWorld Lab lately have been outfitted with Nvidia-based video cards. But that's merely anecdotal evidence that the boutique vendors think Nvidia's GPUs are superior. So I decided to reach out to some of Origin's competitors to get their take. Wallace Santos, CEO and founder of Maingear, was the first to get back to me. Maingear was AMD's showcase partner at the unveiling of the R9-series unveiling.
"Maingear won PCWorld's Best Gaming Desktop of Summer 2012 with AMD Radeon graphics," Santos wrote in an email. He also wrote that AMD's "proven" products will continue to appear in "reliable, high-performing" Maingear machines.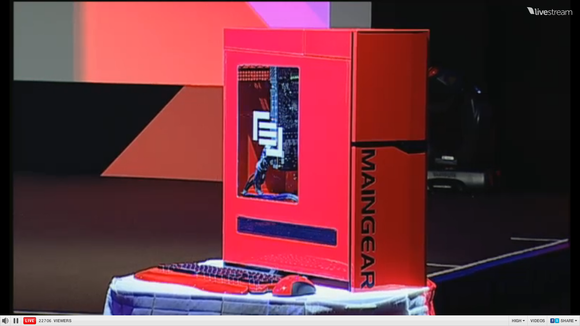 Jon Bach, president and founder of Seattle's Puget Systems, provided a cornucopia of reliability data culled from testing of 5698 units. Here's what he had to say via email:
"It is hard to quantify customer experience, but one thing I can quantify is reliability. How many have failed? Here's a report from the last 3 years.

Nvidia: 5.36% total failures (in our testing + in the field)
AMD: 8.89% total failures (in our testing + in the field)

But more important than failure rate is how many failed in our customer hands? We do a lot of testing here to weed out as many bad cards as possible in our build process. Here's how many have failed in the field over the last 3 years:

Nvidia: 2.42% failures in the field
AMD: 3.23% failures in the field

Here's that same info, over the last 1 year only:

Nvidia: 4.95% total failures (in our testing + in the field)
AMD: 7.79% total failures (in our testing + in the field)
Nvidia: 1.02% failures in the field
AMD: 3.25% failures in the field

So yes, AMD does have a higher failure rate, but nothing that puts up such a big red flag that I would want to drop their product."
Bach also wrote that he believed Nvidia's marketing team is superior to AMD's, as is its engineering and sales support for resellers.
Should you be worried?
It's one thing for Origin to decide to stop offering AMD GPUs, but one has to wonder what the company has to gain from publicizing that decision just as AMD is launching a whole new GPU product line. (Update: Reading Cary's forum post, simple anger could be one reason for Origin to publicize this.) We know what Nvidia has to gain, but there's no proof that it influenced Origin, financially or otherwise. It's also possible that Origin simply has a lower tolerance for the failure rates than Puget Systems' Bach reported.
But there's also no denying that AMD has been on a roll recently, shipping its R-series graphics processors for the PC, scoring major design wins with both Sony's PlayStation 4 and Microsoft's Xbox One, and developing its super-interesting, cross-platform, Mantle graphics technology to bring PC and console games development together.
We have plenty of respect for Origin PC's product line, but don't let one PC builder's decision sway your personal video card purchasing decisions—especially when independent reviewers who truly have no vested interest in the outcome haven't been able to offer their opinions.
PCWorld's Mark Hachman and Michael Brown contributed to this report.