Cyan Worlds, the development studio behind the classic point-and-click adventure game Myst, is putting together a new project, according to CEO and co-founder Rand Miller.
Miller was on hand at the IndieCade conference this weekend in Los Angeles to discuss the 20th anniversary of Myst, the game he co-created with his brother Robyn Miller. That's right—it's been two decades since players first found themselves standing on an abandoned dock and began cracking Myst Island's many secrets.
Myst through the ages
Over the course of the hour-long talk Miller gave a broad overview of Cyan's history, from simple HyperCard developer to what Miller called the studio's "very traumatic experience with Myst Online."
Myst Online, also known as Uru Live, was supposed to be a massively multiplayer continuation of the franchise. The project was ambitious; Cyan planned to add new worlds, or "Ages" to the game regularly, and wanted fans to create custom content also.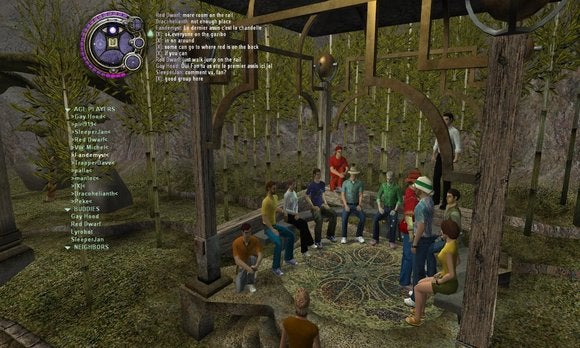 It never quite got off the ground—a euphemism for "Myst Online almost killed Cyan." In 2005 Cyan put out Myst V: End of Ages, laid off most of its staff, and announced an end to the company's software development.
But maybe not quite.
"We've been keeping ourselves alive, which is unusual for an independent developer," said Miller. "We've had a lot of people employed, we've had a few people employed, but we've managed to stay alive—sometimes barely, but the mobile market has helped us at least get a foothold by converting [Myst]."
Cyan's released products since Myst V, but it primarily focused on porting its old games to new platforms, particularly iOS.

Miller even discussed the Oculus Rift, which is a natural fit for the exploration-oriented Myst. "We just had realMyst on Oculus Rift and we were wandering around in there," said Miller. "It's a really cool feeling…and then you go throw up in the bathroom and then you come back and try again. But it feels like you're there in some really amazing ways…I think it's another level that's intriguing."
A port does not a new game make, however. While Cyan's efforts undoubtedly exposed new players to Myst and Riven, it's far from comfort for those of us who figured out that damn subway maze ages (no pun intended) ago.
And then in the midst of this insightful talk about the development of Myst, Rand Miller managed to make me shed a single nostalgic tear. Okay, maybe I wept with joy.
"We've got some bigger ideas, some of them we've had for a while that we'd love to do and publishers were kind of like, 'Yeah we want something new and different,' and we'd show them and they'd go, '…Yeah, not that,'" said Miller.
"Kickstarter to me is an awesome opportunity, and so yeah, we're putting together something for a larger project in the future."
While Kickstarter made it easier for anyone to get an independent game funded, it has proved an especially big boon for renowned developers (like Miller) who can capitalize on their name and history.
Double Fine raised over three million dollars in early 2012 for an adventure game by making sure people knew it was a Tim Schafer adventure game, just like the Maniac Mansion and Grim Fandango of old, and Star Citizen just surpassed $20 million in crowdfunding thanks in part to headliner Chris Roberts, creator of the beloved Wing Commander series.
As for Cyan, is this possibly the "Latus" project the company teased a few years back? Potentially. I don't even care. I just want to see Cyan get back into things. I want to fill entire pages with scribbled puzzle notes. Blue pages.
For now, we wait. Besides this tease, we've got nothing else to go on. Well, except Miller's positive outlook.
"We're not rich, and we're not making tons of money and lots of that old money's gone, but just having control and owning your destiny and being able to do what you want, it's very satisfying," said Miller—a sentiment the crowd full of independent developers certainly sympathized with.