Movie Moments, the proverbial white whale of Windows 8 apps, has finally been hauled into the light on the eve of Windows 8.1's release, courtesy of a Microsoft blog post that introduces the new app and expounds on the changes coming to some familiar faces.
Movie Moments unveiled
A barebones placeholder of Movie Moments appeared in the original Windows 8.1 leak in March—all the way when the update was still going by its "Windows Blue" codename—but it disappeared in subsequent releases, including the final RTM release of the operating system, with nary a peek of it mentioned since. It turns out there's a good reason for that: Movie Moments will be available via the Windows Store, rather than baked into Windows 8.1 itself.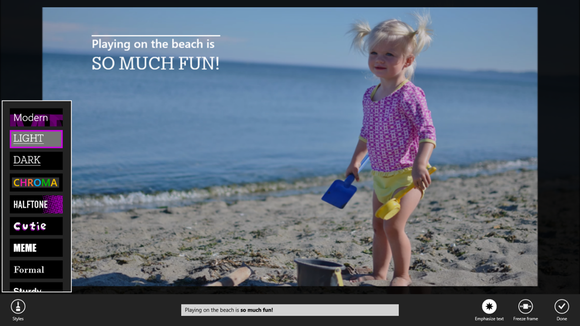 Microsoft didn't show much of the Movie Moments interface in its blog post, but it doesn't seem to be made for heavy-duty editing. The "simple app"—as Microsoft calls it—will be able to trim videos, add music, and slap captions on your videos, as shown in the example below.
In short, the app seems like an even more "streamlined" (perhaps too much so?) version of the Windows Movie Maker software that first appeared in Windows XP.
Fresh Paint, Photos, and Camera
Three other cornerstones of Microsoft's creative endeavors are also receiving slight makeovers.
Like Movie Maker, Microsoft's utterly superb Fresh Paint app will be available in the Windows Store, rather than being baked in to the operating system itself. The Windows 8.1 version adds new brushes, watercolors, a graphite pencil set, "Inspire Me" suggestions, and more. The app also blurs the line between the real and digital worlds, thanks to a partnership with CanvasPop that allows you to easily turn your Fresh Paintjobs into physical prints.
Photos and Camera both ship with Windows 8.1, and each has handy new features.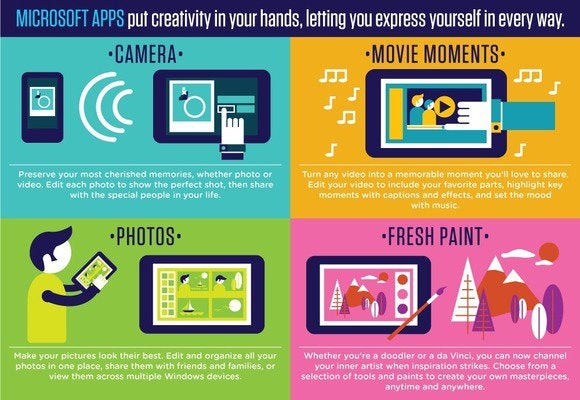 The Camera app packs a fun new panorama mode based on Microsoft's killer Photosynth app, along with the newfound ability to capture individual photos while shooting videos. Meanwhile a "Photo Loop" mode has Camera capture a rapid succession of pictures from the second before you press the shutter button (spooky!) to one second after you press it again to end the shot, which allows you to choose the best photo of the bunch. You'll also be able to open Camera and take a quick pic straight from Windows 8.1's lock screen.
Sadly, the Windows 8.1 Photos app has dumped the Facebook and Flickr integration found in the Windows 8 version, but it also packs a bevy of new editing tools, such as manual cropping, red-eye removal, color enhancement, and more.
Tip of the iceberg
The tweaks in Windows 8.1's creative apps are only the beginning. Virtually every app has been overhauled in the update, and several new apps have been baked into the operating system re-do. Check out PCWorld's definitive review of Windows 8.1, then tune in tomorrow for even more coverage once Windows 8.1 hits the Windows Store at 7 A.M. Eastern/4 A.M. Pacific.