HTC's One has been given a phablet-style makeover with the introduction of the 5.9-inch HTC One Max, a variant that adds more than an inch of extra display space to the company's flagship smartphone.
Beyond its big screen, HTC's newest phone includes a fingerprint scanner—although unlike the one in Apple's latest iPhone, it's located on the back of the device. The Android handset is essentially a larger version of HTC's critically acclaimed One flagship phone, with otherwise similar specs.
Unlike the HTC One, however, the One Max can be locked or unlocked with a touch on its fingerprint scanner. The scanner can also be used to launch up to three favorite apps, each triggered by a different finger, HTC said Monday.
The phone has a 5.9-inch 1080p HD screen, a quad-core 1.7 GHz processor from Qualcomm, and 2GB of RAM. The front-facing camera has a resolution of 2.1 megapixels, while the 4 megapixel rear-facing camera uses HTC's UltraPixel design, which the company says uses a larger image sensor to offer better low-light performance.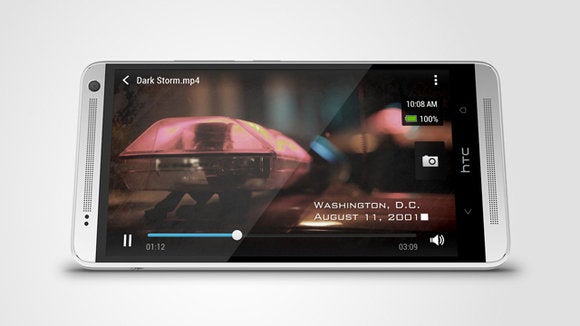 Talk time on the WCDMA version of the phone can reach 25 hours on its 3300 mAh battery. The One Max also has a microSD card slot for expandable memory, a feature not found in the U.S. version of the HTC One. It will be on sale in 16GB and 32 GB versions.
The HTC One Max will go on sale globally later this month and is the company's latest attempt to revive its smartphone business.
The HTC One Max arrives just a month after Samsung unveiled its own large-screen phone, the Galaxy Note 3. The Note 3 has a slightly smaller screen than the One Max, at 5.7 inches, with a 13-megapixel camera rear-facing camera, 3GB of RAM, and a 3,200 mAh battery.
HTC and its Korean rival have been sparring on product strategy, and both have previously launched smaller versions of their flagship phones. In HTC's case, it was called the HTC One mini and unveiled in July.
Despite positive reviews for its phones, HTC has been struggling to lift its earnings. Earlier this month, it posted a loss of about $101 million in its third quarter.