At a Glance
Expert's Rating
Pros
Adds Start menu back to Windows 8 and 8.1
Adds useful features to Windows Explorer
Free
Our Verdict
This powerful free/donationware utility adds the features back to Windows 8 and 8.1 that Microsoft should never have taken out.
Classic Shell isn't a me-too Windows 8 fixer. This free utility's first beta came out in November 2009, close on the heels of Windows 7. It's been helping frustrated Windows users regain lost features and add new ones ever since. New stable version 4.0 powers up Windows 7, 8, and 8.1.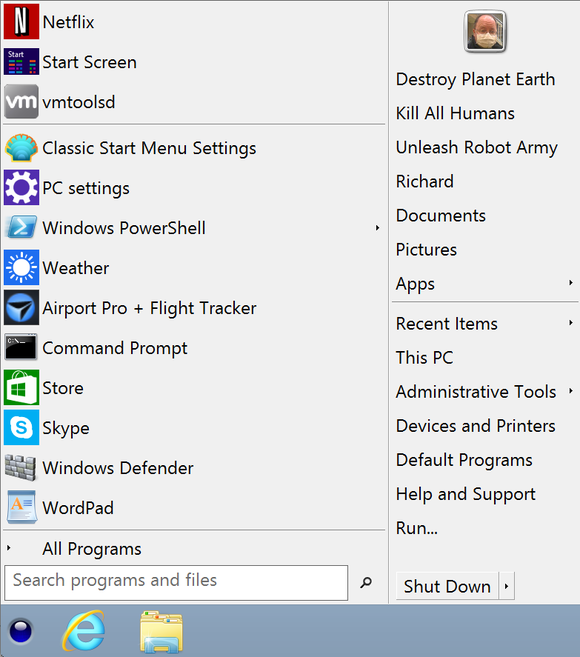 A slew of programs grew up out of Microsoft's decision to remove the Start menu from Windows 8. Classic 8 restored the Start menu, but it alsoprovided more features, including tweaks to the Windows Explorer that put a number of common features closer to hand. Now, version 4.0 brings a wider range of features, including multiple styles of start menu and a fully customizable look and feel, plus the ability to replace the Start button with one of your own design.
Windows 8.1 brought the return of the Start button, but this didn't go the whole way: Instead of bringing back the Start menu that allowed you to access programs easily, the Windows 8.1 Start button takes you to the Windows 8 Start page. This uses Microsoft's Modern design approach, filled with tiles that you may find confusing (or just plain dislike).
Classic Shell brings back the proper Start menu, with three styles that straight out of Windows XP or Windows 7. This goes a long way to making those who were comfortable with earlier OSs feel more at home when upgrading to Windows 8. On Windows 8.1, it replaces the new Start button completely with the new Start menu.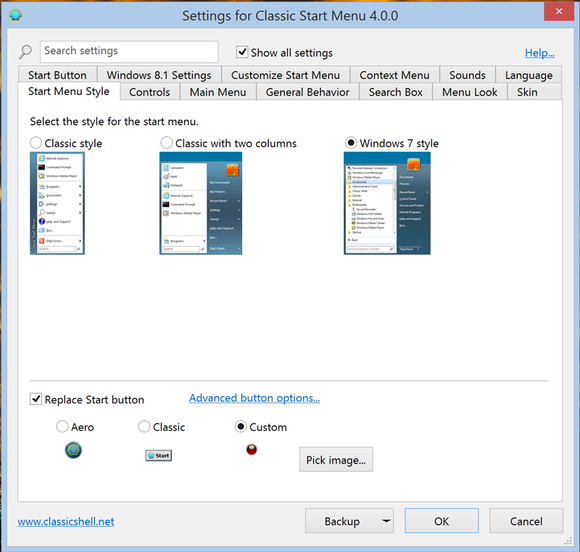 In many ways, the Start menu that Classic Shell adds is superior to the Windows 7 one, as you can more easily move programs around within the menu or add them by simply dragging and dropping the program icon into the menu. If you want to pin a frequently used program to the top of the Start menu, you can easily do so by right-clicking the program icon in the all programs menu.
You can also customize the Start menu, even replacing the Start button with a button of your own design. You can also remove the items that appear on the menu. Never use the Start menu's included link to the Music library? Classic Shell allows you to delete it to save space, or replace it with other items that you may have a use for. You can also add links to other programs, batch files and specify command line options.
In short, Classic Shell is the Start menu that Microsoft should have put into Windows 8 in the first place. It provides flexibility, customizability, and a lot of power to dig deep and make using your computer easier.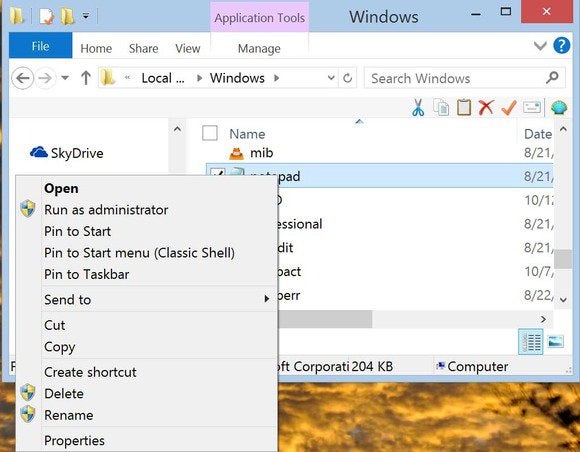 The additions to Windows Explorer are also useful, putting buttons for a number of commonly used features in a menu bar above the file listing. Classic Shell adds icons for cut, copy, paste, delete, properties, and email. These don't do anything you can't do quickly with a key combination, but an easily recognizable icon may be preferable for those who are less familiar with Windows. Again, this list of icons can be customized to add more, with options such as refresh file list, create new folder and various views available to add easily.
One interesting change is that the program is no longer open source. Before version 3.9.0, the author Ivo Beltchev regarded the program as mainly a teaching exercise in how to write programs that interface with the Windows API properly. Now, he says, the program exists more as a stand-alone application, so he has stopped releasing the source code. Beltchev also accepts donations.
Whatever its source code model, Classic Shell is an excellent program that goes a long way towards making Windows 8 and 8.1 easier for us. Microsoft, are you paying attention?