At a Glance
Expert's Rating
Pros
Uniquely diminutive footprint
Full-size computing power
Lots of I/O ports
IR receiver
Cons
Bare-bones system: Some components not included
Limited upgrade potential
Itty-bitty design carries a price premium
Our Verdict
If you're looking for the smallest of teeny-tiny PCs for your home theater or small business, Intel's latest Next Unit of Computing shines. But it remains a niche product with some limitations. Look before you leap.
Component manufacturers typically don't build retail products—they don't want to compete with their customers. But when it comes to constructing itty-bitty desktop PCs, Intel apparently still sees the need to show the way forward.
The next Next Unit of Computing, the NUC Kit D54250WYK, represents a major leap forward from Intel's first effort. Whereas the first-gen kit featured a third-generation Core i3 processor and formed the foundation for a stupendous home theater PC, with this new kit Intel stuffed a beefier fourth-gen Core i5 chip into an even smaller enclosure. Add the right components, and you have a capable contender for both play and work.
Peering inside the box
If you're wondering why Intel markets the NUC as a kit, that's because it isn't a complete computer. You need to supply a number of additional components—and an operating system—before you can fire this machine up and start using it. We reviewed it with Windows 8, but this thing is just begging to have a copy of XBMC installed on it.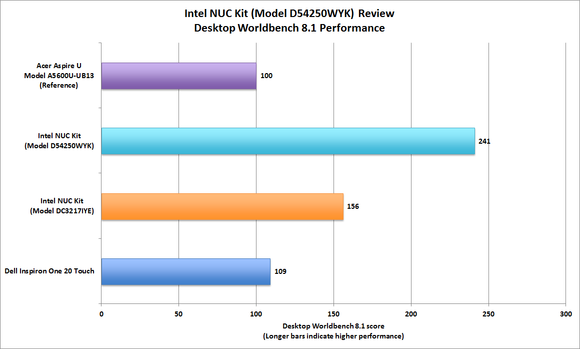 Such a product is what's commonly referred to as a "bare-bones" system. In this case, your $360 buys a 4-by-4-inch motherboard with a Core i5-4250U processor (soldered to the board and therefore not upgradable), an enclosure (with an integrated Wi-Fi antenna), a heat sink and fan, and an external power brick (an item Intel didn't ship with the first NUC because the company didn't want to stock a bunch of versions based on the requirements of various markets).
The Core i5-4250U is a dual-core processor with one of Intel's better—but not best—integrated graphics technologies: the Intel HD Graphics 5000. Intel also includes a VESA mounting bracket, so you can attach the NUC to the back of your display should you want to create a custom all-in-one PC. The motherboard has a pair of SO-DIMM slots and can address up to 16GB of DDR3L/1333 or DDR3L/1600 memory (the L is for low-power, or 1.35-volt, RAM). It has one full-length PCIe mini slot (which you'll probably use to plug in an internal Wi-Fi adapter) and one half-length PCIe mini slot (which you'll most likely use to connect an mSATA solid-state drive).
The motherboard is also well appointed, with two USB 3.0 ports in front, two more in the back, and one each of SATA data and power connectors. Although you'll find no room inside the enclosure for additional storage, you could operate a drive outside the case or look for a third-party alternative, such as SilverStone or Chenbro. The new NUC also has both Mini HDMI and Mini DisplayPort video outputs, along with a 1/8-inch audio-headset jack. If you're interested in building out a miniature home-theater PC, the NUC has an infrared sensor in the front panel.
Intel aided our review by shipping an evaluation unit with 8GB of DDR3L/1600 memory (two 4GB SO-DIMMs), an internal dual-band Intel Wireless-AC 7260 Wi-Fi/Bluetooth adapter, and a 180GB, Intel 530-series mSATA SSD. The unit also has a gigabit ethernet port if you want the performance only a cable can deliver.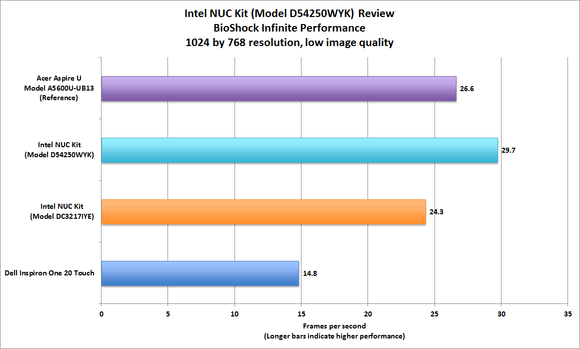 It's not the size of the dog…
Despite its pint-size dimensions, the NUC D54250WYK packs a serious bite (performance will vary, of course, depending on the components you outfit it with). Our evaluation kit posted a Desktop WorldBench 8.1 score of 241. That's much higher than the original NUC (which earned a mark of 156), and it's better all-around performance than what we've gotten from most of the all-in-one PCs we've reviewed lately (with the notable exception of the Dell XPS 27 Touch). On the other hand, most of the tested all-in-ones have had less-powerful integrated graphics and have relied solely on mechanical hard drives for storage. The presence of discrete graphics processors and SSDs—even SSD cache drives—has a big impact on WorldBench scores.
The home remains the best environment for the NUC—not just in the entertainment center, but in the kitchen, bedroom, or even the garage. It's a fantastic system for light productivity. And with support for technologies such as Intel's Quick Sync Video, the revamped rig also delivers media-encoding and file-compression scores that are nearly twice as high as those of its predecessor. And it's four times faster on image-editing tasks.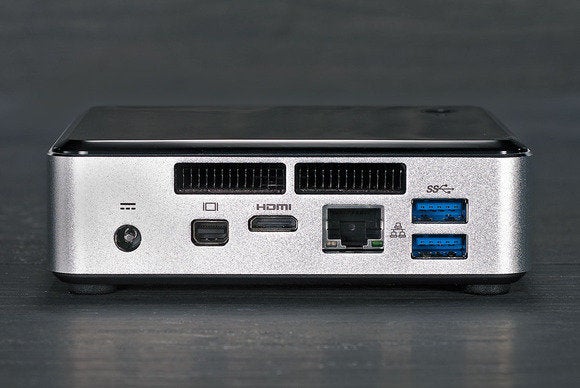 Small businesses might balk at the prospect of buying a kit and then fleshing it out. And larger businesses won't like that the NUC's Core i5-4250U processor doesn't include Intel's vPro technology. But if you can do without those features, you could stick a NUC on the back of a display, add a mouse and keyboard, and have a superefficient, light workstation.
This likely won't come as a big surprise, but gaming is the one application I wouldn't attempt on the NUC D54250WYK. Intel has come a long way with its integrated graphics hardware, but this machine still couldn't manage to crack 30 frames per second in our tests of Crysis 3 or BioShock Infinite, even running at a resolution of 1024 by 768 pixels with the image-quality bar set low.
Big things from a small package
The NUC D54250WYK kit definitely raises the standard for barely-there PCs, but you'll pay for that engineering prowess, both literally and figuratively. Building out a configuration like the one reviewed here will cost around $700 ($800 if you buy a Windows license). Intel's decision to solder the CPU to the motherboard blocks your most important upgrade path, and the mSATA hard drive limits you to streaming media (unless you drop more cash on an external hard drive). Meanwhile, you could build a basic home-theater PC for about $300 less.
That said, the NUC packs a unique combination of performance and power-efficiency, and no other PC on the market can match its minuscule 4.6-by-4.4-by-1.4-inch dimensions. If you think that a pint-size PC potent at everything except games sounds appealing, you can't go wrong with the NUC D54250WYK.