A couple of weeks ago, my husband and I became the proud owners of a 9-week-old French bulldog puppy named Blanka (yes, we named him after the character from Street Fighter). Blanka is adorable, friendly, and eager to please, but he's also a lot like his namesake—uncivilized and untrained.
He hasn't had all of his shots yet, so we have to limit his exposure to public places and other dogs. In other words, we can't exactly waltz down to our local PetSmart and enroll him in a real obedience class. But we also don't want to delay the training process—since he's very impressionable right now—so we're doing our best to train him on our own.
Luckily, there's an app for that. I took a look at several free iOS and Android apps that are perfect for training your new puppy without leaving your home. Even if you do end up taking your puppy to obedience school when he's ready, these apps will help you lay the groundwork for a happy, healthy, well-trained dog.
PooPee Puppy
Having a new puppy is a lot like having a baby: Puppies need to go to the bathroom every couple of hours, and they don't really care if you're sick, asleep, or playing World of Warcraft. Although you may not make it outside with your puppy every single time he needs to go—there will be accidents—it's never to early to begin house training!
That's where PooPee Puppy comes in. PooPee Puppy is a free iOS app that lets you track when your puppy goes to the bathroom. PooPee Puppy has an extremely simple interface, which will come in handy when you're outside at 3 a.m. on two hours of sleep. PooPee Puppy's main screen has three buttons: Poo, Pee, and Oops. Whenever your puppy does his business, just tap the correct button and the app will automatically log it for you. The Oops button allows you to log accidents (choose the type of accident—Poo or Pee), as well as weird-looking poo and vomit.
PooPee Puppy has a puppy progress log that lets you scroll through his various movements and see his success rate for the previous week. The app also has a couple of other features, including "automatic alarms," which are set whenever you log one of your puppy's movements. These alarms let you see your puppy's schedule, so you can try to take him out around the same times each day. PooPee Puppy also has a veterinarian log, which shows all of the "Weird Poos" and "Vomits" you log for your dog.
Paw Tracks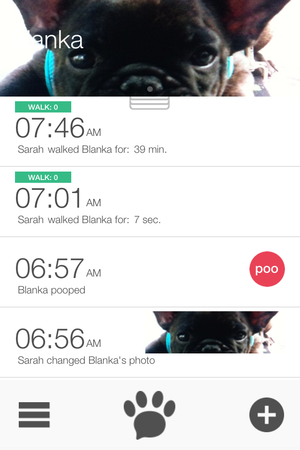 PooPee Puppy can be a useful tool for house training your puppy, but it's also a very simple app. If you're not your puppy's only caretaker—that is, if you've got a spouse, a dog walker, or kids—you may want to use a more robust tracking app, such as Paw Tracks.
Paw Tracks is a free iOS app designed for dogs with multiple caretakers. This app allows you to track your puppy's walks, meals, movements, and meds. The meal, movement, and medicine tracking is similar to PooPee Puppy—just tap a button and the app automatically logs the time and date. Tracking your puppy's walks is a bit more complicated, however. To track a walk, tap the large paw print button at the bottom of the screen. This starts the walk timer. You can log poos and pees during the walk, and stop the walk by tapping the "Finish Walk" button. Paw Tracks also uses your device's built-in GPS to track the length and location of the walk.
Paw Tracks is designed to be used by multiple people, and each puppy can have up to four registered caretakers. All four caretakers can access and modify that puppy's logs, so you don't have to wake up your spouse to ask if they've fed the dog. Because the key to house training your new puppy is consistency, an app like Paw Tracks can be an invaluable asset.
Dog Trainer Free
Are you planning on using whistles and clickers to train your new puppy? Don't bother purchasing a whistle (or a clicker)—just download an app!
Dog Trainer Free is a free, ad-supported Android app that offers a multitude of sounds to help train your dog. The app is fairly simple, with large, bone-shaped buttons, but it features dog whistles of varying frequencies (12,000 Hz to 24,000 Hz), a training clicker, and miscellaneous sounds such as meowing and barking.
Of course, it's important to realize that apps like Dog Trainer Free aren't a solution to all dog training problems. Rather, they're tools that will help you train your dog if you decide to go the whistle- or clicker-training route. I'm a fan of Dog Trainer Free because Blanka responds to the whistle—but some dogs may not respond to this particular app. If that's the case, plenty of other free dog-whistle apps are available. I also like the fact that Dog Trainer Free has both a whistle and a clicker, though we haven't quite graduated to clicker training yet.
Fetch Training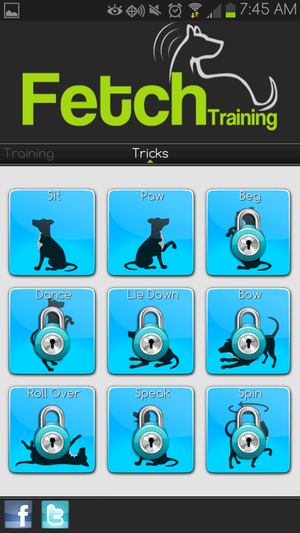 Okay, so you've got house training and clicker training down—now what? Now it's time for an all-purpose training app, so you can start training your new puppy to behave like a civilized dog in the real world.
Training a dog has two sides: Fixing behavioral issues, such as destructive chewing, excessive barking, and aggression; and teaching your dog tricks, such as how to sit, stay, and speak. Fetch Training is an easy-to-navigate Android app that tackles both of these angles. Fetch Training features 27 articles broken down into three categories: Behavior, Training, and Tricks. Each category has nine articles, the first two of which are free, and the last seven of which can be purchased for $0.99 (you can also unlock all articles for $1.50).
Fetch Training breaks down the articles into tiles, so you can see exactly what issue you'll be tackling (for example, "Aggression," or "Sit"). Each article features an audiobook component, which means that the article can be read aloud to you, as well as a test. The test is pretty simple—it's a multiple choice test on what you read in the article. Though the audiobook component is nice for people who don't want to read a wall of text, the test does seem a bit like overkill.
Fetch Training is a simple, easy-to-use app that offers help for both sides of training your new puppy. It's perhaps a bit too simple, since the only tricks it offers are sit, shake, beg, dance, lie down, bow, roll over, speak, and spin.
Dog Training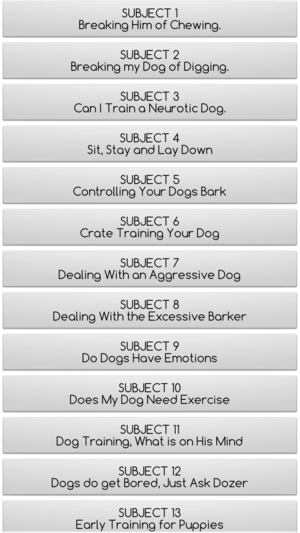 If you're looking for a more comprehensive, book-like approach to dog training, Dog Training may be the app for you. This app isn't really an app—it's an audiobook.
Dog Training is a free, ad-supported Android app that offers 50 chapters' worth of puppy training advice and information. This app isn't very attractive, but it is useful, especially if you're a first-time puppy owner. The app covers everything from basic tricks (sit, stay, lay down) to crate training, whether dogs have emotions, and how to safely leave your dog alone.
Although Dog Training is billed as an audiobook, I wouldn't recommend listening to it unless you absolutely have to—it's read in a monotonous, computerized voice that will likely drive you crazy. But if you're up to some light reading, this is a great app to help you prepare for training your new puppy, as well as everything that a new puppy entails.
Pro Plan P5 Dog Training App
Not a big reader? The Pro Plan P5 Dog Training App, created by pet food company Purina, can help. Pro Plan P5 Dog Training App is a free app for both iOS and Android, and it has a ton of features—several of which will help you train your brand-new puppy.
Pro Plan P5 Dog Training App is several things in one. It's an activity tracker (because even puppies need to be part of your quantified self-movement), a training app, and, of course, an advertisement for Purina Pro Plan pet food. Don't get me wrong, though—Purina has done an excellent job with this app. It's one of the best, most comprehensive dog training apps I've seen, with instructions, photos, and videos to help you train your dog to do everything from sitting, staying, and speaking to catching fancy Frisbee tosses.
Pro Plan P5 Dog Training App has three main screens. The activity tracker lets you log your puppy's activity, either manually or by connecting to MapMyFitness, which uses your phone's GPS to determine activity. The training screen is where you track your puppy's achievements in training categories, including obedience, agility, and flying disc. Each category takes you to a list of tricks. Tap on a trick, such as "sit" under obedience, or "basic water retrieval" under diving dog, and you'll see comprehensive instructions on how to train your dog to do that trick, complete with photos and a video. Once you've trained your dog to do a trick, you can tap the "Complete Achievement" button to earn that achievement.
The achievements screen keeps track of what you—er, I mean, what your dog has earned. Pro Plan P5 Dog Training App also features advice, tips, and information about Purina Pro Plan (all in the settings menu), as well as social networking features so you can share your puppy's progress with the world.
Hollywood Dog Training & Tricks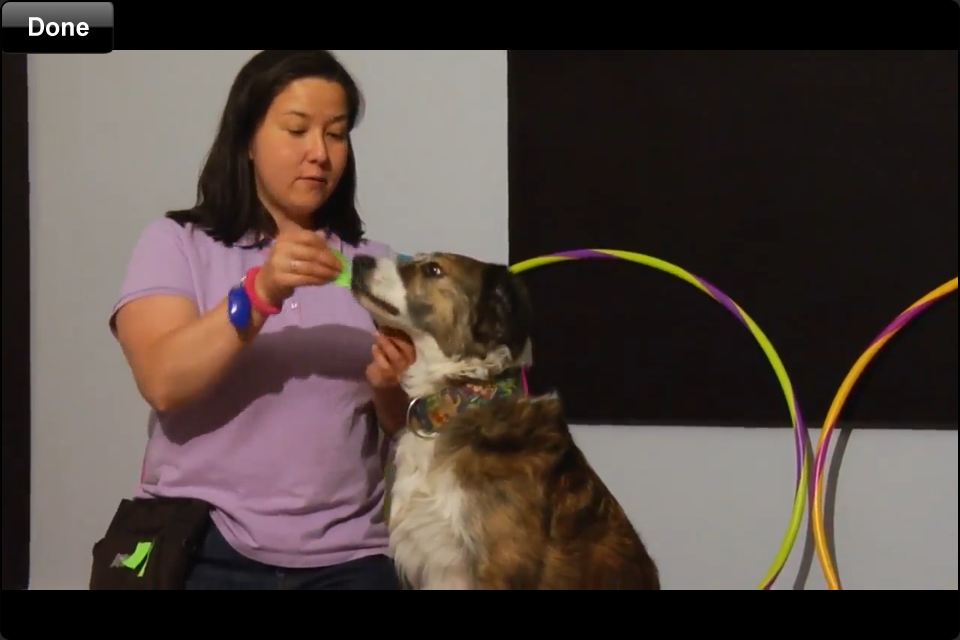 There are basic tricks, like sit and stay, and advanced tricks, like roll over, jump, and stand on two legs. And then there are movie-worthy tricks, like "cover your nose," and "take a bow," and "walk slowly." If your puppy has mastered his basic obedience training and has some advanced tricks tucked under his belt, you may want to consider whether he's ready to be famous (even if it's just Internet famous).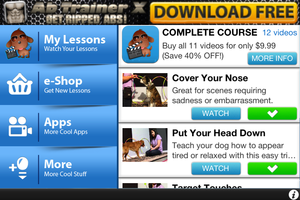 Hollywood Dog Training & Tricks is an iOS app that will help you teach your dog more advanced tricks. These are tricks that movie dogs use, such as changing position while standing on a mark, backing up, or covering their nose with their paw. Each trick is explained in a short video tutorial. You can get 12 videos in all, but only three ("Cover your nose," "Put your head down," and "Dog tricks") are free—the rest are $0.99 each or $9.99 for the package.
The videos are easy to follow along and feature a trainer who uses clicker training (perfect for your already-downloaded dog clicker). Even if your puppy isn't ready for Hollywood, these are still some neat tricks for when you want to take cute Instagram photos of your puppy looking bashful with his paw over his nose.
Training is…a process
There's no app that will magically train your puppy for you—trust me, I looked. So while these apps will demystify the process (and help you stay consistent, which is apparently the most important part of training your puppy), you may still end up heading over to obedience school. But hey, at least you're slightly more prepared!