Like a good episode of The Wonder Years, growing up gracefully was an overarching theme of the first annual Gaming Insiders Summit in San Francisco. While the Gaming Insiders organization has been hosting private dinners and other events for four years, this is the first time they've invited members (as well as media riffraff) to a day-long conference to discuss the future of the games industry..
The day was devoted to presentations from noteworthy members of the industry, including Ken Levine, John Riccietello and Jenova Chen. The lion's share of the discussion was about metrics and marketing, but beneath the biz-speak there was a common theme running through the talks: games have to grow up if they hope to thrive.
From hardware to software, much of the games business is stagnant, and that's inspiring some of the biggest names in the biz to talk a big game about giving the industry a much-needed kick in the pants.
We need new ways to play
Like most business conferences, the Summit was dominated by PowerPoint presentations. Brendan Iribe, CEO of Oculus VR, lingered on one particular slide during his 20-minute talk: a comparison shot of Quake, which came out in 1996, and a dark, post-apocalyptic first-person shooter that's so generic as to be unrecognizable. It could be Modern Warfare 3; it could be Metro: Last Light.
Iribe's message is clear: Quake was the first truly 3D first-person game ever made, and 17 years later we're still playing basically prettier versions of the same game. Where we buy it and how we play it may have changed, but the hardware—especially the display hardware—that lets us have that experience hasn't really changed at all.
As you might guess, Iribe intends to shake things up. The Oculus Rift headset represents one way gaming hardware could evolve—a popular and profitable path, if Iribe has his druthers—but it's not the only way. The important thing is for hardware makers to build new ways for people to experience games, whether it's a virtual reality headset that lets a grandmother feel like she's on vacation in Tuscany or a PC controller for your living room that axes traditional analog sticks in favor of dual trackpads backed by electromagnets.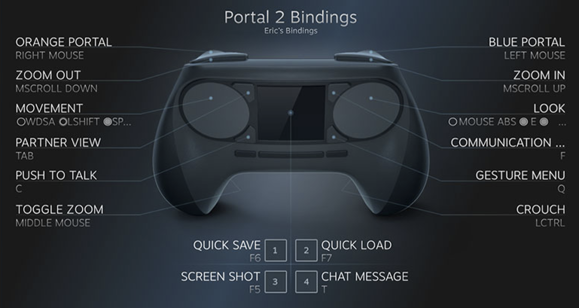 What Iribe and other "Gaming Insiders" are preaching sounds great, especially to those of us who love playing around with cutting-edge experimental tech, but most people won't invest in new hardware until it works well and offers an experience that can't be found anywhere else.
Iribe is proud to point out that Oculus Rift is hard at work on the former problem, having recently brought famed engineer John Carmack on board to finish development of the Oculus Rift VR headset. The headset itself won't be out this year, but Iribe says the final version will work well enough—15 milliseconds or less of input lag—that most users won't have to worry about motion sickness.
As for the latter problem, the problem of developing unique experiences that take advantage of new hardware, Iribe puts the responsibility squarely on the shoulders of game developers.
"It's up to you [game makers] to make the things that will take advantage of this new hardware," says Iribe.
Games should be about emotions, not just actions
Changing what it means to play a game was a common theme at the Summit, but how we do it is up for debate. Irrational Games founder Ken Levine spoke at length about his belief that narrative games can be broken down into primitive components—characters, scenes, actions—that different players can reassemble in different ways.
"One of the challenges of making single-player story-driven experiences economically feasible is that they don't replay well," said Levine. "You need to find a way to build stories so we don't just play them once through."
Others, like Jenova Chen, cofounder of thatgamecompany and the designer of games like Flower and Journey, believe that games should broaden their emotional—rather than their mechanical—scope.
Chen spoke at length about how games can and should be tapping into our emotions for fun and profit. Chen didn't follow Iribe directly, but he did point out that innovative gaming hardware like Microsoft's Kinect isn't very exciting if the developers who make games for that hardware don't build games to take advantage of the device's unique capabilities and offer playing experiences we've never had before.
"I saw Kinect commercials and I was like 'Yeah, I want to play that! I want to jump around and connect with my family!'" said Chen. "But there were only a few games that let me do that; most games that used the Kinect were very traditional action games."
Going forward, Chen urged the assembled game makers to build next-gen games that don't fall neatly into the traditional bounds of gaming genres: adventure, racing, first-person shooter, sports.
We classify games by the things they ask us to do, Chen argues, when what we should do is take a page from film and think of games in terms of how they try to make us feel: romance, horror, comedy, drama. The hope is that by doing so, these game makers will ultimately make better games that can be played—and purchased—by a much broader audience.
The best example for forward-thinking game makers to emulate isn't a mega-successful studio like Rockstar, argues Chen; it's Pixar. The film studio is famous for making kid movies that adults can enjoy, and in the process they rake in big profits and build a huge fan base.
That's still a huge challenge for game developers who are locked into building traditional games: post-apocalyptic first-person shooters, fantastic MMORPGs, colorful platformers, and the like.
Few of these games can be played and enjoyed by a family or group of friends, and that hampers their sales potential. Games need to evolve if they hope to thrive in the next generation, says Chen, and the best way to evolve is for game makers to start thinking in terms of developing comedy or drama instead of first- or third-person shooters.
"Is there any game that can touch our hearts like a Pixar movie can?" asked Chen. "How does Pixar appeal to both kids and parents? That's the secret to selling games."
Looking ahead
It's an odd time to be talking about the financial health of the gaming industry, given the phenomenal financial success of Grand Theft Auto V and the impending launch of Microsoft's and Sony's next generation of home consoles.
But you have to remember that, by and large, the people who attend Gaming Insiders events have been working in the games business for years. They've weathered company bankruptcies, failed movie deals, studio closures—in short, they've been around, and they seem less concerned about The Next Big Thing and more about making sure the business keeps thriving after the hype dies down.