At a Glance
Expert's Rating
Pros
Can transcribe audio from files
Works with Gmail and Hotmail
Cons
No trial version
Mobile companion app not always reliable
Our Verdict
If dictating to your computer sounds like an appealing idea, try Dragon NaturallySpeaking Premium. is the de facto standard for Windows.
Dragon has long ruled supreme over the landscape of speech recognition—but no more. Simpler or less expensive (if not quite as powerful) options are carving out little fiefdoms. The more choices, the better, too, given that using voice commands can stave off or reduce repetitive strain injuries. The spoken word also suits some projects better than typing.
We found five Windows-based options worth a test drive. They were tested under pretty rugged conditions, too: my native Scottish brogue, and my German accent honed by 13 years spent in Wuerzburg. While none was quite able to slay the powerful Dragon, they could still be useful for many tasks.
Windows Speech Recognition
Although Microsoft doesn't trumpet the fact, newer versions of Windows arrive with the company's own Windows Speech Recognition software preinstalled. I thought I was going to detest it, but I came away impressed—especially considering it's free, and you already have it on your Vista, Windows 7, or Windows 8 PC.

To switch on Windows Speech Recognition, go to your Start menu and in the search box at the bottom, type speech recognition. Click the option that pops up, and a window will open where you can enable the feature, as well as read a short text to give Windows an idea of what your voice is like. You can also access the feature through the Control Panel. Once everything is set up, a small status box will pop up. You'll use that to switch Speech Recognition on and off.
To begin, just say clearly into the microphone "start listening." The app then beeps and springs into action, waiting for your next command. You can tell Windows Speech Recognition to pretty much do anything on your PC. It can open browsers (including new tabs), apps, as well as Microsoft Office documents. Once you have a document open, you can dictate text and it will instantly appear there.
You can also tell the computer to shut down or restart, as well as call up the start menu or a command line box. When you are finished, just say "stop listening" and it will go to sleep, waiting for you to wake it up again.
It's easy to use, and the price is right, but Windows Speech Recognition's performance could stand some improvement. I found the accuracy level dipped when I dictated long texts into a MS Office doc. Nor did it respond well to my German accent, so other accents may stymie it as well.
Google Voice Search
Chrome users might have noticed the little microphone at the far right of the search bar in Google. That's Google Voice Search.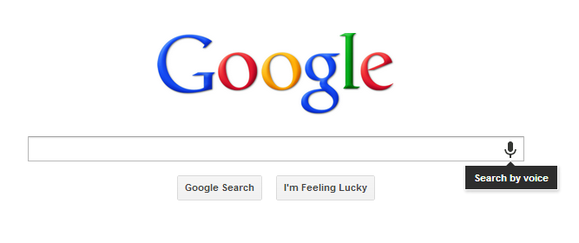 Google's voice recognition efforts currently include the search engine and a translation service, but the latter is iOS-only. Google Voice Search is available only on the Google Chrome browser, which works on multiple platforms.
Using Chrome, go to the main Google webpage. Assuming you have a microphone set up on your PC (perhaps in a headset or webcam), click the microphone icon. The first time, it asks you to grant Google permission to access your microphone. When you've done that, it invites you to speak your search terms. It recognizes speech almost instantly, and what the computer thinks you've said will pop up on the screen. Your search results also appear quickly, without any need to click a mouse.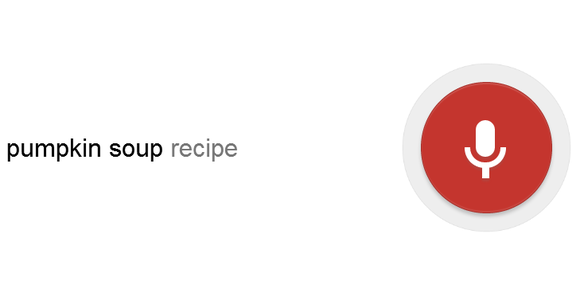 The Google voice recognition algorithm is fairly good at recognizing what you said. I gave it 10 search terms and said them in my regular (Scottish) accent as well as English with a German accent. It stumbled on only a few occasions, and that was when I said them in my native accent.
Dragon NaturallySpeaking Premium
Dragon's been in the speech-recognition game long enough to have its algorithm down to a fine art. However, that art comes at a steep price: The Home version of Dragon NaturallySpeaking costs $75, and the Premium currently costs $150.
If you have a recent Intel-powered Ultrabook or all-in-one desktop, you might have Dragon Assistant preinstalled. (You'll also find a preinstalled version on every iPhone and iPad, and Nuance confirmed earlier this year that the company makes Siri for Apple.) Otherwise, your lowest-cost preview is the $20 Dragon Notes, which lets you test out the voice-recognition capabilities in a stripped-down program.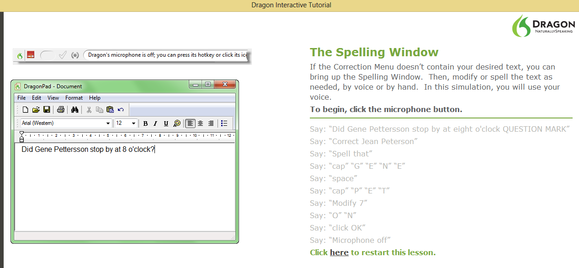 Upon opening Dragon NaturallySpeaking for the first time, you have to do the usual text dictations to set up a user profile. Then the application loads a bar at the top of your screen. In that bar is an orange microphone logo, which indicates that Dragon is currently not listening. To start the application, just say "wake up," and the orange logo will turn green. This is where you see what Dragon can do.
One fantastic feature is its integration with Web apps and your email, including Gmail. Anywhere you find a text box, Dragon will enter any text you tell it to. It can write your emails for you, perform Google searches, post to Facebook and Twitter, and launch Web browsers. You can even tell it where to place the cursor.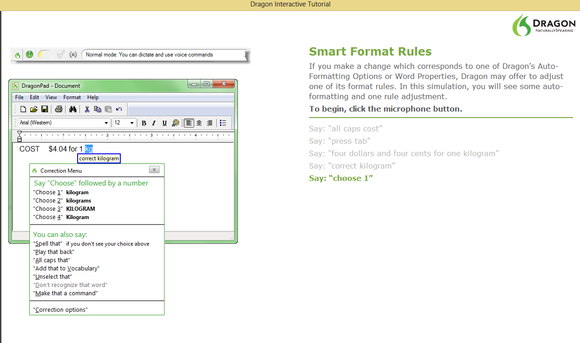 Dictation accuracy is where Dragon really shines, though. You can open the usual word processing apps such as Microsoft Word and Notepad, and begin dictating your text. If it misunderstands or misspells your words, you can tell Dragon to go back and fix it. It gives you a menu of possible other words and lets you choose the one you want. If the word you want is not there, you can enter it so Dragon knows it for the future.
You can also specify which parts of the text you want highlighted, italicized, underlined, made into a new paragraph, and so forth. Once you're finished, order Dragon to close the file, print it, save it, or open another document.
Although it is clearly superior to the other tools, some minor things bugged me about this software. For example, the user profile bar does not fit nicely at the top of the browser, so it looks messy and out of place. It also can't launch websites, open new browser tabs (like Windows Speech Recognition does), or close apps.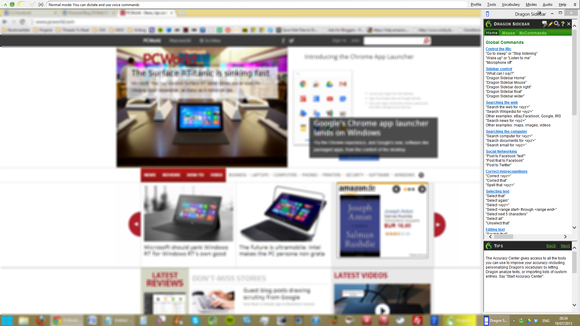 But my biggest gripe is that it installs two extra pieces of software that some people might consider a nuisance. According to a Nuance spokesman, the Rich Internet Application Support browser add-on "allows you to control more of your Internet browsing using speech." This sounds good, but in my experience, it crashed frequently and slowed my browser down. You can uninstall it just like any other plugin—so if your browser starts crawling like an arthritic tortoise, you know what to do.
A piece of included software called Common Software Manager has filled the online forums with unhappy users throwing around words like "malware." All the CSM does is check for Dragon updates on a regular basis, but that action can be alarming if you don't know which program is doing it and why. A Dragon spokesman has assured me that the CSM can be uninstalled without any side effects to Dragon itself—but of course, you won't get your software updates if you do that.
TalkTyper
While Dragon piles on the features, online app TalkTyper is the complete opposite. It gives you the chance to dictate your text, then it gives you a few basic options for what to do with that text. For those who prefer minimalism, that may be enough.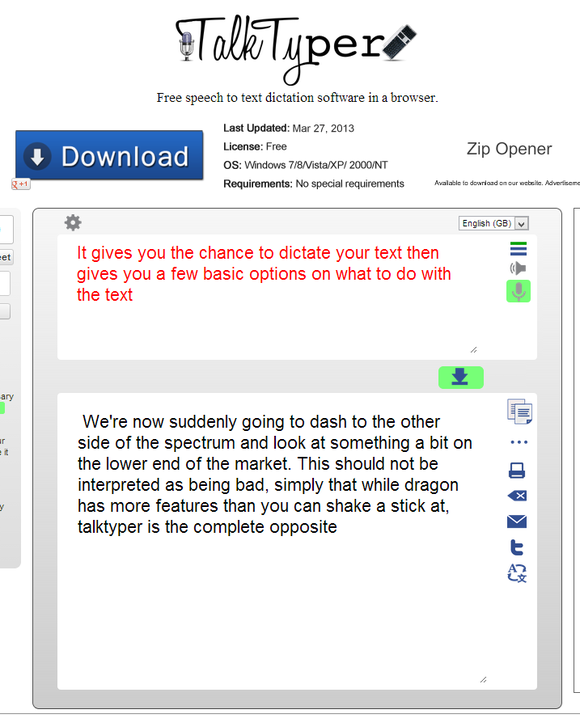 TalkTyper uses the Google voice algorithm, so you're getting the benefit of an effective tool. Of course, it also requires Google Chrome. Simply click the green microphone icon on the right and dictate your text. When you're satisfied with the text on the screen, click the down-arrow button to move it into the lower box, where the options reside.
Those options are copying the text to the clipboard, emailing your text, printing the text, tweeting it, and translating it into another language. If you want the text translated, simply click the button and choose the translating language. TalkTyper automatically opens a new browser tab with your text inserted into Google Translate.
I expected TalkTyper to recognize words as ably as Google did, but it had a problem understanding my deep Scottish brogue. Even when I spoke clearly, it tripped up on some of the words, and I wasn't exactly dictating rocket science.
TalkTyper should be used only for simpler stuff, shorter spoken content—maybe an email or a tweet here and there. If you want to dictate your magnum opus, Dragon's the better choice.
Tazti
Pronounced "tasty," Tazti stands out from the others with two distinctive features. The first is that you can use the app to control PC commands and games with your voice. And if Tazti doesn't have the command you need, you can create it (and another 299 while you're at it).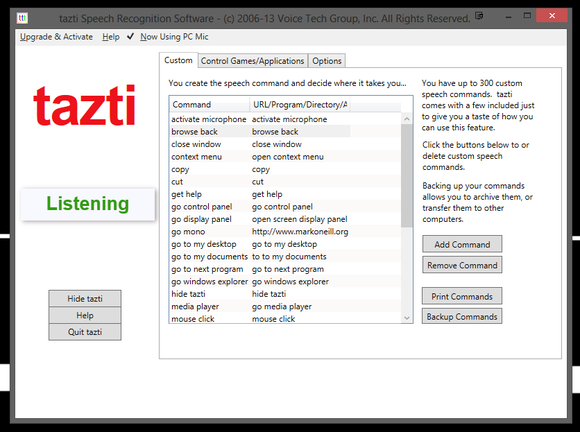 Whether it's opening an installed app, launching a website, opening a directory, or using the command line, you can set up Tazti just as you please. If you don't need a command, you can edit it or delete it entirely. You can even use the commands "click" and "double click" to remove the need for using the mouse.
However, Tazti's one big drawback is it won't let you dictate text to a document. It's not that kind of voice recognition. Developer Voice Tech Group acknowledges that other products profiled here are much better at dictation, so the company decided to focus its efforts elsewhere.
Instead, Tazti is more geared towards gamers who want to use their voice to send their characters into battle, or for disabled users who prefer to launch programs, start a media player, and browse the Web without the need to use a keyboard. The fact that you can control important parts of Windows with Tazti makes it worthy of inclusion here, even if it doesn't offer dictation.
You can test-drive Tazti for free for 15 days. After that, it costs $40.
No one has conquered the Dragon
After testing all five apps, it's obvious that Dragon NaturallySpeaking far and away beats the competition. Windows provides a very strong rival with the added bonus of being free, but its speech recognition wasn't as strong, and it fails to locate folders that are right under its nose. If you are going to use speech recognition on a frequent basis, it would be worth investing $75 for home ($150 for business) and upgrading to Dragon.
Try out speech recognition now with the built-in Windows app or with Google in the Chrome browser. You'll be amazed at how much you enjoy dispensing with the keyboard.