Myst fans, celebrations are in order. Earlier this month at the IndieCade conference in Los Angeles, Myst co-creator Rand Miller confirmed that his development studio Cyan hoped to launch a Kickstarter for a " larger project."
Well, that Kickstarter is here. Meet Obduction, Cyan's first substantial project in almost a decade (Myst V: End of Ages came out in 2005).
"Lately a lot of you have been asking about Kickstarter. So here we are. It's taken us a while because we didn't want to do this lightly. We wanted to make sure we thought this out and did the right thing for a Kickstarter," says Rand Miller in the project's Kickstarter video. "The theme that seems to come through, from what we're hearing, is 'Why don't you do what you do well?'"
Obduction's a sci-fi adventure game that, "harkens back to the spirit of Cyan's earlier games Myst and Riven," according to the Kickstarter page. This is not an entry in the Myst franchise; it's an entirely new property.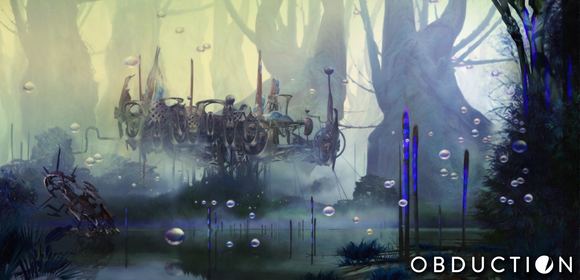 "It would be easy for us to just do a Myst sequel, but maybe not as satisfying as taking a new fresh look at 'How can we build a spiritual successor to the experience Myst provided without necessarily tying ourselves to that same, precise storyline?'" says Rand Miller in the video.
Instead, the Kickstarter page says, "The Obduction project will take what Cyan knows about creating deeply immersive worlds and apply it to an entirely new game with fantastic scenery, incredible architecture, compelling story, and exceptional challenges."
The pitch is light on details. All that's been revealed is the game starts off with your abduction. "On a crystal clear, moon-lit night, a curious, organic artifact drops from the sky and inexplicably whisks you away across the universes to who-knows-where (or when, or why)," the Kickstarter page hints. And…that's it. Really.
"As anyone who ever played Myst or Riven knows, exploring everything around you allows you to read between the lines and to begin to answer your questions," says the Kickstarter page. "Why is there an old, abandoned farmhouse—complete with white picket fence—in the middle of an alien landscape? You'll find out. From this point on the story becomes your story."
We also know Obduction is built in Unreal Engine 4—in other words, this game should be gorgeous. The Kickstarter boasts of a game that will look nicer than the pre-rendered, nearly photo-realistic environments used in Riven, and I'm inclined to believe Cyan on that count.
We've got a long wait ahead. Even if Cyan meets its goal—though I'd wager it's when Cyan meets its goal—Obduction isn't due to release until 2015 but it will be for both PCs and Macs.
That should be just enough time for Cyan newcomers to…finish the original Myst (which was ninth on PCWorld's 2009 list of the Ten Greatest PC Games Ever).