With the introduction of the iPad Air, Apple has changed the game once again. "Thinness" is the watchword now, and every upcoming tablet will be compared against Apple's thinner, lighter tablets to see if they measure up.
The thing is, several recently announced Windows tablets do measure up. Quite well, in fact. They're just not made by Microsoft.
On Tuesday morning, a few hours before Apple unveiled its own offerings in San Francisco, Microsoft began selling its Surface 2 and Surface 2 Pro tablets. Yesterday, we summed up those Microsoft's tablets quite simply: excellent hardware, but crippled by a lack of apps. But by Tuesday afternoon, Microsoft's Surface 2 (and especially the Surface Pro 2) looked clunky compared to Apple's new ultra-thin 9.7-incher.
Nokia announced a new Windows tablet as well—but no one is going to remember it either. But there are some new Windows 8.1 devices that will help Microsoft's story in our new post-iPad Air world.
Apple's incredible lightness of being
Before we delve into the new super-thin, lightweight Windows hardware, let's give credit to Apple's marketing team for its mastery in controlling the message. Remember when Steve Jobs pulled out the MacBook Air from a manila envelope? Fast forward to Apple's latest commercial, which hides the new iPad Air behind a pencil. Apparently we all aspire to hide a tablet behind a pencil. Nirvana!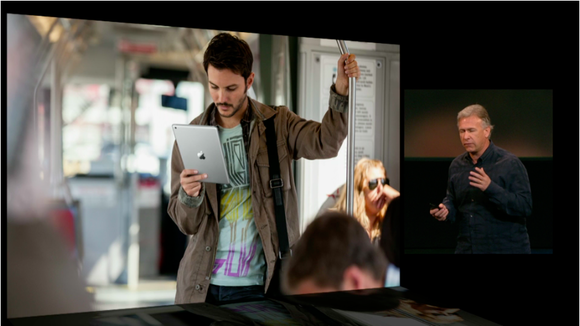 I did appreciate, however, Apple's image of a strapholder clasping an iPad while riding public transportation. Some potential customers just won't get it:
Still surprised iPad minis are so popular. Barring $$, why not buy the more generous real estate? How small are your hands?

— Jon Phillips (@JonPhillipsSF) October 22, 2013
Not every commuter can drive home in his or her own car. And for those who take public transportation, it's not every day that you can land yourself a seat on a train. So while holding a large tablet while seated makes sense, gripping a tablet one-handed while swaying back and forth for an hour or so is another thing altogether. Here, the less weight, the better. In short, the new full-size iPad Air represents a significant advancement that the iPad mini proved out long ago.
Like its name suggests, the iPad Air minimizes weight: The Wi-Fi version measures 9.4 inches long by 6.6 inches wide, and is 0.29 inches (7.5 mm) thin. It also weighs 464 grams, or 1 pound. The updated iPad mini, by contrast, measures 7.87 inches long by 5.3 inches wide, and 0.73 pounds. (Apple's 3G versions of each tablet are slightly heavier.)
By comparison, even the Surface 2 is ungainly: There's just no way that consumers will tolerate holding a 10.8-inch Surface weighing 1.5 pounds, or a Surface Pro 2 weighing 2.0 pounds, with one hand.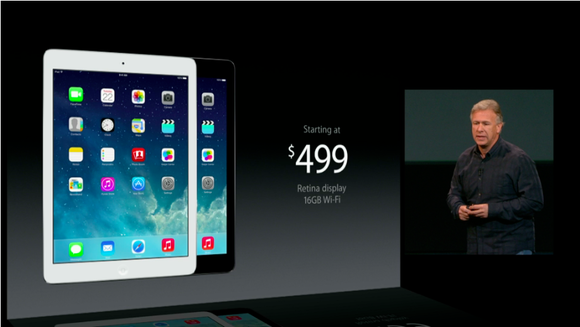 Of course, the Surface tablets were designed for productivity apps, and creating content on the desktop, not for squinting at a James Patterson ebook aboard a moving bus. And even though at Tuesday's press event Tim Cook took shots at everything from Microsoft's convertible tablet strategy to its Office 365 subscription, Apple failed to deliver its own versions of Microsoft's Touch and Type Covers, effectively ceding the productivity space to Microsoft. So there.
A new crop of mini Windows tablets, just in time
But block out that Apple Reality Distortion Field for just a second. There's a whole new crop of Windows tablets that perform just as well, and for far less money than Apple charges.
Take Dell's Venue Pro, an 8-inch tablet that weighs just 0.87 pounds. Just slightly larger than the redesigned iPad mini, the Venue Pro weighs just 0.14 pounds more than Apple's junior tablet. You know what else weighs about 0.14 pounds? A CD inside a CD case. You can lift a CD without any problem, right?
Did I mention that the Dell Venue Pro costs just $299? With 32GB of storage, the Dell Venue Pro costs about half what Apple charges for the $499 32GB iPad mini. From this perspective, at least, your buying decision is a no-brainer.
You want alternatives? Sure. The Lenovo 8-inch Miix tablet is even more appealing, weighing in at just 350 grams (0.77 pounds). That's just barely heavier than the iPad mini. And at 8.35 mm, it's only 0.85 mm thicker than the iPad mini, too.
The Dell Venue Pro, Lenovo Miix and the new Acer Iconia W4 are all powered by Intel's "Bay Trail" chip, a power-sipping chip with performance aplenty. Can the iPad run Team Fortress 2, like a Bay Trail chip? If it can, I'd certainly like to see it do so.
If you're irreversibly wedded to the Apple ecosystem, I can see picking up one of the new iPads. But for any number of purposes—reading an ebook via a Kindle app, taking gaming with you on the go, surfing the Web—a Windows tablet serves just as well, and for a lot less money. Yes, Apple fanatics will point to the zillions of apps within the iTunes Store. But for those of us who have settled on a few, choice apps that we run every day, buying one of the new, thin, light Windows tablets will likely do just as well for a lot less.
Save your money. Don't buy into the hype.