At a Glance
Expert's Rating
Pros
Really easy and intuitive
Beautiful interface and results
Cons
Like Powerpoint on a rollercoaster
Our Verdict
Wake up your presentations by zooming in to your talking points. You can also add text, images, and media in a unique format.
Once you notice your colleagues are catching up on their sleep during your PowerPoint presentations, you know you need Prezi Desktop. Using this software, you can wake up your presentations using animation that doesn't suck. Forget transitions and effects like dissolve and fly-in, Prezi Desktop focuses in on your important points within your slides, like actually visually focuses in.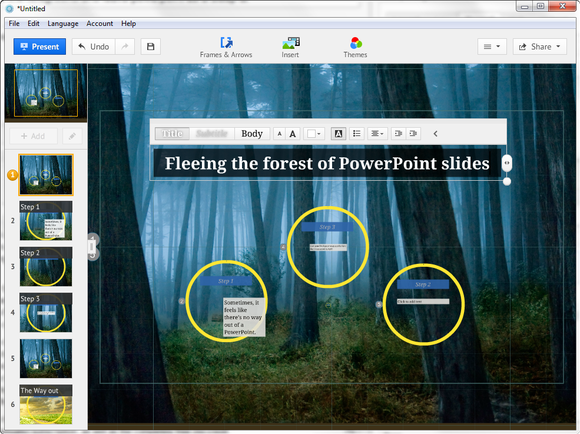 Prezi Desktop is similar to the online Prezi, but as you might guess from the name, it doesn't require an Internet connection after the initial registraion. This means that any storage limits are on your end, not on Prezi's cloud. It's also awfully handy to work offline when you're incorporating last-minute changes on a flight or at the slightly-too-rustic site for the company retreat.
The program opens with over 50 slide templates to choose from, all of which include animation built right in, and many of which include photo-realistic graphics or 3D aspects. You add text, images, and YouTube movies to areas of the slide and create a path for the animation to follow. Prezi flows seamlessly between these areas.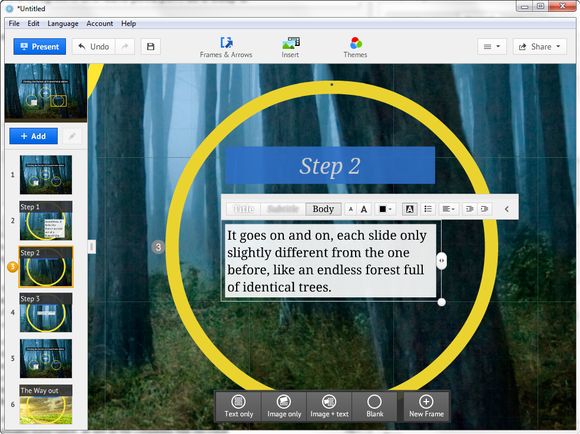 Some of Prezi's 3D effects are better than others, with a few giving the impression of rotating the base image rather than actually occurring in three dimensions. You can add shapes and drawings from Prezi's library but they are not editable, so if you want to create a very unique Prezi you'll also need software to create PDF, PPT, or image files to import. And you may want to stick to a very basic Prezi if you're presenting to the National Association of Motion Sickness Sufferers, because the flow of the presentation can be disconcerting.
With credit card information in hand, Prezi Desktop offers a 30-day free trial of the Enjoy ($59 annually) or Pro ($159 annually) subscription, as well as the completely free (no credit card needed) Public version. Once the 30 days are up, only the Pro version supports Prezi Desktop. Your presentations are all public with the Public version of Prezi, and you get only 100MB of storage per user. With Prezi Desktop Enjoy and Pro subscriptions, you can keep your presentations private, eliminate the Prezi branding, and receive 500MB (Enjoy) or 2GB (Pro) of storage space.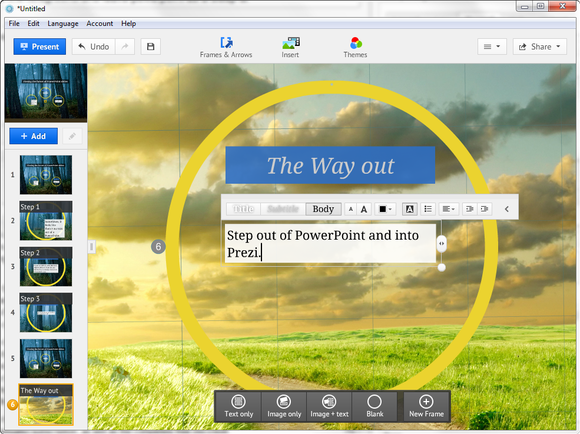 Prezi Desktop can get pricey, and it won't fix a really bad presentation, but it will certainly help keep your visuals—and your audience—focused. Plus you'll never be bothered by snoring during a presentation again.
Note: The Download button takes you to the vendor's site, where you can download the latest version of the software.