By the time I was in my mid-20s, I was often chided by my group of friends for being "such a mom" about insisting that upon separating, everyone was expected to text a buddy (generally me) when they'd gotten home safe. There were no smartphones then, just candy-bar Nokias, and it was an imperfect system. People would forget or fall asleep. And we had no plan if someone failed to text with an all-clear, aside from waiting or alerting a roommate.
We can watch out for one another much better now that we're all walking around with GPS devices in our pockets—and now that we have a solid selection of apps that are designed specifically to help. Using GPS, SMS, video, alerts, alarms, and a variety of other features, these apps aim to keep you safe. Whether you're going on a blind date, on a run, to a late movie, or just taking a sketchy cab, it's worthwhile to have one of these apps on your phone, even if just for peace of mind. And if directly calling 911 is safer or easier, then for the love of Joss Whedon, do that.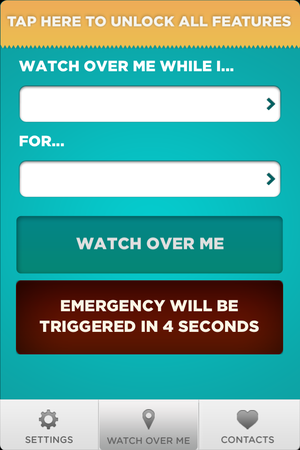 Watch Over Me greets you with a screen that presents two statements, 'Watch Over Me While I…' and 'For…', followed by two buttons. For each statement you fill in an action ('walk home', 'walk to my car', 'take a cab', 'meet someone', or add a new event), and a time frame (hours and minutes). Once you've selected these specifics and tapped the 'Watch Over Me' button, the app takes you to a countdown screen with a round button to tap to confirm your safety, and a square button below it to tap to extend the watch session. If you don't confirm your safety by the time the counter hits zero, the app contacts your previously designated friends (via SMS, email, or even Facebook) with your GPS location.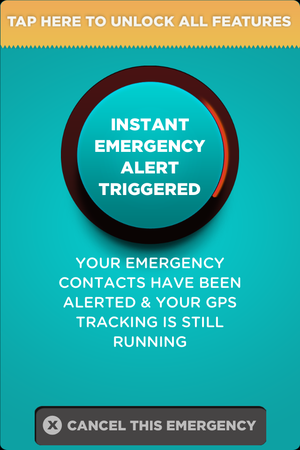 Two other buttons remain constant throughout the app: the Instant Emergency Alert button, and a banner at the top that you can tap to unlock all the app's features. Those features don't come free: For $4 a month, $10 for three months, $15 for six months, or $24 for a year, you can add an unlimited number of contacts, send an unlimited number of SMS alerts, have unlimited Watch Over Me event registrations, and shake your phone to trigger an alert. Note that while a subscription is more or less required, it also turns on your phone's camera, and it includes audio and video when alerting your friends.
With the 12-day trial version, I was able to add three contacts, which are available for viewing and changing in the Contacts tab (naturally). The Settings tab shows you subscription information and saved events, allows you to set times for tracking intervals and emergency video, and gives you other expected options such as the ability to post to Facebook and to change your password.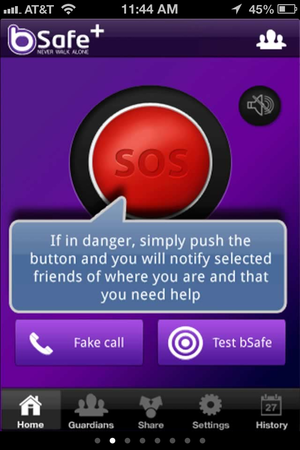 bSafe has some of the same features as Watch Over Me—for instance, it allows you to add contacts (it calls them Guardians) who can follow you when you're on your way home. And like the other apps, it has an SOS button that will set off an alert to your Guardians, with your GPS location. Once you've registered with bSafe, the app asks you to select Guardians from your contacts list. You'll need to have at least one contact that can be reached via telephone; other Guardians can be accessible via text message or a combination of the two.
If you're in danger, hit the red SOS button, and the app sounds an alarm, sets off a bright light on your phone, texts your location to your contacts, and calls a Guardian. Note that all active Guardians are triggered when you hit that alarm, something to keep in mind if you're tempted to add more than a handful of contacts. bSafe can also help friends "walk" you home via GPS (although that feature is subscription based), and it allows you to set an automated alarm so that if you fail to check in after a set amount of time, the bSafe alarm will alert your Guardians to where you've been and where you currently are.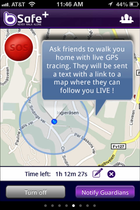 However, bSafe is largely subscription oriented, so you'll have to chip in annually ($20 per year or $30 for two) if you want to get any real use out of it. The only things that work without a subscription are the SOS alarm and the 'Test bSafe' button. bSafe at least makes it worth your while with live GPS tracking and a 10-second video (which triggers when the SOS alarm is on). bSafe also has a few things the other apps don't feature, most notably a Fake Call option that will trigger a fake phone call to you, in case such a ruse makes it easier for you to extricate yourself from an uncomfortable or unsafe situation.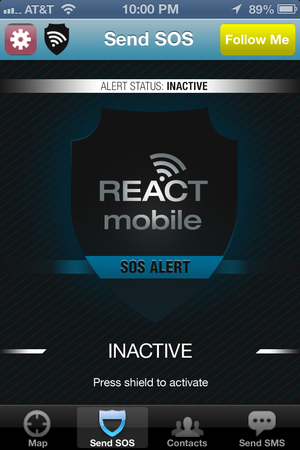 React Mobile is another app that turns your phone into a "powerful safety device" by allowing you to send silent SOS messages to a preselected group of contacts, send a group alert, or let family and friends virtually walk you home. The main screen is the Send SOS page, with Map, Contacts, and Send SMS tabs along the bottom. The Send SOS page features the React Mobile Shield in the center, and tapping it sends an SOS alert through text, email, Twitter, or Facebook, including your GPS coordinates. Activating the Shield also gives you a pop-up that offers to call 911, and the only way to deactivate the Shield is to press and hold the shield icon and then enter the cancel-alert code (5555).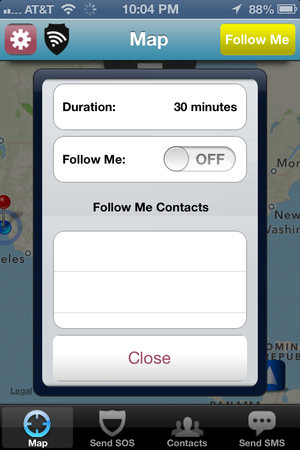 Along the top of the screen, three buttons remain constant no matter what part of the app you're on: Settings, which allows you to turn on posting to Facebook or Twitter and change your country code, an Alert button that displays all active alerts you have, and the Follow Me button, which allows you to set up a session during which permitted family and friends can follow you in real time. The Follow Me feature is not only really easy to use but also doesn't require a subscription, which is a nice touch. You can set it for 30 minutes, 1 hour, or 2 hours (I would have preferred to set my own time frame manually), and then all you need to do is toggle the Follow Me button to On and select which contacts to include. When you've reached your destination, you can tap the I'm Safe button, which then turns back to the Follow Me button.
The rest of the tabs at the bottom are straightforward: Map displays your location on a map, Contacts shows all the contacts you have added to the app, and Send SMS—you guessed it—sends an SMS message to your contacts. React Mobile gets bonus points for creating a clean, simple, and easy-to-use app that provides essential—and easily accessed—safety functions without a subscription.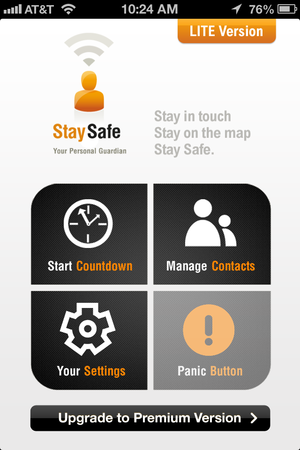 StaySafe is centered on a timer that you set when, for example, you go out for a run. If you don't check in safely when your timer is up, the app notifies your contacts. StaySafe sends your GPS location via email or SMS, and you can add the details of your trip or event so your contacts know that they're receiving an alert because, say, you haven't checked in from your typical 7 p.m. jog.
StaySafe also has an Auto-Inform Service, which automatically informs your selected contacts when you start and when you manually stop, so your contacts know when there's a possibility they'll get an alert from you. In addition to Auto-Inform, StaySafe provides its users with a two-PIN verification system: One is your safe PIN, which you enter to cancel alarms and alerts. The other is a duress PIN, which you can use in case someone is threatening you and making you enter a PIN to cancel the alert. The app will appear to turn off, but your emergency contacts will still receive a message.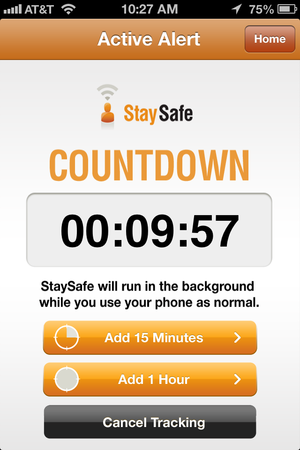 The app's home screen has four buttons: Start Countdown, Manage Contacts, Your Settings, and Panic Button. The Panic Button is grayed out unless a countdown is running, so you can't trigger it accidentally (or without having an active countdown). When you set up a countdown, the app asks you to verify your location. It then takes you to the countdown screen, which shows the time remaining along with three options: Add 15 minutes, Add 1 Hour, and Cancel Tracking. You can also return to the Home screen during this time, where you'll notice that the Panic Button is now accessible. Letting the countdown expire—or hitting the Panic Button—triggers the alarm, which alerts your contacts and flashes an orange 'Alert Sent' message on screen. To turn off the alarm, you need to enter your safe PIN.
Much like the other apps here, StaySafe is largely subscription based: Most of the features are locked behind the Premium access. The Lite version of the app allows you to enter only one emergency contact (who will receive only email alerts), and also provides access to the Panic Button, the safe PIN, the duress PIN, and your up-to-the minute location. The Premium version, however, lets you add up to five contacts and send SMS alerts to your contacts, and it also provides advanced GPS tracking and an interactive map for your contacts.
On Watch—iOS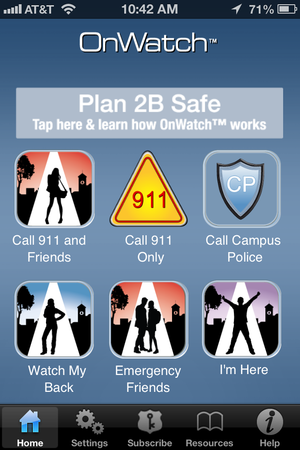 OnWatch is primarily designed with college students in mind—in addition to the Call 911 and 'Call 911 and Friends' options, it has a Call Campus Police feature, although you will need to manually enter the number to your campus police ahead of time.
The app's other functions (Watch My Back, Emergency Friends, and I'm Here, all positioned along the bottom of the screen) are set up around the concept of a Watch, wherein you set up a timed session that will alert your friends, campus security, 911, Facebook, or Twitter. But unlike the other apps, OnWatch alerts you when your timer expires, and if you don't respond, then a message goes out to the contacts you've selected.
To set up a Watch, you create a four-digit passcode, select contacts to add, edit a message, adjust social settings (if you want your alert sent to Facebook and/or Twitter), save the Watch, and toggle the alarm and flashlight functions on or off.
Note that many of these features are unlocked via subscription (of course). You can pay monthly ($3) or annually ($20). Another thing OnWatch offers that is notably missing in the other apps is the Resources tab, which has contact information for RAINN, the National Dating Abuse Helpline, and the National Domestic Violence Hotline. It's a thoughtful inclusion.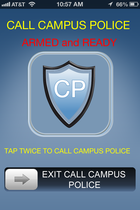 However—and this is a big however—the app isn't of much use to anyone, as we found it to be crashy and buggy. After setting a Watch My Back alert that failed to go off, I attempted to reenter the app, and it promptly crashed on me. Four attempts to open the app again met with nothing, and uninstalling and reinstalling the app didn't help. Even downloading the app on a coworker's phone was problematic: When I attempted to enter my email address to sync the app to my free subscription, it offered a box…with no field in which to enter the information. Although this app is certainly targeted toward an audience that could benefit from its features, it'll need a hefty overhaul before I can recommend it.