A small number of docking stations for Microsoft's Surface Pro 2 tablets appear to have escaped into the wild months before their official release date next year—but they've quickly disappeared.
However, the $199.99 docks do show up on Microsoft's online store, appearing—for a split second—as "in stock." The widget then refreshes, however, to show that the tablets are out of stock.
Although pricey, the docking station was one of the accessories Microsoft Surface chief Panos Panay showcased earlier this month as part of the launch of the Surface 2 and Surface Pro 2. The idea, Microsoft officials later confirmed, was to make the Surface Pro 2 the engine of sorts for a variety of different designs: tablets, laptops, and desktop workstations.
"We know what a docking station does," Panay said at the launch. "Everybody uses a docking station. But just take your mind here really quick: We went from a tablet to a laptop, and we can use it in both forms. But we can move it to a desk. Now we have a workstation PC right in front of us."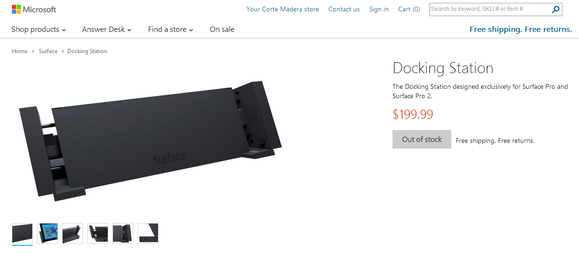 Microsoft executives originally said that the docking station was supposed to be available in 2014. Apparently that wasn't an absolute commitment, however, as ZDNet's Mary Jo Foley was notified by a customer who was able to buy several docking stations for his own use.
The Docking Station can power two separate monitors for a total display resolution of 3840 by 2160 pixels, and it includes one USB 3.0 port, three USB 2.0 ports, a Mini DisplayPort connector, ethernet, and audio connections. And if users prefer, they can leave the Surface Pro 2 attached to the Touch Cover or Type Cover while using the Docking Station.
That fits with Microsofts vision of productivity for the Surface tablet generation.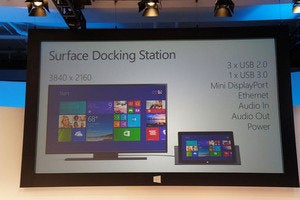 "We've said previously that our ambitious vision was to make Surface 2 and Surface Pro 2 the most productive tablets on the planet, and that we believe people need great devices for play and getting things done," a Microsoft spokesperson said a few weeks ago. "For Surface Pro 2, it can be the first device that is a tablet, a laptop, and a high-powered workstation."
Microsoft representatives, contacted Friday for this story, didn't immediately return a request for comment.