At a Glance
Our Verdict
The lowest-end Surface Pro 2 you can buy is faster than the previous generation's
Best Prices Today: Surface Pro 2 (64GB storage, 4GB RAM)
You have to appreciate Microsoft's tenacity. After launching the original Surface Pro tablet to mixed reviews, the company opted not to rebuild from scratch but to refine its vision for a thick and heavy, but powerful, tablet. The result is Surface Pro 2.
Much like Windows 8.1, Surface Pro 2 is less conflicted on both the laptop and tablet sides of the hybrid equation, arriving with a more flexible kickstand, improved Touch and Type Covers, longer battery life, and better thermal design. It's still less than the best of both worlds, but the balance between them no longer feels so uneasy.
The Surface Pro 2 is also a better lesson in compromise than the just-released Surface 2. Both hybrid devices sport incremental rather than revolutionary upgrades, but the Pro version is simply more useful when you're working with your hardware in the field.
As with the original Pro hybrid, the Surface Pro 2 resembles a plain old tablet until you unfurl the integrated kickstand and attach a keyboard cover to the base, transforming the device into a small, funky-looking laptop. It retains the satisfying clicking sounds as you close the kickstand or snap in a keyboard cover, and the trapezoidal design still looks vaguely like a piece of Imperial architecture straight out of Star Wars.
Many other details are unchanged. The tablet alone weighs 2 pounds and measures 0.53 inch thick, and boasts a 10.6-inch, 1920-by-1080 display. You'll find a full-size USB port and a headphone jack on one side, and a MicroSD card slot and a Mini DisplayPort output on the other.
The included active digitizer stylus has the same mechanical-pencil vibe as the original, and allows for pressure-sensitive drawing while resting your hand on the screen. Pricing is similar to that of the original, too, at $900 with 64GB of storage and 4GB of RAM, and $1000 for 128GB of storage. Now, however, you can bump up to 256GB for $1300 or 512GB for $1800, both versions with 8GB of RAM.
Why so bulky and pricey? Because Microsoft wanted to make a tablet that handles robust productivity tasks, such as video editing and image processing. The Surface Pro 2's Intel Core i5-4200U processor is what you'd typically find in an Ultrabook, and it doesn't flinch under heavy loads. As a side benefit—or perhaps a main draw—the integrated graphics on the 256GB, 8GB RAM model do an admirable job on fairly recent PC games, at least at 720p resolution. Where's the Surface-ready Bluetooth Xbox controller, Microsoft?
PCWorld benchmarked a 64GB version of the Surface Pro 2 with 4GB of RAM. Compared with the original Surface Pro (128GB), the Surface Pro 2 (64GB) was about 9 percent faster in WorldBench 8.1. The Surface Pro 2 was also about 16 percent faster than the new Sony Tap 11, which carries a slower Haswell-class processor. The Asus Transformer Book T100T, which uses an Atom processor, was barely half as fast as the Surface Pro 2.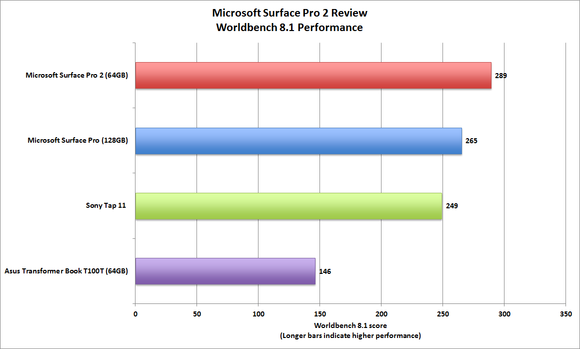 Microsoft would prefer that you think of the Surface Pro 2 as a laptop first, and that you not compare the product directly to Apple's much thinner and lighter iPad. But it's hard to ignore the iPad given the Surface Pro 2's ability to act as a tablet.
Let's state the obvious: The Pro 2 can be tiresome to hold, its selection of touch-optimized apps is inferior to that of the iPad, and its battery doesn't last nearly as long. But those drawbacks aren't as pronounced as they were when the original Surface Pro launched in February.
Since that launch, Microsoft has also secured some key apps for its tablet-friendly modern interface, including Facebook and Twitter, with Flipboard on the way. Microsoft has also made improvements to its own built-in apps in Windows 8.1, and the modern version of Internet Explorer 11 has helpful new features, such as the ability to open unlimited tabs across multiple windows. (Check out our review of Windows 8.1 for more details on what's new.)
As for the hardware, the Surface Pro 2 benefits in the battery department from Intel's fourth-generation "Haswell" processor, though not quite as much as we'd hoped. We're still doing formal testing, but my experiences juggling lots of browser tabs and a few modern apps on the Surface Pro 2 yielded about 6 hours of battery life—basically the same as PCWorld Labs' benchmarked result of six hours and nine minutes. That's an hour or two better than the original Surface Pro, and more than adequate for an afternoon working at Starbucks or an evening on the couch. But an entire day of use would require a top-up in the middle.
Update 11-4-13: Microsoft issued a firmware update after the Surface Pro 2's launch that significantly increased the tablet's battery life.
Improvements to the Surface Pro 2's thermal design are more substantial. The tablet runs cool and quiet during lighter use, and it doesn't spin up its internal fans as often as the original did. Unless you're putting a heavy load on the Surface Pro 2, it won't get uncomfortably warm or noisy.
The other big change is in the Surface Pro 2 kickstand, which can position the machine at a 40-degree angle in addition to the original 22-degree angle. That doesn't sound like much, but the flatter viewing angle feels more natural when the tablet is resting in your lap, or next to you on a couch. Just having the kickstand helps mitigate the tablet's bulkiness, because you don't have to hold up the tablet with your hands.
Many of the tablet-enhancing improvements in the Surface Pro 2 carry over to laptop mode. The added kickstand angle makes the Surface Pro 2 less prone to toppling, even when you have it balanced on one leg with the keyboard attached, and the screen never feels as if it's aimed in an awkward direction. Battery life is now comparable to that of many other small Windows laptops (but frustratingly it's still nowhere close to Apple's MacBook Air).
Windows 8.1 also brings several improvements for desktop users, including better scaling, so things don't look so teeny on the Surface's 10.6-inch display. The small screen feels like less of a constraint than before, though text still becomes tough to read if you're running two websites side by side. You may also find that a lot of desktop software isn't optimized for the Surface's higher pixel density, making things look fuzzy. Here's hoping that software makers will catch up as more high-DPI laptops come to market.
Even after all those improvements, the Surface Pro 2 struggles to provide the same experience as a full-blown laptop, in large part because of the optional Touch Cover and Type Cover accessories.
The physical footprint of the Surface Pro 2 limits how large these covers can be. Although the keyboards don't feel cramped, the small touchpad is tricky to master. Moving the pointer from one corner of the screen to the other usually takes more than one swipe unless you crank up the mouse sensitivity, thereby sacrificing accuracy. (You handle touchpad sensitivity through the Mouse section of Control Panel, separate from the Mouse and Trackpad Settings in the modern interface.)
The touchpad would be more useful if not for some baffling decisions on Microsoft's part. When you drag down from the top of the pad, for instance, two-finger scrolling doesn't register right away, so you get a dead zone that occupies roughly the top fifth of the pad. Clicking and dragging is even more of a nightmare: To begin a selection, you can't just double-tap anywhere on the touchpad. Instead, you must hold one finger down on the tiny sliver that represents the left mouse button, a process that often takes two or three tries to get right, and more frequently messes up midselection. Expecting users to attach a mouse for reliable text selection is unacceptable, and a software fix needs to be high on Microsoft's priority list.
Thanks to firmer, less springy keys, typing on the Type Cover 2 feels solid, and the keyboard seems sturdier than its predecessor for in-lap use. Typing still takes getting used to, as the keys don't travel as much and they have no space in between them, but the touchpad is the bigger hindrance.
A few other nitpicks come to mind: First, when you're using the Type Cover with scrolling inverted, on occasion the Surface can scroll in the wrong direction, forcing you to detach and reattach the cover. Second, the built-in stylus still connects magnetically to the same slot as the charger, so you can't attach both at the same time. And finally, Microsoft exacerbates the Surface Pro 2's battery woes by forcing hibernation when your machine has only a little life (8 percent) left in the tank. You can dig into the Windows settings to give yourself more time, but Microsoft shouldn't be leaving a half hour of battery life on the table by default.
Bottom line
Clearly, Microsoft has lots of refinement left to do. But despite all the Surface Pro 2's flaws, there's something alluring about it. No other touchscreen laptop or convertible device plays the hybrid game as well as the Surface Pro 2 does. The kickstand is a brilliant flourish that compensates for the tablet's weight while solving for the top-heaviness you find in other detachable hybrids. The Touch and Type Covers are so thin and light that you can keep them attached, and the total package still feels light enough to rival the slickest laptops.
The Surface Pro 2 is a different kind of device, aimed at people who need to edit videos, create digital art, run a dozen applications at once, or kick back with some full-blown PC games. The fact that you can do those things on a tablet that still feels comfortable for Facebook, Netflix, or solitaire is no small achievement, and a sign that the best of both worlds might be attainable if Microsoft keeps chipping away.
Best Prices Today: Surface Pro 2 (64GB storage, 4GB RAM)