In case you haven't been paying attention, the rules for IT admins have changed. Companies generally don't call the shots any more for which technologies are used by employees, and the boundaries of the network have all but disappeared. Citrix recognizes this culture shift and believes the latest release of its XenMobile platform is just what companies need.
XenMobile itself isn't new. Citrix has been in the enterprise mobility management game for some time now. The new XenMobile, however, includes a number of new features and capabilities that make it easier for IT admins to manage and simpler for employees to use.
Citrix has enhanced the email and calendar capabilities of XenMobile. Rather than clicking a link that opens a meeting app then jumping through additional hoops to join the right meeting and enter any necessary credentials, XenMobile takes the mobile user straight from the meeting entry into the online meeting with a single click or tap. XenMobile can also auto-dial conference call numbers, including the associated participation code. Citrix has designed it to work with other online meeting platforms, such as WebEx, as well.
The new XenMobile also simplifies access to apps and data by enabling faster authentication. Citrix uses a simple PIN tied to a digital certificate to provide the necessary security without requiring the user to remember or enter complex usernames and passwords on the go.
ShareFile gives companies a way to securely store and share data, and Worx provides a safe, managed method of distributing authorized apps. IT admins can make apps available in the WorxStore, and grant or limit access to specific apps for individual users or groups. Apps can also be easily removed from remote mobile devices by the IT admin in the event that a device is lost or stolen or an employee leaves the company.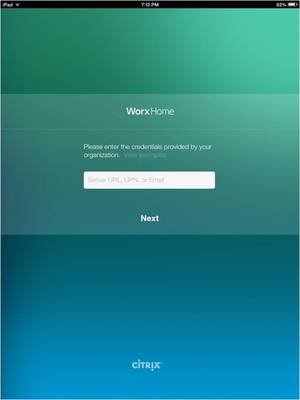 Other companies offer similar tools, but Citrix argues that the XenMobile platform is more comprehensive. "There are competitors out there, like Good Technology, that can fill one or two buckets, but no other company has a complete, end-to-end solution to match what we provide with Citrix XenMobile," says Bill Carovano, senior director of product management for Citrix ShareFile.
I got to use Citrix XenMobile. I have extensive experience trying to memorize participant or meeting codes long enough to enter them, and trying to do so while driving or otherwise occupied. It was refreshing to be able to just tap the meeting link and get connected directly to my meeting with the Citrix team.
Citrix execs walked me through most of the new features and capabilities of XenMobile, including a demonstration of how to provision an app to make it available for me in WorxHome. They were also able to remove that app from my mobile device in a matter of a few seconds, without any input or interaction from me.
Citrix XenMobile seems like a solid solution for organizations struggling to address the challenges of BYOD—especially those dealing with multiple mobile platforms. If you're looking for a mobile management tool, you should see if XenMobile will work for your needs.