April Fool's Day is for amateurs. Halloween is the holiday for serious troublemakers. It's a far better occasion for playing tricks, because the days are cold and dark, and everyone is thinking about ghosts and ghouls, but nobody is expecting to be pranked.
Suckers.
We've handpicked our favorite PC pranks to share with you, dear reader, in hopes of sowing some mischief in offices and homes around the world. Each of these tricks is easy to set up: All you need is a wireless keyboard or mouse, and clandestine access to your target's PC for a few minutes.
Ghost writer
This is the easiest trick in the haunted PC book, yet somehow it always works. Most people would rather blame malware, hackers or cursed luck for their PC's misbehaviors, rather than actually get up and check to make sure nobody's plugged anything weird into the case.
To pull it off, you need a wireless keyboard and/or a mouse that communicates with a PC via a tiny wireless dongle—the smaller, the better.

Surreptitiously attach the wireless dongle to your victim's PC, then use the keyboard or mouse at random intervals to make the PC seem haunted. You can keep things subtle by moving the mouse cursor a little bit here, hitting a few random keys there—or just go full Swayze and start typing unearthly messages from beyond the grave, preferably while your victim is trying to write an email.
Spooky sound effects
This one takes a little audio-editing work on your part, but it's worth it. Every PC has a set of customizable system sounds that play when you start up, shut down, or receive system messages. It takes only a few minutes to replace those sound files with spooky sound effects.
Wait until your target is away from the PC for 5-10 minutes, then hop on and use an audio editor—you can download Audacity for free—to edit the system sound files already in place so that they're spookier: time delays on the sounds, drawing out the sounds at a lower pitch, or other mutations. If your target is using the default Windows system sounds, you can usually find their corresponding .wav files in the C:WindowsMedia folder.
You can also simply swap them out for other .wav files, like this blood-curdling scream, by associating the spooky sound effect with your chosen system action in the Windows Sound settings menu. To get there on Windows 8, just hit the Start button and type System sounds, then switch the search filter to "Settings" and select the Change system sounds option.
Haunted PC shortcuts
If you have access to your target's desktop, prank them by changing the shortcuts of their favorite programs so they instead open a horrifying photograph, a creepy video, or a different program entirely.
All you have to do is right-click the shortcut to a popular application—Chrome, for example—and open the Properties menu, then edit the Target field to point to the file you want that shortcut to open.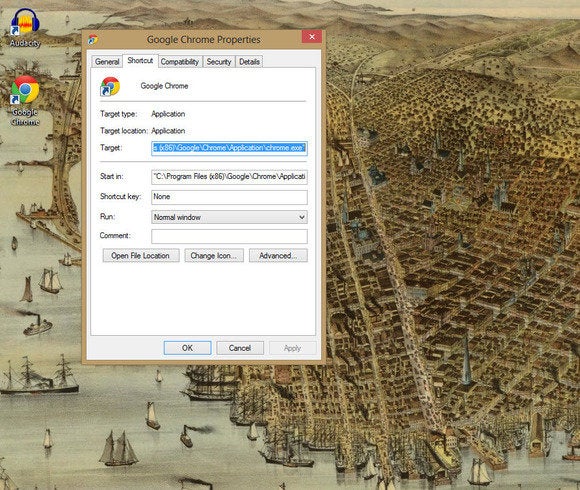 If you want to change it to a creepy photo of Bill Cosby playing Ghost Dad that you've hidden in the Windows folder, for example, you need to replace "C:Program Files (x86)GoogleChromeApplicationchrome.exe" with "C:WindowsGHOSTDAD.jpg."
One caveat: Windows will update the shortcut's icon automatically to reflect its new target, which will give away your trick. To change it back, right-click the icon again, open Properties and click the Change Icon. You should be able to find the old, default icon in the directory of the original executable.
As you plot your victims' fates, remember one more thing: The merriest pranksters always make sure their tricks can be undone with little or no damage. Plan responsibly, and have a blast!