At a Glance
Expert's Rating
Pros
Comprehensive PC protection
Fewer interruptions than past versions
Cons
Unattractive interface
May overwhelm novice users
Our Verdict
WinPatrol 2013 Plus makes it easy to stay on top of any changes made to your PC.
A guard dog is only as valuable as the alarms he sounds. The latest version of WinPatrol, a handy security utility that serves as a virtual guard dog for your PC, drives this point home. WinPatrol 2013 still alerts you when changes are made to your PC, but does so less frequently…so when it does bark, you sit up and take notice.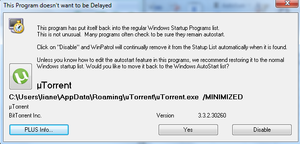 WinPatrol is available in a free version, which offers a handful of ways to monitor just what's going on on your PC. You can see a list of startup programs, which you can choose to disable or delay. You also can see a list of recently used programs, hidden files, file types by associated program, active tasks and services, and much more.
The latest version of WinPatrol looks the same as ever, a drab gray design weighed down by a lot of text. But it does feature an improved alert system: WinPatrol no longer notifies you as to every tiny change made on your PC. Instead, WinPatrol barks (and yes, it actually barks) only when your attention is needed.
For example, past versions would notify you when a legitimate program was added to your Startup program list. The latest version will notify you when a higher level of activity—typically signifying some sort of malicious intent—is detected. WinPatrol also now has the ability to learn from your responses: when you tell the program that you approve of an application's actions, it won't alert you about that action again.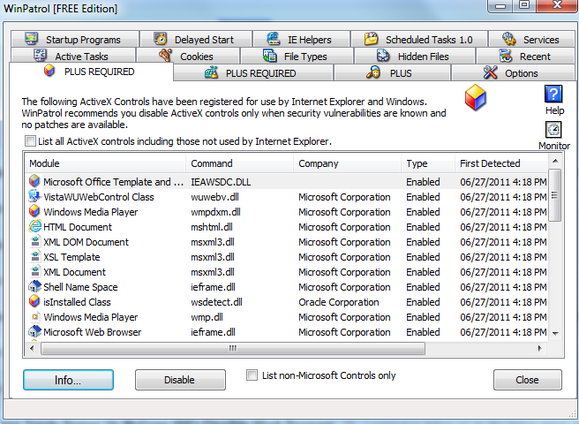 WinPatrol 2013 is more user-friendly than past versions, but it's still technical enough that it will likely overwhelm the less savvy. Those folks will likely find the $30 WinPatrol Plus more valuable, as it includes access to the PLUS Info. This button links users back to WinPatrol's online database, which includes detailed information on the programs and actions to which WinPatrol is alerting you. The database has added community data, so you can peruse the info supplied by other users to see how they've responded to similar alerts.
In addition, WinPatrol Plus adds ActiveX Monitoring and custom registry tracking, which allows you to monitor any registry value. $30 may seem like a lot to spend on a software application these days, but it's a small price to pay for an attentive guard dog that will watch over your PC.