Unwary users searching for Hertz, Jaguar, or Radio Shack while using the latest version of Windows may be in for a rude shock: the appearance of ads that can take over nearly your entire screen.
So far, the large ads are only accessible via the "smart search" within Windows 8.1. Typing "baseball," for example, on the Windows Start page launches the Bing app, where images of baseballs are intermixed with the official Major League Baseball site, the relevant Wikipedia article, and relevant videos.
Type in "hertz," however, and a customized "hero ad" will nearly fill your screen, offering links for Gold Plus rewards members, online rservations, and special offers, as well as links to actually reserve a rental car. And if you happened to be searching for hertz, the international unit of frequency, you'll have to scroll horizontally to the third result on the right. It's a marked change from the old Bing app, where eight separate results are visible on the first page, and the Web, where Bing's results are organized vertically.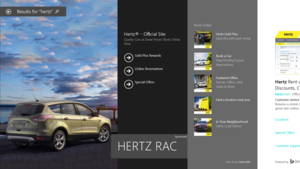 Microsoft began introducing ads into Bing smart searches this past summer, when smaller ads began appearing next to search results. Meanwhile, Windows 8.1 began introducing hero-sized index pages of its own, so that searches for "Prince" or "Lady Gaga," for example, returned pages with biographical information and links to songs.
Searches for generic terms like "baseball" still seem safe, but beware wandering on the Web in search of brands.
"The goal of Hero ads is to enable searchers to quickly find the most relevant information and complete the most popular tasks for the brand they are specifically searching for via a beautiful visual and interactive experience created in partnership with our brand partners," wrote Stephen Sirich, the general manager of Microsoft's Online Division at Microsoft, in a blog post.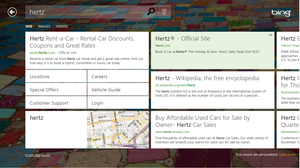 Similar ads have been created for Land Rover, Jaguar, Home Depot, Norwegian Cruise Line, Radio Shack, Hertz, Volkswagen, and a "few additional popular brands," Sirich added. "We will continue to solicit feedback from both users and marketers during this pilot and will use those learnings to create an experience that works best for advertisers and Windows 8.1 users."
Microsoft's online business has consistently lost money, so the new ads will probably fill the hole where traditional banner advertising or other display ads would appear. But if more and more advertisers sign on, you'll likely wade through a number of similar splash screens before ending up on actual, useful search results.
Fortunately, there's an workaround: if you don't like them, don't click the ads. They'll eventualy go away.