3D printing promises a glorious future, one where you'll be able to create and manufacture nearly anything you can think of right from the comfort of your own home. But the future potential of 3D printing isn't limited by your imagination alone: The law is tossing up barriers for the nascent technology.
In fact, the U.S. government has already prevented one Texas man from distributing a firearm design online. But the challenge of controlling the online distribution of 3D printing designs may soon be much harder, thanks to the efforts of a London-based technologist.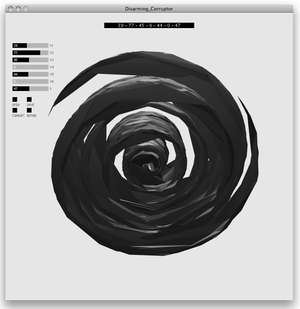 A new experimental app, dubbed Disarming Corruptor, promises to let you share 3D printing designs right under the nose of law enforcement and the copyright police. Created by Matthew Plummer-Fernadez, Disarming Corruptor uses basic encryption to take your 3D Yoda figurine, weapon, or other piece of contrabrand and disguise it as something else.
Instead of sharing a Steve Jobs doll on a site like MakerBot's Thingiverse, for example, you could share an object that looks like an abstract sculpture or a crumpled ball of paper. (And no, I have no idea what that design really is).
To return the design to its original shape, you would need to use the Disarming Corruptor app and input an encryption key with seven numeric values each ranging from 0-100. So a key like 24-99-0-0-5-54-75 could distort the object and would then have to be re-entered exactly to reveal the original image.
Plummer-Fernandez says he created the app after a 3D printing service refused to print out his own version of a Mickey Mouse figurine. "I was confronting all these taboos showing up in 3D-printing around copyrighted material and 3D-printed weapons, and I think these services are leaving their users out to dry," Plummer-Fernandez told Forbes.
Disarming Corruptor's encryption capabilities are inspired by rotor encryption machines such as the German Enigma device used in World War II. Enigma-style numeric ciphers are not exactly state-of-the-art encryption, so it's unlikely a file encrypted with Disarming Corruptor would survive very long under attack.
Nevertheless, as a proof-of-concept, Disarming Corruptor could very well spur the next step in keeping 3D designs from attracting too much attention while still sharing them online.
Disarming Corruptor is currently available for OS X, but plans for Windows and Linux versions are in the works.