Microsoft released its Internet Explorer 11 browser for Windows 7 on Thursday, providing a nominal speed boost versus IE10, including performance-enhancing technologies such as pre-rendering and pre-fetching.
Although users can automatically download a copy of IE11 (shown above) for Windows 7 from the Microsoft website, Microsoft said that it would automatically upgrade users over the next few weeks, beginning first with those running the Developer and Release Previews.

Overall, Microsoft claims that users who do so will see a 9 percent performance improvement versus IE10, which Microsoft claims is about 30 percent faster than competing browsers. IE11 ships with the new Chakra just-in-time Java compiler, designed to improve the performance of real-world websites, plus support for different components of the ECMAScript6 standard.
IE11 also offloads WebGL graphics processing onto the GPU, reducing CPU power consumption and improving performance. Microsoft also improved its compliance with Web standards, including processing HTML5 video without the need for plugins.
Part of those performance improvements come from pre-fetching the first or primary link on the page, downloading and constructing the page before you even click on it. Background elements are also downloaded and stored ahead of time. Finally, if you back out of a page, the previous page is stored and cached for a smooth transition.
Nevertheless, if you're not running Windows .18 on a touch-enabled PC, you're missing out on a number of touch-specific, IE11 features.
One of the most subtle, yet most convenient of these is "flip ahead," which is a simple, convenient way to avoid the "pixel hunt" at the end of a lengthy page of items. For example, take a list of notebooks on Amazon.com: you're looking for a middle-of-the-road laptop, so ordering the list by price or screen size still forces you to negotiate a few pages. While Amazon allows you to navigate by clicking a page, "flip ahead" simply allows a touchscreen IE11 user to "flip ahead" one page by flipping the page left with a finger gesture.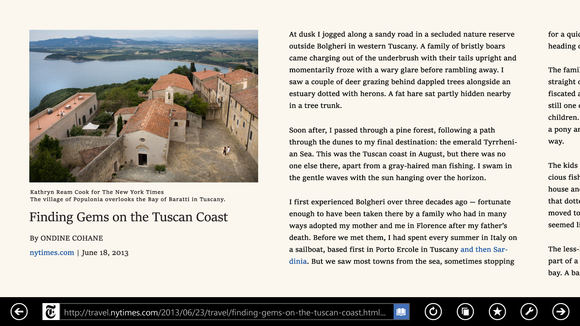 Flip ahead might have been a curiosity at one time. But, more and more, developers are adding the capability to major sites on the Web: Amazon, Best Buy, Barnes & Noble, and NewEgg, among others. ("Flip ahead" is not enabled at Costco, Target, and WalMart's sites, however.)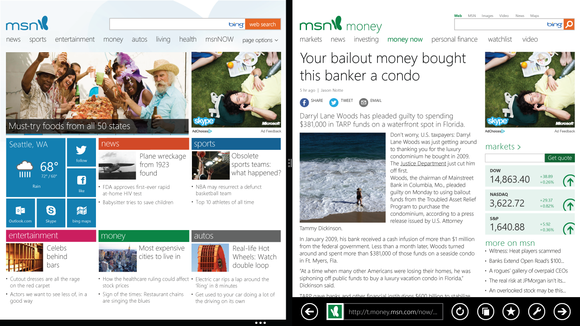 Likewise, IE11 also taps into Windows 8.1 features like the ability to pin sites to the Start screen, to snap to a window, and to save articles to Reading List, an app within Windows 8 and 8.1.
Microsoft's work with Contre Jour, and the Rivers of Ice experience with Mt. Everest are both optimized for Windows 8. And developers can visit Buildmypinnedsite to help construct a website that will appear as a dynmaically-updating Live Tile on the Start Screen.
Microsoft's work with Contre Jour and similar sites transform a website into something that looks like an app, a feat that, so far, Google and other browser rivals haven't been able to do. But Microsoft hasn't done a great job of showing off that capability, something that Roger Capriotti, director of marketing for Internet Explorer, said the company might explore further.
To date, Microsoft's unofficial mantra for the latest versions of IE has been, "Touch is the new fast". With IE11 for Windows 7, IE11 is simply faster. But users who run IE11 on Windows 8 or 8.1 will see a noticeable improvements beyond even that.
Fortunately, users of either IE10 or IE11 can view Microsoft's frankly awesome Internet Explorer anime.
Updated at 9:22 AM PT with an image and video of Microsoft's anime mascot, Inori Aizawa.