Microsoft has declared Thursday, Nov. 7, to be "Get It Done Day," and in that spirit it's rolling out significant changes for Office Web Apps, the free Web-based complements of the core Microsoft Office applications.
Traditionally, Microsoft has viewed Office Web Apps as a companion to the full suite of desktop applications—tools with limited functionality designed to allow those with Microsoft Office to continue to get things done even when they're not at their primary PC. The new and improved apps are designed to provide a standalone productivity experience closer to the "real thing."
What's new
From Microsoft's perspective, the biggest news with Office Web Apps is the substantial improvement in co-authoring functionality.
Peers, friends, or family can create, add, and modify content simultaneously in the Word, Excel, or PowerPoint Web Apps. Microsoft added real-time presence that identifies where your various collaborators are currently working in the document, so you can make sure two people aren't editing the same thing and easily avoid conflicts.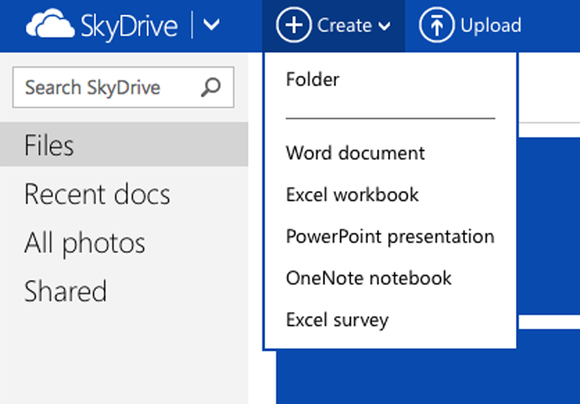 The biggest change, though, is that the Save button is gone. The previous incarnation of "real-time" co-authoring in Office Web Apps required users to frequently save their work and would only refresh what co-authors could see from their end as the information was saved. The new Office Web Apps displays all text and formatting changes as they happen and everything is saved automatically as you go.
The Word Web App now includes Find and Replace and lets users apply style and formatting to tables, insert headers and footers, and more. In the Excel Web App, you can now drag and drop cells, reorder worksheets within a workbook, and provide a summary analysis of selected cells at the bottom of the display just as in the desktop equivalent. The PowerPoint Web App comes with picture cropping capabilities and more control over the visual appearance of the presentation.
Hands-On
I had an opportunity to play with the Office Web Apps in a demo environment for the past few days. In fact, I created and edited part of this post using the new Word Web App. The experience was very smooth and fluid. The letters appear on the Web-based Word doc just as quickly as they do when I type them in Microsoft Word locally.
The ribbon interface at the top of the display in each of the Office Web Apps is more sparse than the current desktop versions, but it provides easy access to the most used formatting and features.
The real test, though, of the Office Web Apps experience is how well they work from a tablet like an iPad. Microsoft CEO Steve Ballmer has insisted for years that Microsoft doesn't need to create native iOS or Android tablet apps for Microsoft Office because tablet users can access Office Web Apps through their Web browsers. The problem is that the hobbled features of Office Web Apps were no match for the capabilities and experience of a native app. Maybe the new, improved version could deliver on Ballmer's promise.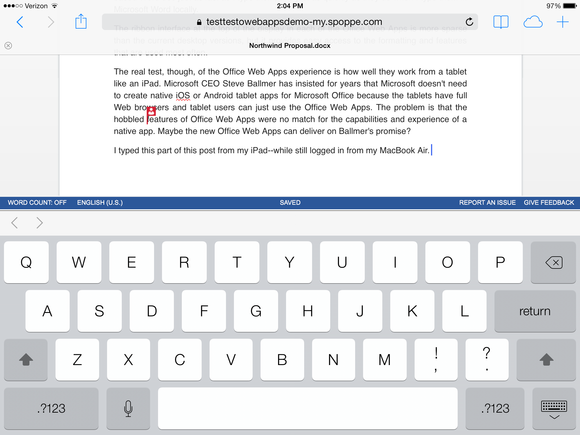 I typed this part of this post from my iPad while still logged in from my MacBook Air. A red flag appears in the text to indicate the presence of my MacBook Air login within the document, and my changes from either device were updated and reflected on the other system in real-time.
I was able to format text—adding a heading and changing text to bold or italic—relatively easily from the iPad. When I select a word or section of text on the iPad, a contextual menu of formatting options is presented to make it easy to cut, copy, paste, or format the selected text.
I'm not completely convinced that it replaces the need for a native iPad app, but it is a quantum leap forward from previous versions. The new Office Web Apps at least make Ballmer's assertion feasible, if not ideal.
Throwing down the gauntlet
Apple recently took aim at Microsoft Office by making its iWorks productivity software free for all Mac OS X and iOS users. However, many of those users were upset when they discovered that Apple had stripped features and dumbed down the desktop versions of the apps to make the experience more consistent with the iOS apps.
Microsoft has a much wider audience. The Microsoft Office desktop software is available for both Windows and Mac OS X, and Microsoft offers a mobile version of the Office apps for Windows Phone, iPhone, and Android phones, in addition to these Office Web Apps.
The fact that Microsoft took the opposite approach—adding rich functionality and new capabilities to the Office Web Apps to bring them closer to the desktop experience—gives it an edge and makes Microsoft Office and Office Web Apps a better choice for productivity and content creation no matter what platform or device you're using.