Microsoft hasn't taken the first-generation Surface Pro tablet's endurance woes lying down. After subpar battery life tempered enthusiasm for the original, the Surface Pro 2 upped its face time to 6 hours—still not great for a slate, but a 20-percent improvement over its predecessor.
Then, shortly after the Surface Pro 2 shipped, Microsoft pushed out a firmware update that promised yet more battery life. Could refined software give the Surface Pro 2 hardware an even bigger boost?
Yes—but the gains vary greatly depending on the way you use the tablet.
PCWorld Lab Manager Tony Leung has been battering the Surface Pro 2 with a barrage of battery tests ever since we first reported about the firmware update, benchmarking the same unit both sans firmware update and post-firmware update. (Thanks Tony!) Every benchmark was run twice to ensure consistency, which is why it took us a few days to post this.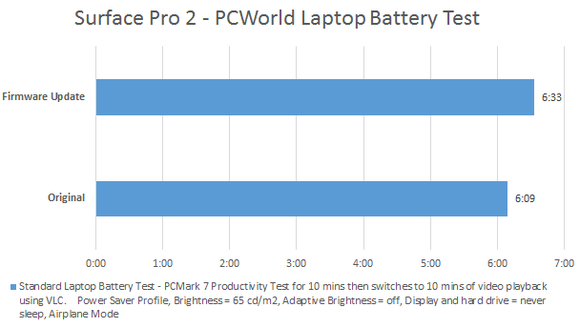 PCWorld's standard laptop battery test turns off adaptive brightness and places devices into airplane mode, and then loops the PCMark 7 Productivity Suite and a video (using the VLC player) in 10-minute intervals until the machine poops out. The firmware update enhanced the Surface Pro 2's endurance in this test by 24 minutes, as you can see in the chart above—a welcome improvement, but not an earth-shattering one at merely six percent.
But wait! AnandTech reported that the firmware update improves battery life by allowing the Marvell Wi-Fi chip inside to settle down in lower power states. That publication's testing showed a whopping 25 percent leap in battery life when browsing websites post-update. We also ran a Wi-Fi browsing benchmark, using Google Chrome to visit a list of 20 different websites every 30 seconds.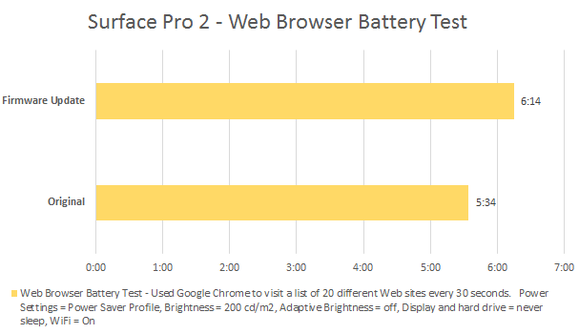 As you can see, the battery life improvements generated using our Wi-Fi benchmarking method weren't quite as significant as the gains AnandTech saw, though it still resulted in an endurance boost of nearly 40 minutes, or around 12 percent.
Given that the boost comes from allowing the Wi-Fi chip to settle into lower power states, however, less aggressive surfing may result in a more notable boost. A less formal test was in order!
PCWorld contributor Jared Newman purchased his very own Surface Pro 2. Prior to the new firmware update, the hybrid consistently gave up the ghost after six hours of normal usage, which included keeping multiple browser tabs open, word processing, and using Twitter in Windows 8.1's Snap view.
After installing the new firmware, his Surface Pro 2 managed to eke out seven hours on a single charge—a full hour's worth of improvement, or roughly 16.5 percent.
Now that's a hearty boost!
When it comes down to brass tacks, the impact of Surface Pro 2's firmware update on your tablet will depend on just how you use your slate. No matter how you shake it, though, the software definitively boosts the hardware's overall endurance, and Microsoft deserves a big hug for pushing it out.
Once the battery-boosting Power Cover accessory finally hits the streets next year, the Surface Pro 2 might actually become an all-day warrior, powerful Core i5 processor and all.