AMD has announced that effective November 13, consumers who buy a video card based on one of its Radeon R9-series GPUs at a participating retailer will get a free copy of the hit game Battlefield 4. The company also announced that gamers who buy a card based on its less-expensive R7 260X GPU can choose two free games from the Silver tier of its "Never Settle Forever" program.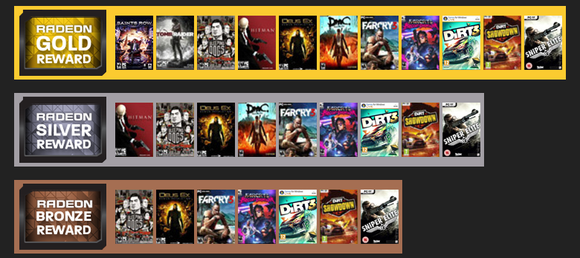 Needless to say, Battlefield 4 is not on the Silver tier, but AMD has added Thief, currently in development, to the list, which also includes popular games such as Hitman: Absolution, Dirt: Showdown, Far Cry 3, and several others. According to an AMD spokesperson, an upcoming patch—expected in December—will render Battlefield 4 the first retail game to implement AMD's Mantle API. The patch will enable the game's Frostbite engine to exploit features that are unique to AMD GPUs. The Thief reboot will support AMD's TrueAudio technology in addition to taking advantage of the Mantle API when it ships in early 2014.
Nvidia is in the bundling game, too
AMD's arch rival, Nvidia, announced its own game-bundle program last month. Consumers who buy a video card based on Nvidia's GeForce GTX Titan, GTX 780, or GTX 770 GPU can pick up free copies of Splinter Cell: Blacklist, Batman: Arkham Origins, and Assassin's Creed: Black Flag. They'll also receive a coupon offering a $100 discount on Nvidia's $300 Shield handheld gaming device.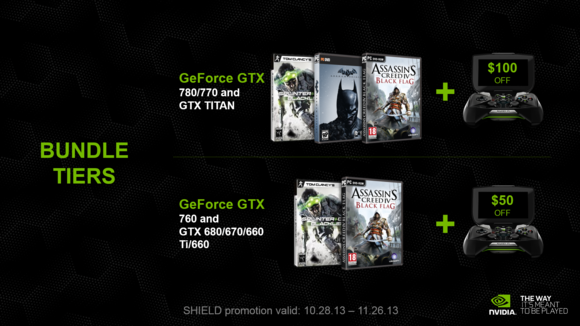 Buy a less-expensive card based on Nvidia's GeForce GTX 760 or any of the GTX 600-series GPUs, and you can get a free copy of the Splinter Cell and Assassin's Creed 4 games, along with a $50 discount for the Shield.
You'll get a good deal no matter which of these game-beautifying pieces of hardware you decide to go with. And if you've already purchased these titles, just wrap up the freebies and give them to the gamers on your holiday gift list.