One day Neil Gaiman will rule everything. I've seen it in the stars. I've foretold it in tea leaves. I heard about it at GDC Next 2013 in Los Angeles on Thursday.
Gaiman, author of novels like American Gods and Coraline, is involved on a new game entitled Wayward Manor, in collaboration with The Odd Gentlemen, developer of critically-acclaimed game The Misadventures of P.B. Winterbottom.
Ghost in the house
Wayward Manor is a puzzle and adventure game, built in the style of classic Hollywood whodunits. You're a ghost—more akin to Beetlejuice than Casper the Friendly Ghost. Your goal is to drive a bunch of obnoxious residents from your home by exploiting their fears, uncovering the truth behind the mansion in the process.
"We wanted to blend game mechanics and story together through play," says Matt Korba, co-founder of The Odd Gentlemen, during his GDC Next talk. "[Neil] wasn't really interested in coming in and being a writer for hire. The two of us have gone back and forth. Neil's influenced the design, we've influenced the writing."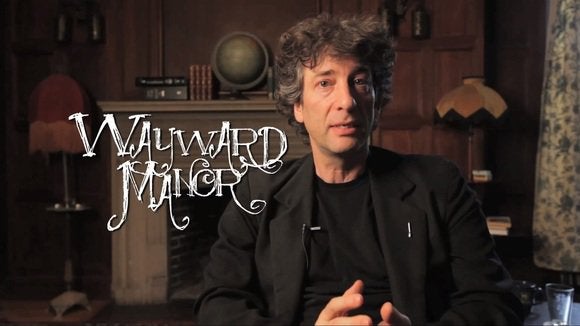 "It was very obvious from the start that Neil respects games," continued Korba. "He really understands the different needs of different medias."
Most writers outside the game industry are used to a more linear or film-like format, even though games are fundamentally a choice-based narrative. This can be a huge detriment when writing game stories, as it tends to funnel players down a specific path.
According to Korba, Gaiman "got" games and understood what made the medium special.
There's very little dialogue in Wayward Manor—in fact, Korba and the rest of the team are actively removing dialogue at this point to let Gaiman's story shine through the interactive elements.
"A lot of people that want to get into games from Hollywood think it's all about that cutscene and who cares whatever you're doing in between those," said Korba. "From the start, [Gaiman] was like, 'We're not going to tell the story through cutscenes. That's boring. Nobody plays a game to watch cutscenes.'"
And it all started with a bunch of Lego blocks.
Building a game, brick by brick
"We're really big on paper prototyping at the studio," said Korba. "We think it's a great way to share the experience early on and find out what makes the game work and not work and make changes really fast."
Paper prototyping, as you might expect, involves physically building the basic elements of the game out of available materials, whether clay, toothpicks, Lego, or actual paper. What you end up with is something between a board game and a more abstract experience like Dungeons and Dragons.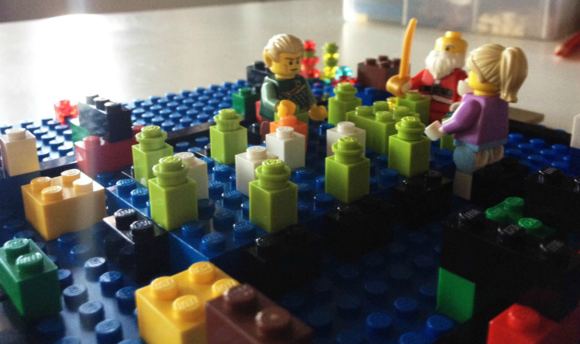 "We'd set up these levels in Lego, and it was color-coded and the bricks all corresponded to something in the game. A one-piece brick would be a level one object you could possess, a two-piece brick would be a level two object and so on," said Korba.
"So we'd create these little scenes and then we would play them with people. We'd ask them what they would touch, and then we'd act out what would happen," he continued.
The result? "We had this back and forth, fun little thing we could put on and show people and get to what we thought was the core of the game."
And that's what hooked Gaiman. Paper prototyping is just abstract enough to make a game fun even in the early days of development, when the actual digital prototype is still a garbled mess.
"When we're talking about a collaboration with outside talent, it's oftentimes easier for people to see the game and imagine where the game could go than showing them something digital," said Korba. "Oftentimes when you show them something that's very early digital it has temp art in it or it doesn't have the proper sound or animation…and they can't really see past that."
"With a paper prototype, since it's so abstract and a lot of times plays like a board game, you get people's imaginations working and they can see where the game could go," he continued.
We're still a bit off from exploring Wayward Manor ourselves. Korba showed off some digital prototypes during his talk, but the full game won't see release until next year.
In the meantime, maybe you should bust out that old Lego collection and try your hand at building your own games.