At a Glance
Expert's Rating
Pros
Unique combat interface
Over-the-top storyline
Helps develop typing skills
Cons
Some bugs/missing content
Much more "game with typing" than "typing with game"
Language and content make it unsuitable for offices
Our Verdict
To kill zombies while improving your typing, play this game. Just think about the well-earned M rating before asking your boss if you can expense it.
Typing of The Dead: Overkill is the gore-splattered offspring of Mavis Beacon and Quentin Tarantino. It's not exactly a tutorial, but you do learn to type fast and keep your eyes on the screen, not the keyboard. With its 1970s grindhouse flair, it's a lot less work-safe and a lot more fun than your usual educational software for PCs.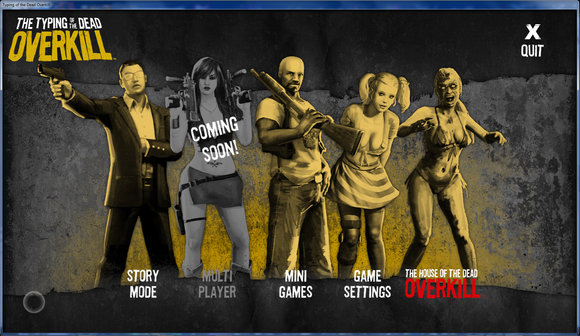 As a self-taught typist, I get 60-70 wpm, but that's with looking at the keyboard. I never learned touch typing in the formal sense. Typing of The Dead: Overkill might actually get me to break bad typing habits I've had for over thirty years.
Typing of The Dead: Overkill, based on zombie game House of the Dead: Overkill, is rated M-17+, and it deserves it. The language is "hard-R," and there are strippers, violence, sexual innuendo, and all the other things lovingly documented in Sleazoid Express. The storyline is presented cinematically (though rendered in the game's engine), with 'film scratches', a psychedelic 'intermission' screen when data is being loaded. Each chapter arrives with a movie trailer voiceover that perfectly captures the spirit of the cheap, sleazy, crime dramas from the golden age of bad movies.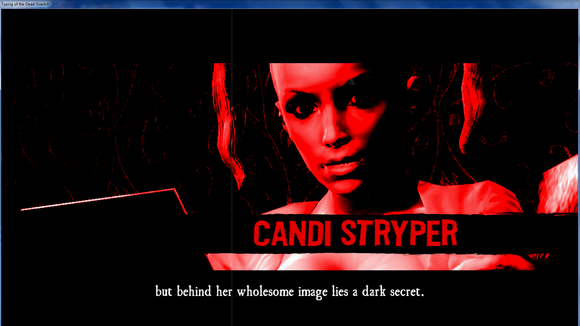 Gameplay is simple and straightforward. Your point of view moves through the game world automatically, and all you have to do is type every word that floats into view in order to kill the onrushing zombie hordes. You don't need to worry about capitalization, spaces, or punctuation. Just type the words as fast as you can. Pop-culture shout-outs abound in the phrases, as do odd combinations such as "useless trombonist" and "clumsy busker."
Single letters appear as hurled weapons: Type them fast, or take damage. If you see anything glowing slightly, hit 'tab' to collect a power-up or a collectible souvenir, such as comic book pages, fake movie posters, or concept art
Typing of The Dead: Overkill is a kind of zombie in its own right. Designed as a modification of House of the Dead: Overkill, the development house, Blitz Games Studio, died while the Typing of The Dead game was only partially done. The developers managed to negotiate a new contract with Sega and complete the game in an amazingly short span of time.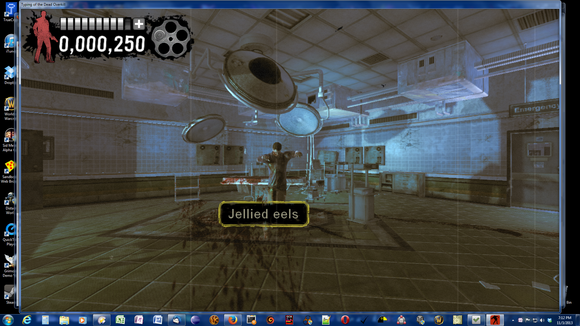 That said, the game feels a little rough yet. I have experienced only minor bugs (sometimes the sound cuts out for typing, which means you lose the audio feedback as to if you've missed a letter or not), but others have experienced game-stopping errors and crashes. A multiplayer/co-op mode is coming soon, but no date has been announced.
The lack of a trial/demo version is problematic. As this is a fairly unique style of game, it's hard to know ahead of time if it's to your particular tastes. It's similar to the original Typing of the Dead game, but the grindhouse elements alter it. If you have personal, or possibly parental, problems with a plethora of profanity, that could be an issue. You can turn off the dialog volume and disable subtitles, but you miss half the fun if you take out the cheesy story elements.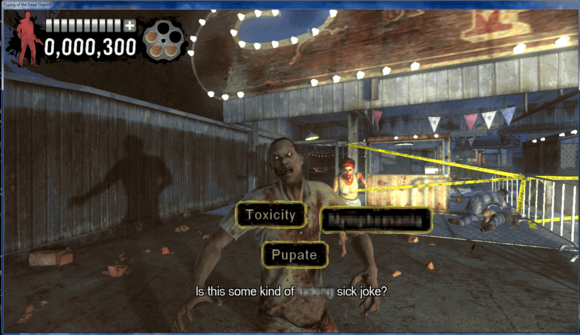 If you like whacking zombies, don't mind most flavors of NSFW, and could stand to improve your typing skills, hop on the Typing of The Dead grindhouse joyride. Just don't play in front of anybody you wouldn't watch a Tarantino movie with.
Note: The Download button takes you to Steam, where you can download the latest version of the software.