Meetings suck because we let them. Every day, we huddle in conference rooms for team updates, strategy sessions, or old-school brainstorming. But if we don't take our meetings seriously—if we ignore what participants ask or say, fail to document the meeting's takeaways, or forget to follow up afterward—they might as well not have happened.
It doesn't have to be this way. Here's how the right tech—and the right strategies—can make meetings matter again.
Keep it on a 'need to note' basis
The key to getting more out of meetings is to take better notes—which doesn't mean writing down every single thing. Your goal as a note-taker for yourself or for the group as a whole is to distill the content of a meeting down to its essentials.
Focus on what needs to happen after the meeting is over. Treat meeting notes as a to-do list, and include all the information you'll need to get started on a project once you return to your desk.
If you're taking notes for a group, be sure to capture every action item that comes out of the meeting, along with the name of the person who's assigned to oversee each one. Leave superfluous details behind. You should be recording only what you need to recall later, so you can spend the rest of your time listening to what's being said and interacting with the group.
Go longhand and sync your ink
Typing on a laptop can be a major distraction, due to the noise of the keys and to the physical barrier it erects between you and the rest of the group. The laptop screen physically and subconsciously separates you from the other people in the room, positioning you more as a detached reporter than an active participant.
Leave the laptop at your desk and try writing your notes with a pen. One option worth a try is the Livescribe 3. Aside from ink, the pen's shaft contains a miniature computer, an infrared camera, and a Bluetooth wireless chip. Using custom paper, the Livescribe captures and digitizes your handwriting and doodles, giving you a record that you can later search using the pen's accompanying software.
Pair the Livescribe 3 with the Livescribe+ app, and you can transfer your notes on the fly to your iPad, iPhone, or iPod touch, eliminating the need for later transcribing. In this digital form, your notes are ready for use in calendars, contact lists, and other applications. You can also record the entire meeting on the fly (as we'll discuss later). The app lets you sync the audio with your written notes, so—if you need to check something later—you won't have to waste a bunch of time skipping back and forth in search of the right spot.
Take notes by tablet
If you must take notes directly on a device, a tablet that you can lay flat on the table is your best bet because it avoids that alienating effect of using a device with an upright screen. Whether you choose to write or type your notes on the tablet depends on your typing speed and accuracy. Using a stylus-equipped device such as the Samsung Galaxy Note line will likely improve both, while making it easier to capture diagrams and drawings precisely.
A number of note-taking apps are available for any tablet platform, so shop around to ensure that the app's features match your needs.
If you constantly attend meetings, Minutes App ($5; iOS) helps you organize copious notes, assign follow-ups to different people through integration with your address book, track time, and more. If you need to keep tabs on what happened for a daily staff update, this is your app.
Note Taker HD ($5; iOS) is better suited to a handheld device and a free-form doodler. It includes simple drawing features and PDF annotation options.
For general-purpose notetaking, Evernote (free; iOS, Android, BlackBerry) is a perennially solid choice that makes organizing notes easy.
Mic your meetings
Capturing an entire meeting in audio form can be useful in a brainstorming session, for example, where ideas get thrown out faster than you can write them down—or where ideas may be so complex that your brief notes can't capture them in full. A recording also helps if you'd rather focus your attention on what's being said and wait until later to summarize the meeting with written notes.
Recording a meeting isn't as easy as it sounds. A smartphone placed in the middle of a conference room table is likely to yield tinny, distorted audio (especially if anyone is participating via speakerphone) that will hamstring your transcription efforts.
Your best bet is to rely on a high-end microphone. (Such devices also let you keep your recording device near your seat, so you can start and stop the recording as necessary.) The Blue Spark Digital Microphone ($200), for example, can connect to a USB or iOS device, and it uses studio-grade technology to ensure the highest quality of recorded sound.
If you're recording via mobile device, you'll want to pair this microphone with an app that's designed for recording meetings instead of music. Audiolio ($2; iOS) lets you bookmark audio segments with time-stamped written notes, and then share the files after the meeting.
Order a transcript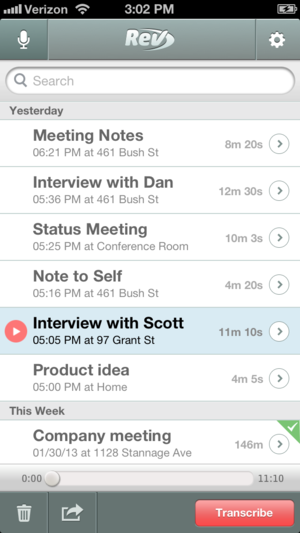 If you need a word-for-word transcript of an entire meeting, you can't rely on your own typing to produce the document—even if you type at 100 words per minute.
Technology hasn't improved to the point where software can transcribe a recording of a group meeting reliably and automatically. Dictation software doesn't work well in this environment, either. Consequently, you'll have to manually transcribe the recording yourself, or (more likely) turn to a transcription service to do the job.
The good news is that using such services no longer involves mailing a cassette tape and then waiting days for the transcript to be completed. Now, a number of apps have built-in transcription options. The Rev Voice Recorder (free; iOS) lets you record audio and then send it out for transcription electronically, directly through the app. The fee is $1 per minute of transcription (the first 10 minutes are free), with a 48-hour turnaround promised. TranscribeMe (free; iOS) offers a similar plan.
Transcriptions are never perfect, but most companies promise 98 percent accuracy, if your recording is of high enough quality.
After the meeting
As discussed above, your notes should form the basis of a to-do list, and you should immediately turn any deadlines into entries on your calendar. If you were taking notes for the group, you should transcribe and email a meeting summary afterward—the sooner, the better. The summary doesn't have to be a lengthy message. In fact, the more succinct it is, the more likely people are to read it. But action items must be clearly denoted, deadlines associated with them must be marked, and the person in charge of completing the assignment listed (and on the email distribution list) must be identified. Use boldface or a colored font to highlight particularly urgent items.
The most important element of a successful meeting isn't a piece of hardware or software—it's the people who are attending. Pay attention. Participate. Don't fall prey to the distractions of checking your email or text messages when someone else is droning on and on. Most meetings are only as successful as their least useful participant; so even if a meeting isn't especially helpful to you, at least don't be a distraction to everyone else.
Correction, 11/12/2013: An earlier version of this story incorrectly stated Livescribe 3 featured a built-in microphone. It has also been updated to reflect correct Livescribe 3 photo. PCWorld regrets the error.