At a Glance
Expert's Rating
Pros
Easy to use
Reliable
Free for personal use
Cons
Pro version is expensive
Can't drag files from the client window
Our Verdict
The latest version of TeamViewer's remote control software implements sessions in tabs, transfers all kinds of data via the clipboard, has two-factor mobile authentication and wakes-on-LAN.
TeamViewer has saved my family and friends a lot of grief, and saved me a lot of gasoline. I just tell them to download and run (or install it), give me the code and password and voilà! Their desktop pops up in a window on mine so I can fix what ails it.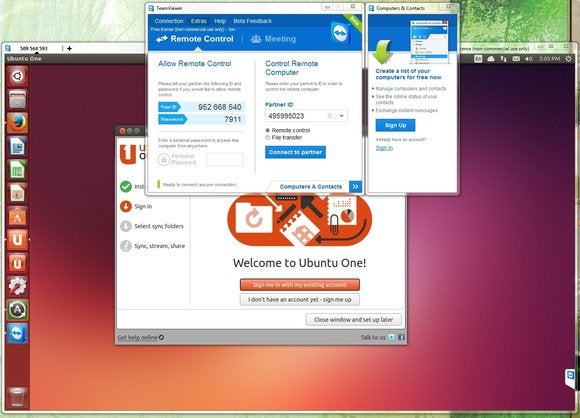 TeamViewer 9 offers some very welcome improvements. My personal favorite is the ability to cut-and-paste or drag-and-drop files from the host desktop (the computer doing the controlling) to the client (the computer being controlled) and cut-and-paste from the client. It's much handier than opening the file transfer dialog as was required formerly, though that function still exists for working with older TeamViewer clients.
Multiple sessions now show in tabs instead of in separate windows, making things much neater. If a session needs your attention, the tab will light up. Also, you have the option of using secondary authentication (with an authenticator such as Google's) when you're connecting from a mobile device. Another improvement is the ability to send the Wake-on-LAN signal to remote computers so they don't have to be left on all the time. That can save a huge amount of power over time.
TeamViewer 9's appearance is now flattened to match Windows 8, though it maintains TeamViewer's signature color scheme. The other changes are largely for paid Business ($750) and Premium ($1500) subscribers. These include a new API with reporting and user management features, plus custom looks for modules that don't have to be redone with each iteration.
The beta version of TeamViewer 9 that I tested seemed as stable and robust as version 8, meaning I had no problems with it. The only issues I've ever experienced with TeamViewer were several versions back and FTP-related. Other than that, it's been a rock.
I love the tabs, drag and drop, and wake-on-LAN. You should upgrade, as it remains free for personal use. Keep the new features coming, Teamviewer!